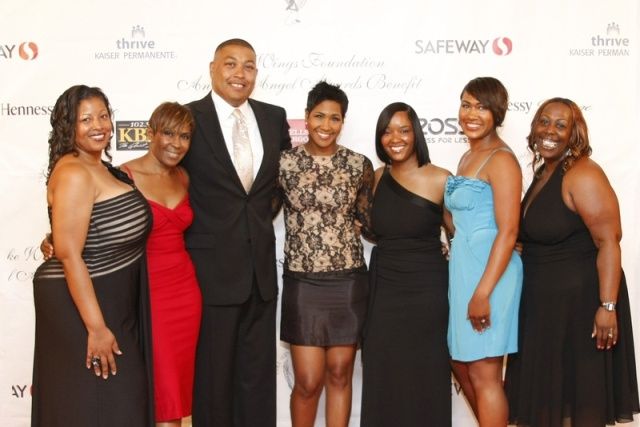 Take Wings Foundation Board of Directors: President Roslyn Gentry, Helen Vaughn, Billy Ward, Terri J. Vaughn, Founder; Antoinette Otis, Tracy Ward, Executive Director; and Shari Morgan attend the 7th Annual Take Wings Foundation's Angel Awards Gala, August 21, 2010 in San Francisco.
By Tokiwa Smith, Contributor
BlackGivesBack San Francisco/Oakland
On Saturday, August 21, 2010 at the San Francisco Marriott Marquis, actress and native San Franciscan Terri J. Vaughn's Take Wings Foundation hosted its 7th Annual Angel Awards to benefit its programs that serve at risk teen girls ages 13-18 in the San Francisco Bay Area. The awards gala was hosted by Denise Boutte and Lamaan Rucker of Tyler Perry's Meet the Brown's. Grammy award nominated R & B vocalist Angie Stone performed three songs, one of which she was joined by Oakland based singer Goapele. The event was sponsored by Hennessy Privilege, Ross, KBLX, Safeway, Wells Fargo and Kaiser Permanente.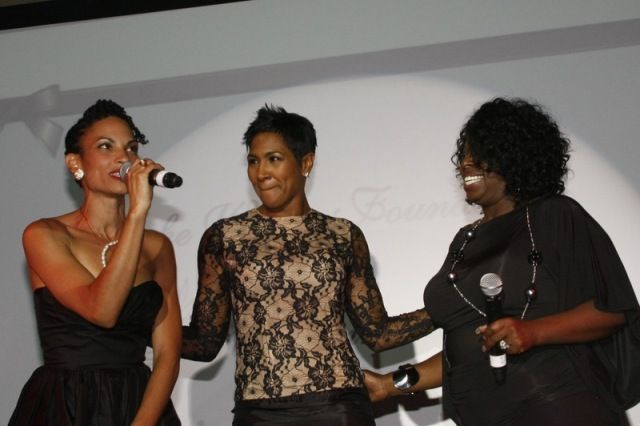 Terri J. Vaughn and Angie Stone look on as Oakland-based R&B songstress Goapele sings one of Stone's songs.
The keynote speaker was Melissa Maxcy Wade, Executor Director of Forensics and faculty member at Emory University, and principle founder of the Urban Debate League, a program that aims to reduce inequality in education in socio-economically challenged schools. Ms. Wade gave an inspiring speech of the inequities in education and how it is our responsibility as a community to do something about it so our children can receive a quality education. The Angel Awards recognizes people in the community that are doing grassroots work to make a difference in the lives of teens. "My favorite thing about this event is our organization being able to honor people that do similar grassroots work," says Rosalyn Gentry, Take Wings Board Chair. "There is not enough recognition for people that do work from the heart. Our children are our future and you must put your hand in the pot to invest in the lives of children."
Terri J. Vaughn and Honoree Melissa Maxcy Wade; Vaughn with gala co-hosts Denise Boutté and Lamman Rucker, and songstress Angie Stone.
One of the 2010 Angel Awards was given to Denise LeNoir, M.S.N., B.S.N., M.S.H.A, F.N.P, a Family Nurse Practitioner and coordinator at the Bay Area Multicultural Clinical Research and Prevention Center and Bay Area Pediatrics, presented by Tracy L. Ward, Terri J. Vaughn's sister and Take Wings Foundation's Executive Director. LeNoir was honored for her dedication to consistently providing healthcare for adolescents and teens, whether or not their parents can afford it. Also honored was Ronny Turiaf, former Golden State Warriors forward, and founder of the Heart 2 Heart Foundation, an organization that makes coronary-related testing and treatment available to people who cannot afford the costs. The award was presented by Vaughn's mother and Take Wings board member Helen K. Vaughn. He was unable to attend the gala, but accepted his award via videotaped remarks. In addition to the Angel Awards honorees, eight of the program's alumnae were recognized for their scholastic achievements by continuing their education at various colleges and universities.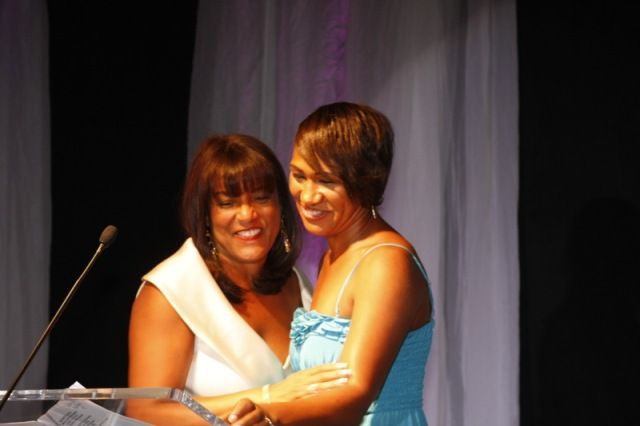 Take Wings Executive Director Tracy L. Ward (r) presents the 2010 Angel Award to Denise LeNoir.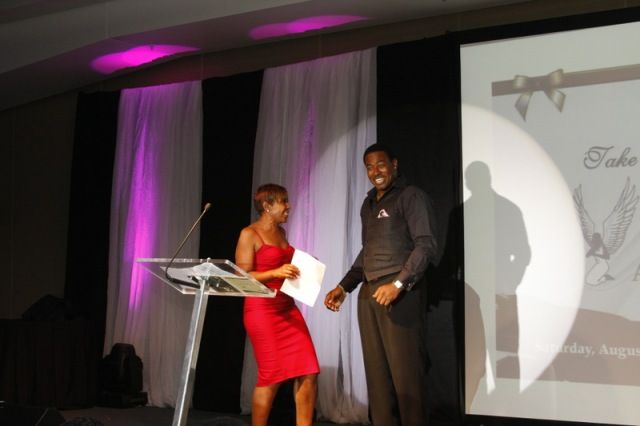 Co-host Lamman Rucker is astounded when he sees Terri's statuesque mom Helen K. Vaughn for the first time.
The Take Wings Foundation is a non-profit organization whose mission is to build the self esteem of San Francisco Bay Area at-risk girls between the ages of 13 and 18 by providing positive experiences and role modeling. The organization's major components involve encouraging and enabling teen girls to provide community service, participate in life skills development activities and workshops, and earn academic scholarships. Visit the website at
www.takewings.org
.
[Related post, January 2009] The Take Wings Foundation:
Hollywood Actress Helps Girls to Soar
Photos by Horace Gipson Jr