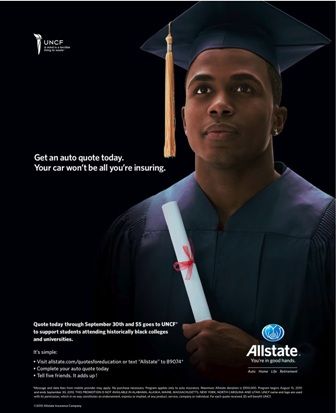 Fundraising Initiative to Benefit UNCF, Contribute to College Scholarships this Upcoming Fall Semester

Northbrook, Ill., August 17, 2010 —According to a recent study, two-thirds of African-Americans dropping out of college cite finances as the reason for the decision. To address this trend and continue the company's history of investment in initiatives that strengthen communities, Allstate Insurance Company (NYSE: ALL) today announced the launch of the second annual "Quotes for Education" program.
In partnership with UNCF – the United Negro College Fund – the program seeks to raise $100,000 in scholarships for African-American college students.
As part of the campaign, Allstate will donate $5 to UNCF for each auto insurance quote that is completed between August 15 and September 30, 2010. Quotes may be obtained online at Allstate.com/quotesforeducation
or through a participating Allstate Agent.

"The Allstate family recognizes the importance of education and we realize that now, more than ever, it is important to support organizations that champion the pursuit of higher learning and academic success," says Anise Wiley-Little, Allstate chief diversity officer. "In addition to supporting a trusted community partner like UNCF, we're also pleased that this program engages families and communities as part of the solution. By completing an auto insurance quote, drivers join with us in helping to make college education a reality for hard-working students."

Persistent funding deficits, a struggling economy, and significant tuition increases have created a perfect storm for many students, and African-American students are particularly vulnerable. Consider these facts:

African-American students who did not enroll in college are likely to report that the need to work was important in their decision. Almost half of African-American students stated that the need to work was "extremely" or "very" important, compared with their peers (Institute for Higher Education Policy, 2010)

Only 41 percent of black students complete a bachelor's degree within six years (National Center for Public Policy and Higher Education, 2008)

About 27 percent of all black students graduated with at least $30,500 in student loan debt, while the percentage range of students of other races who graduated with a comparable debt level is 9 percent to 16 percent (College Board Advocacy & Policy Center, 2010)

Supporting Quotes for Education is as simple as Click, Quote and Support. Participants can take part:
Online – visit www.Allstate.com/quotesforeducation
Mobile – text "ALLSTATE" to 89074
Phone – call Allstate at 1-866-998-2188
Quote: Receive an auto insurance quote from Allstate between August 15 and September 30, 2010.
Support: For each auto insurance quote provided during the Quotes for Education campaign, Allstate will donate $5 to the UNCF up to $100,000.

"We are grateful for Allstate's commitment to education," said Michael Lomax, Ph.D., UNCF president and CEO. "The young people whose college studies will be supported by Allstate's Quotes for Education program are students today, but tomorrow they are the teachers, doctors, scientists, public servants—and insurance agents—who will lead our communities and our country."