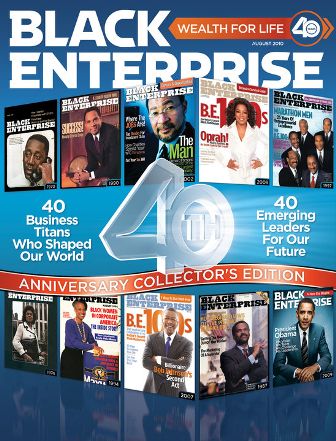 Nation's Premier African American Business Resource Celebrates 40 Years & BlackGivesBack Contributes to BlackEnterprise.com's New Online Feature, the 'Nonprofit Insider'
For the past 40 years, Black Enterprise magazine has been the premier business, investing, and wealth-building resource for African Americans. Providing essential business information and advice to professionals, corporate executives, entrepreneurs, and decision makers, the media empire reaches 4 million readers every month.
Black Enterprise, along with Pepsi, will observe the magazine's 40th anniversary this Labor Day weekend in conjunction with the Black Enterprise/Pepsi Golf & Tennis Challenge, being held September 2–5 at the La Costa Resort and Spa in Carlsbad, CA. The highly anticipated event is expected to bring together past and present business luminaries for a once in a lifetime celebration of black business success. Guests will be ushered though 40 years of history BLACK ENTERPRISE style with four exclusive nights of festivities and entertainment from the 1970s to 2010. On Sunday, Sept. 5, the NEXT 40 Gala caps off the 40th Anniversary with today's business elite honoring tomorrow's headline makers. For more information call 800-209-7229 or visit
www.blackenterprise.com/gt
.
The Nonprofit Insider: BlackGivesBack Contributes to New Feature on BlackEnterprise.com
In addition to its magazine, BE produces television programming, business and lifestyle events, Web content, and digital media.
New to BlackEnterprise.com is the
'Nonprofit Insider
,' an online feature highlighting the nonprofit sector geared towards those who work for, donate to and run nonprofit organizations. I was honored to be asked to write the first feature, '4 Things To Do Before You Start A Charity.' View my article
HERE
and be sure to bookmark the feature for words of wisdom, resources and best practices from today's African American nonprofit professionals.