Diversity Affluence's Bernie Jackson, right, presents award to honoree Reginald Van Lee at the Leaders, Achievers & Pioneers brunch on August 22 in the Hamptons, New York.

Dwayne Ashley, Jacques-Philippe Piverger, and Reginald Van Lee Recognized for their Achievements and Contributions to Advancing Diversity in the Philanthropy and Non-Profit Sectors

By BlackGivesBack NY contributor Akira Barclay

Three leading figures in the philanthropic community were honored on Sunday, August 22nd at the third and final event in a series of Hamptons awards brunches created by Diversity Affluence, the New York-based consultancy specializing in marketing communication, research and business development. Dwayne Ashley, Jacque-Philippe Piverger and Reginald Van Lee were honored at the invitation-only event held at Dockers Waterside Restaurant & Marina, located on scenic Dune Road in East Quogue.
Dwayne Ashley is the CEO of Global Operations for Success for Kids, a non-profit organization aimed at empowering at-risk children and adolescents to become resilient, productive citizens by enhancing personal strengths and giving them a greater sense of purpose in their lives. Recognized as one of the leading authorities in education, talent development, non-profit management and fundraising, Mr. Ashley has raised over $200 million throughout his 22-year fundraising career.
Jacques-Philippe Piverger is founder and chairman of the Global Syndicate and director at PineBridge Investments. He is the co-founder and board member of The Council of Urban Professionals, Team Member of the Council on Foreign Relations, and Advisory Board Member of George Clooney's Hope for Haiti Now Fund. Mr. Piverger was formerly the co-founder of The Soleil Group and currently works to raise funds for communities in need around the world.
Honoree Jacques-Philippe Piverger and his lovely family arrive at the event in a 2011Jaguar XJ

Named by Consulting Magazine as one of the Top 25 consultants in the world, Reginald Van Lee, senior vice president of Booz Allen Hamilton, leads the firm's not-for-profit business. With 26 years of experience, Mr. Van Lee has aided numerous private and public organizations, helping them to better achieve their missions and has provided assistance in driving growth for nonprofit organizations and foundations. He co-founded the Clinton Global Initiative, is Chairman Emeritus of the board of the Evidence Dance Company, Chairman of the Board of the New York International Ballet Competition, and Treasurer and Trustee of the Studio Museum in Harlem. Mr. Van Lee was appointed by President Obama to the President's Committee on the Arts and the Humanities and is a member of the MAC AIDS Fund Board. He is also a member of the Executive Leadership Council, Abyssinian Development Corporation, Washington Performing Arts Society, Howard Theatre Restoration Project, and Habitat for Humanity International–Cabinet member.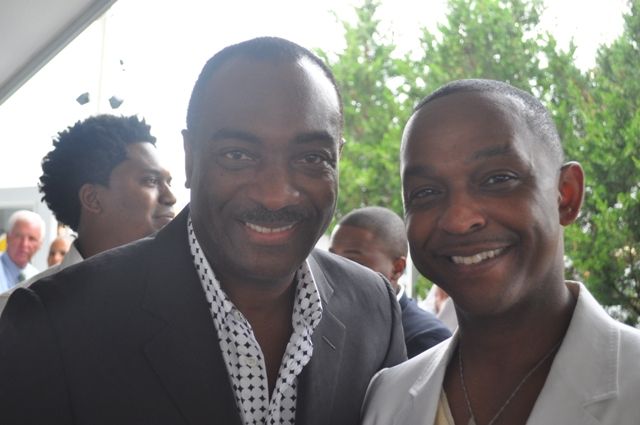 Reginald Van Lee and Dwayne Ashley, Honorees (Photo: Akira Barclay)

The brunch series, presented by Jaguar to herald the new 2011 Jaguar XJ, celebrates individuals who have achieved success and advanced the diversity agenda in America. "Purchasing power among affluent consumers from ethnically diverse backgrounds is estimated at over $282 billion. It's an undeniable opportunity which should be addressed by luxury brands," comments Bernie Jackson. "Jaguar should be commended for recognizing the value of this consumer market and for embracing initiatives such as sponsoring the Diversity Affluence Brunch Series honoring Leaders, Achievers and Pioneers of diversity as a way to connect with this growing demographic."

Andrea Hoffman adds, "Diversity Affluence is pleased to partner with Jaguar in presenting this series of events that celebrates diversity and brings together some of the most successful influentials and tastemakers who through their work and dedication have advanced the diversity agenda in America. We thank Jaguar for their support of this series and encourage others in the luxury goods category to do the same."

Keri Jackson with Event Committee member, model and philanthropist Princess Keisha Omilana and her husband, Prince Kunle Omilana of Nigeria


Paul Wilmont, left and Event Committee Member Dr. Erika Faust and friend at the Diversity Affluence Brunch Series Honoring Leaders, Achievers & Pioneers of Philanthropy presented by Jaguar

Honorees were chauffeured to and from the event in the Jaguar XJ and guests enjoyed test rides and drives of the 2011 Jaguar XJ and XK. The Diversity Affluence Leaders, Achievers & Pioneers Brunch Series was planned in collaboration with global public relations agency, Ruder Finn, Inc., Bernie Jackson for Diversity Affluence and a stellar Planning Committee including:

BJ Coleman, Coleman Entertainment Group; Keenan Davis, Deputy Director, The New York Times; Dr. Erika Faust, Owner of Elite Orthodontics; Latoya Henry, Marketing and PR Expert; Diana Hilson, Integrated Marketing Manager, Black Enterprise; Princess Keisha Omilana, Model, Actress, Philanthropist; Cookie Patten, Event Producer and Business Consultant; Pamela Pickens, Co-Founder of UrbanAdServe; Nkrumah Pierre, PLG Consulting Group; Jocelyn Taylor, JRT Multimedia LLC; and Troy White, Founder, Whytehouse Marketing.


Richard N. Beattie, EVP of Sales and Marketing for Jaguar North America is joined by Honoree Reginald Van Lee; Honoree Jacques-Philippe Piverger; Diversity Affluence's Andrea Hoffman; Honoree Dwayne Ashley; Sharon Corrigan, VP Marketing of Jaguar; and, Diversity Affluence's Bernie Jackson


Henry J. Watkins and Andrea Hoffman; LaToya Henry, honoree Reginald Van Lee and Jocelyn Taylor

Past honorees in the series include: Desiree Dancy, vice president of diversity and inclusion for The New York Times; Stuart Scott, sportscaster and anchor, ESPN's Sports Center; and Food Network Star Aaron Sanchez, Executive Chef/Co-Owner of Centrico Restaurant; groundbreaking former model BethAnn Hardison, owner of Bethann Management; Fern Mallis, president of Fern Mallis LLC, founder of New York Fashion Week and former president of the Council of Fashion Designers of America (CFDA); Brian Reyes, Colombian-American fashion designer; and Edward Wilkerson, the accomplished design director of Lafayette 148. See previous event coverage
HERE
and
HERE
.
Photo Credit: Alex Lipowec; last three photos courtesy of Margot Jordan, (646) 226-6652