By BlackGivesBack NY contributor Akira Barclay


The New York Women's Foundation® Neighborhood Leadership Awards promotes the power of women acting in and for their communities. Established in 1994, the awards honor women who have demonstrated outstanding leadership in their community and longstanding commitment to neighborhood-based work on behalf of women and girls.
The Neighborhood Leadership Awards will be presented at The New York Women's Foundation® 2010 Neighborhood Dinner on November 18, 2010. Hosted by The Circle of Sisters for Social Change, the event will take place at The Malcolm X & Dr. Betty Shabazz Memorial and Educational Center in Manhattan.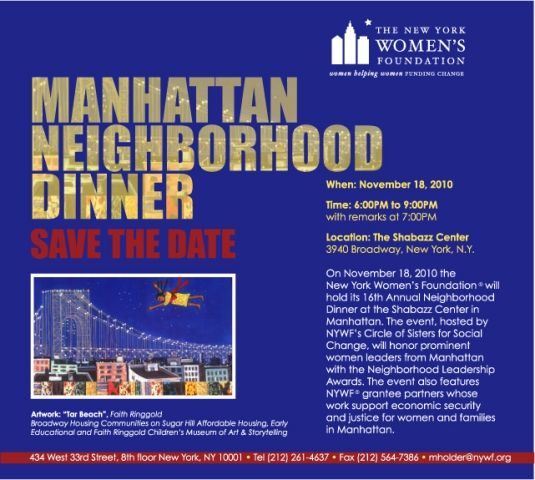 AWARD CATEGORIES
The Activist Award is awarded to women who have commended praise from their colleagues, supporters, and community for her strong leadership, especially in the thoughtful, interesting and reflective way they pursue their work to lift up women and girls.
The Spirit of Entrepreneur Award is presented to an outstanding woman who has shown leadership and vision, and whose work embodies the entrepreneurial spirit through a sustainable business that reinvests in her communities and serves as a role model from others.
The foundation invites you to nominate women or business owners in the Manhattan, New York community who:
Exemplify women's leadership;
Demonstrate outstanding dedication and involvement in neighborhood-based work on behalf of women and girls;
Are strong as individuals and are leading a strong organization/company, having an impact in their community; and
Are steeped in the community in terms of the quality of their work/efforts and duration.
To download a nomination form visit: (
http://bit.ly/9m57xj
). The Nomination Deadline is August 20, 2010.
Send your completed form to: Ms. Madeline Holder, The New York Women's Foundation, 434 West 33rd Street, 8th Floor, NYC 10001; Fax: (212) 564-7386; Email:
mholder@nywf.org
.