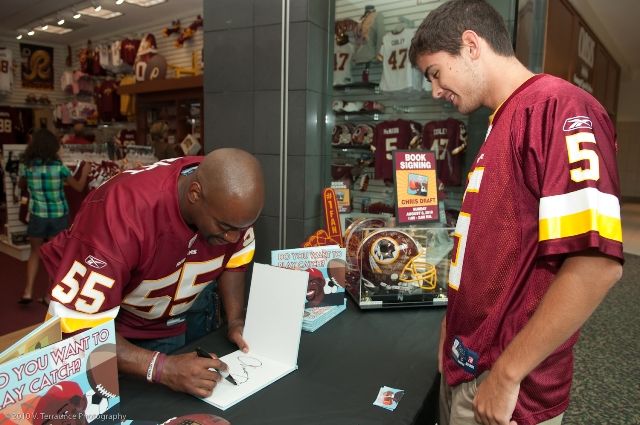 Chris Draft signs copies of his new book, Do You Want to Play Catch? at the Washington Redskins Store on August 8, 2010 in Dulles, Virginia.
WASHINGTON D.C. – Washington Redskins Chris Draft is inspiring youth, one children's book at a time. On Sunday, August 8, 2010, following the Washington Redskin's Fan Appreciation Day activities, Draft announced the publication of his new inspirational children's book,
Do You Want to Play Catch?
In
Do You Want to Play Catch?,
the 13-year NFL veteran and linebacker shares his story of how a simple game of "catch" can teach valuable lessons and build relationships. Draft, who started the Chris Draft Family Foundation in 2006, has focused on developing programmatic initiatives to encourage healthy lifestyles, literacy and character building. "It all starts at home," added Draft. "If we are going to make a difference in the lives of people, change has to start first in the home. This book encourages parents to read with their child and to engage in a daily physical activity such as catch.
Do You Want to Play Catch?
is more than the title of my book, it's a challenge to parents and kids to reconnect in a new and exciting way."
The vivid, youthful illustrations and heartwarming story of
Do You Want to Play Catch?
is designed to inspire families to get out and 'play catch' with the goal to strengthen a family's bond while encouraging healthy physical activity.
"Whether it's playing football or softball, it's all about spending quality family time and staying active together. Growing up, my mom, dad, brother and I constantly engaged in activity throughout the year. I wrote this book to inspire families to play an active role in each other's lives and to stay physically active in the process."
Draft hosted a special book signing at the Dulles Town Center Mall to announce the availability of the book, which is available at Washington Redskins official stores. Proceeds from book sales will support the Chris Draft Family Foundation's literacy programs and initiatives. To find out more about the Chris Draft Family Foundation, visit
http://www.chrisdraftfamilyfoundation.org/
.
About the Chris Draft Family Foundation
The mission of the Chris Draft Family Foundation is to strengthen communities by empowering families to live healthy lifestyles. The Foundation focuses on seven primary initiatives with overarching themes that stress the importance of education, healthy lifestyles, character development, personal responsibility, self-discipline and physical fitness.