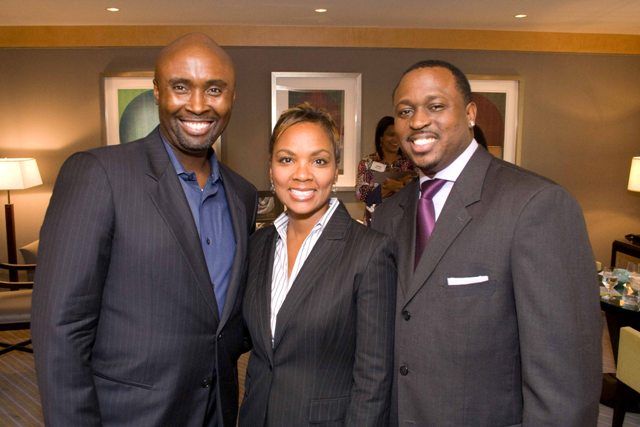 Dylan Holmes, Sonya Barnes and William Wilson, friends of Charlotte's New Generation of African American Philanthropists attend "Powering Black Communities & the Spectrum of Communities of Color" reception on September 14, 2010 in Charlotte, NC.
ABFE and CIN are Powering Black Communities and the Spectrum of Communities of Color
By Valaida Fullwood
"Everyone has expressed sincere gratitude for having an opportunity to socialize, network and reconnect with colleagues and friends." — Dionne Lester, Community Investment Network chief operating officer
CHARLOTTE, NC — The
Association of Black Foundation Executives
(ABFE) and
Community Investment Network
(CIN) drew a vibrant mix of donors and professionals in the field of philanthropy to The Living Room at Charlotte's Ritz-Carlton for a co-hosted reception September 14.
Over 100 guests gathered to exchange ideas, build connections and hear about the vital work of ABFE and CIN in illuminating and investing in opportunities that enhance the lives of African Americans and communities of color.
"To increase and leverage the investments of foundations, we need a common game plan that is easy to grasp and puts all of us on the same page when working with Black communities. ABFE has unveiled "Responsive Philanthropy in Black Communities" as a new framework for shared understanding." — Susan Taylor Batten, ABFE president
Steve Gunderson, president and CEO, Council on Foundations and Emmett Carson, Ph.D., president and CEO, Silicon Valley Community Foundation
Themed "Powering Black Communities & the Spectrum of Communities of Color," the evening event coincided with the Council on Foundations' 2010 Fall Conference for Community Foundations. An estimated 800 grantmakers and foundation staff convened in Charlotte for a week of professional development that included keynote messages from Alberto Ibargüen, president and CEO, John S. and James L. Knight Foundation; Arne Duncan, U.S. secretary of education; and Carol R. Johnson, superintendent, Boston Public Schools. Guests at the ABFE and CIN reception included Black executives and program officers who award grants worldwide and were participating in the conference.
Charlotte's
New Generation of African American Philanthropists
, a collective giving circle that is part of CIN's membership, provided local in-kind support for the reception. Photographer Charles W. Thomas captured the evening's liveliness and interactions. The John S. and James L. Knight Foundation, based in Miami, was the event underwriter.
"We believe that committed, concerned and well-informed citizens are the key to strengthening our communities and in turn our nation. Giving circles can play a significant role in transforming our country for the better." — Charles E. Lewis, CIN board chair
Gladys Washington, Mary Reynolds Babcock Foundation and ABFE vice chair; and Darryl Lester, CIN founder
A champion of diverse leadership in philanthropy, ABFE marks a milestone 40th anniversary next year and will celebrate with a national gathering in Philadelphia, April 9 – 10, 2011. ABFE, which is headquartered in New York City, was established in 1971 by forward-thinking Black foundation executives to promote effective and responsive philanthropy in Black communities. Progress is defined by a substantial increase in the number of Blacks as leaders and emerging leaders within the philanthropic field.
Today, ABFE counts among its members some of the most influential staff, trustees and donors of grantmaking organizations who are intimately involved in shaping the focus, decision-making and response of foundations toward Black communities. Learn more at
http://www.abfe.org/
.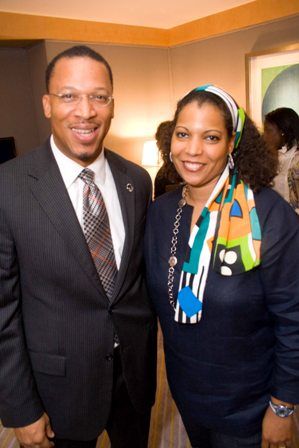 Edward Jones, Council on Foundations and founding member, The Black Benefactors; and Dionne Lester, CIN chief operating officer
CIN promotes collective giving models and will soon host its 7th annual conference, "
It's Our Time! A Collective Call to Act
," in Durham, September 30 – October 3. Open to the public, the conference each year attracts hundreds of Black donors and people of color seeking community change. People come from across the country to share information, resources, lessons learned and successful strategies with the intent of returning home better prepared to make a difference.
A membership organization, CIN invites the participation of additional donors and giving circles and already channels resources to groups in Atlanta, Birmingham, Charlotte, Pittsburgh, Raleigh and other communities. Presently, new giving circles are under development in Denver, Jackson and Milwaukee as well as a second circle in New Orleans.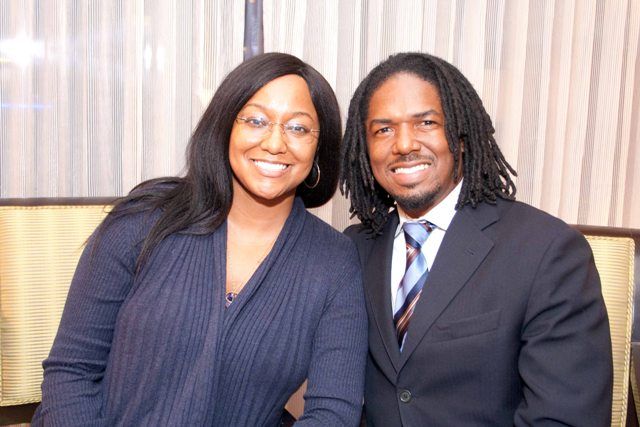 Jehan Shamsid-Deen, founding member, New Generation of African American Philanthropists and Marcus Walton, ABFE director of programs
Wanting to demystify institutional philanthropy for donors, CIN Founder Darryl Lester began building a network in 2003. Today, CIN supports a growing network of everyday givers, grantmakers and volunteers nationwide. CIN's mission is to inspire, connect and strengthen African Americans and communities of color to leverage their collective resources and create the change THEY wish to see. Find out more at
http://www.thecommunityinvestment.org/
.
Richard Ward, Brookline Community Foundation; Michael Brown, Seattle Foundation and Renee Branch, Council on Foundations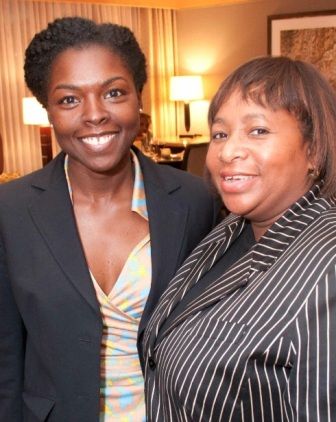 Bahia Ramos-Synnott and Donna Frisby-Greenwood, John S. and James L. Knight Foundation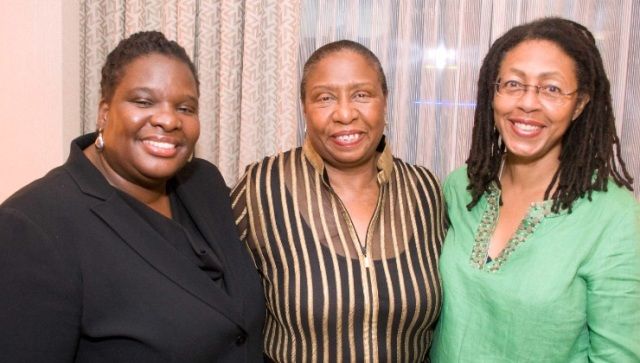 Audrey Jacobs, Community Foundation for Greater Atlanta; Linetta Gilbert, Ford Foundation and ABFE board member; and Gay Young, New York Community Trust
Story submitted by Valaida Fullwood
Described an "idea whisperer," Valaida brings a mix of unbridled imagination and a gift for harnessing wild ideas to her work as a writer, creative consultant and project strategist. She is a founding member of Charlotte's New Generation of African American Philanthropists and a CIN board member.
Photo credit: Charles W. Thomas, Sankofa Photography