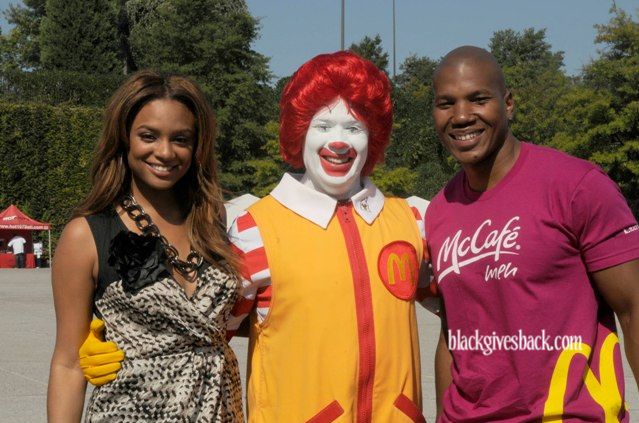 Hosts of the Men of McCafé Search at the Atlanta Classic: BET Personality Alesha Renee, Ronald McDonald and former NFL player Isaac Keys. The Bank of America Atlanta Classic HBCU football game is presented by 100 Black Men of Atlanta as a fundraiser for its mentoring, academic support and scholarship program, Project Success.
By Lisa Brathwaite
Atlanta Contributor

On Saturday, September 25th, McDonald's launched the inaugural Men of McCafé Search at the Atlanta Classic during tailgating festivities. Hosted by former NFL player and reality star from TV One's The Ultimate Merger (and inaugural Man of McCafé) Isaac Keys, and BET personality Alesha Renee, the duo went on the search to find five community service-minded males who will represent as the official Men of McCafé at the 2011 Essence Music Festival. In addition to signing up for the search, consumers sampled the new McCafé Real Fruit Smoothies and showed their dance moves during a dance off competition. Fans were also treated to a special guest appearance by Lance Gross, actor and star of the television show 'House of Payne,' and Grammy-award winning producer Bryan Michael Cox as host DJ.

Actor Lance Gross signs autographs for fans.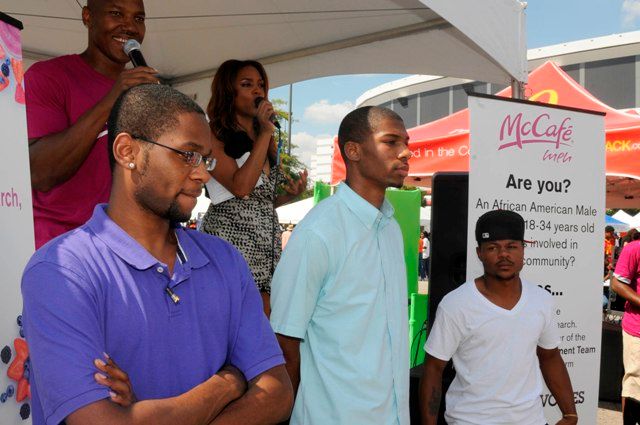 Potential Men of McCafe contestants during a trivia challenge.


Starting on October 20, 2010, consumers will be able to email
menofmccafe@365Black.com
and apply for a chance to represent McCafé. The Men of McCafé, a group of African American male brand ambassadors, made their successful debut at the McDonald's booth during the 2009 Essence Music Festival, creating an unexpected frenzy among female consumers. Since then, the group has developed a following throughout the country providing McDonald's the perfect opportunity to develop an interactive program that recruits fans of McCafé to become brand ambassadors. The search will also head to Charlotte, NC in February 2011 during McDonald's festivities at the CIAA Tournament.
Source and photos: Burrell Communications