Baseball legend and honoree Vida Blue and the Northern Lights Children's Choir attend the Bay Area Blacks in Philanthropy's Gala Reception at the African American Museum & Library, September 29, 2010 in Oakland, CA.
By Tokiwa T. Smith
San Francisco/Oakland Contributor
On September 29th and 30th, the Bay Area Blacks in Philanthropy (BABIP) hosted a Gala Reception and State of the Race Conference in Oakland, CA. These events celebrated Bay Area African American philanthropists and provided a forum for addressing issues facing the African American community.
The Gala Reception and Community Impact Awards took place on September 29, 2010 at the African American Museum and Library in Oakland. The reception had over 160 attendees and was sponsored by the Silicon Valley Community Foundation, Marin Community Foundation, Tereza Costa Monteiro Fund, Williams Family Fund and The Koshland Program of The San Francisco Foundation. This year was the first Community Impact Awards in which Mr. Dave Clark, co-anchor of the KTVU morning news, was the master of ceremonies. "We wanted to recognize people in different areas, doing great things in the community. We chose to honor philanthropists, not professionals in the field, because these individuals give of their own time and dime to support causes they care about," says Cedric Brown, Chair of the BABIP Advisory Board. The awardees of the Community Impact Awards were:
Legacy – Warren Wilson, Barrios Trust; Private Foundation – Akonadi Foundation; Catalyst – Deborah Santana; Inspiring Entrepreneur – Michael Le Blanc; Community Service Organizations – 100 Black Men Bay Area Chapter, 100 Black Women Bay Area Chapter, The Links, Inc., Alameda Contra Costa Chapter; Scholarships – Vintage Foster, Bay Area Leadership Foundation; Sports Role Models – Vida Blue, Major League Baseball All Star; Thomas Howard and Nnamdi Asomugha, Oakland Raiders; Visionaries - Ken & Caretha Coleman; and Trustee – Hugh Burroughs.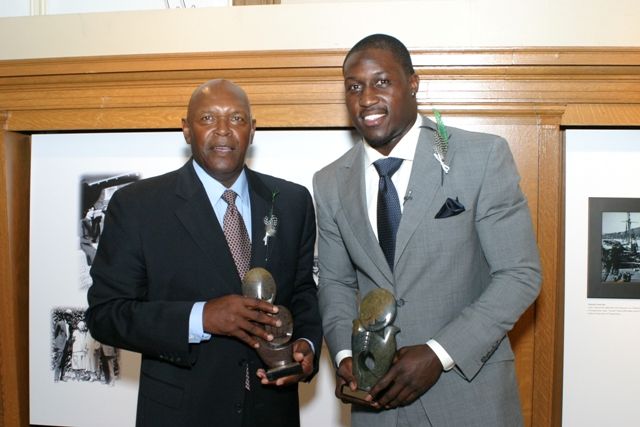 Baseball legend Vida Blue with Oakland Raider Thomas Howard
Vintage Foster receives the Scholarship Impact Award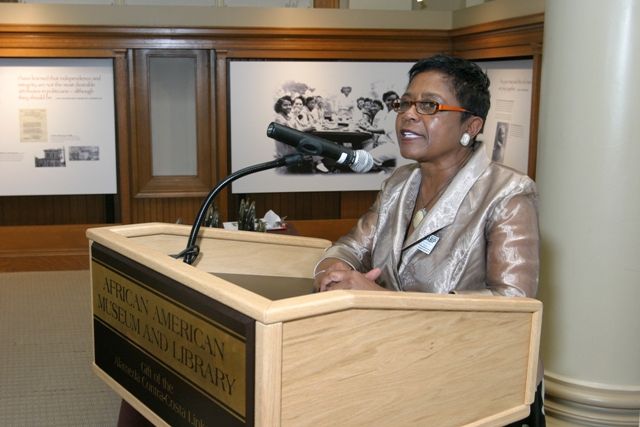 BABIP Vice Chair Carolyn Doelling
The State of the Race Conference, held on September 30th at the California Endowment's Oakland Conference Center, highlighted the BABIP-commissioned report by the Urban Strategies Council entitled "State of Bay Area Blacks: A Look at Black Population Trends in the Bay Area, Part I." The report analyzed the demographics of African Americans in the Bay Area and shifts that have occurred in the areas of income, education, health, economic development, and crime and incarceration. Featured speakers included Emmett Carson, President and CEO, Silicon Valley Community Foundation; Junious Williams, CEO, Urban Strategies; Malo Hutson, Assistant Professor of City & Regional Planning at UC Berkeley; and Nicole Taylor, CEO of East Bay Community Foundation. Over 100 participants from foundations, nonprofits, and academia attended the plenary and issue-oriented sessions. "It is crucial for black folks that have social consciousness to organize, collaborate, and to use our resources to solve the problems in our community," shared Cedric Brown.
BABIP Chair Cedric Brown with Catalyst Awardee Deborah Santana
Bay Area Blacks in Philanthropy, founded in 1993, is a regional, nonprofit membership organization whose mission is to advance the interests of African Americans in philanthropy and address the impact of racial disparity within philanthropic institutions and African American communities in the San Francisco Bay Area. Bringing together foundation professionals – trustees, program officers, administrative and technical staff – with corporate , governmental, and association representatives, BABIP members are a strong leadership core within the sector, and individually and collectively, add a needed black perspective to philanthropic discourse and debate. For more information about the organization, please visit their website at
http://www.babip.org/
.
Photo credit: Mikael Wagner/Promotionswest.com