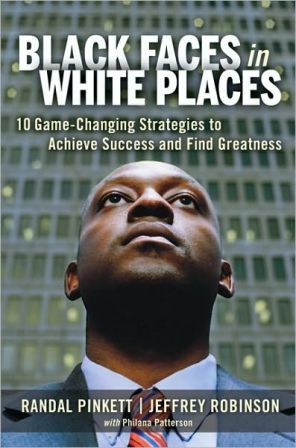 Dr. Randall Pinkett is the first and only African American to win NBC's hit reality TV show 'The Apprentice.' He is also the chairman and CEO of his own multi-million dollar business. This month, he along with business scholar Jeffrey Robinson will launch a pivotal book,
Black Faces in White Places: 10 Game-Changing Strategies to Achieve Success and Find Greatness.


In the book, Pinkett and Robinson present a trailblazing path for leveraging ethnic and cultural assets to not only win the game of success in any arena, but to reshape America and leave a powerful legacy. Building on the four dimensions of the contemporary Black experience—identity, society, meritocracy, and opportunity -- Black Faces in White Places provides a strategic roadmap to keep African Americans moving forward in their journey toward not simply equal treatment but equal respect for their diversity and uniqueness.
In the book you'll find strategies such as:
Seek the wisdom of others
. There is always something you can learn from others, whether younger, older, less experienced, or more capable. Learn from others' mistakes as well as their successes. When you seek the wisdom of others, you develop your own. Learn from your peers. Find a mentor, and be one, too. The best way to learn is to teach.
Find strength in numbers
. Surround yourself with people who share your perspective, affirm your values, and support your goals. Cultivate an inner circle whose members are all comfortable with each other, trust each other, and watch out for each other. (The key isn't necessarily ethnicity, but compatibility.) Get involved in collaborative organizations, which range from Black Greek-lettered fraternities and sororities to the NAACP.
Think and act entrepreneurially
. You must take control of your career; you must dare to be in the driver's seat of your destiny; and you must be in a position to pursue your economic prosperity. The entrepreneurial mindset of passion, creativity, resourcefulness, courage, and resilience is mandatory for success in the twenty-first century. Work outside the system to build wealth for yourself and the community as a whole.
Give back generously
. Each and every one of us represents the continuation of a countless number of legacies and we can blaze trails for others to follow. Today, African-American giving is no longer only about survival or even helping each other; it is about empowerment and collective self-determination. To address the many challenges in our community, we must leverage our combined efforts through organizations and businesses to reach as many people as possible.
For more information, visit
www.randalpinkett.com
and follow the author on Facebook and
Twitter
. To learn more about Randal's philanthropic efforts visit
HERE
.