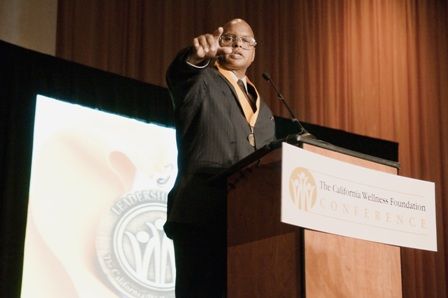 By Kim Anthony, Los Angeles Contributor


Los Angeles, CA – The California Wellness Foundation (TCWF) recently honored Aquil Basheer as one of three 2010 California Peace Prize recipients at the 2010 Conference on Violence Prevention in Los Angeles, CA. Basheer, a nationally known crisis-intervention specialist, educational consultant, and youth development expert, has worked 40 years to reduce community violence. Basheer is the chief executive officer of the
BUILD Youth Empowerment Academy
, which operates conflict-resolution training, mentoring, and gang-violence deterrence and intervention programs in middle schools and community centers throughout Los Angeles County.
Basheer received a cash award of $25,000 as recognition for 40 years of community service. He and his organization work daily with high-risk youth to develop their sense of self-responsibility, discipline, commitment and self-esteem.
Basheer is also the executive director of Maximum Force Enterprises, a personal development institute for frontline "peacekeepers" who deal regularly with gang violence. One of the institute's programs, the Professional Community Intervention Training Institute (PCITI) in partnership with the Chicago School of Professional Psychology, was recently adopted as a model for gang intervention by the Los Angeles City Council.
"TCWF is proud to acknowledge the heartfelt work of Aquil Basheer
," said Elizabeth M. Gomez, TCWF Board Chair. "
We commend Aquil Basheer for his passion and persistence throughout the years in improving the safety and well-being of Californians
."
The
California Wellness Foundation
is a private independent foundation created in 1992 with a mission to improve the health of the people of California by making grants for health promotion, wellness education and disease prevention. The Foundation prioritizes eight issues for funding: diversity in the health professions, environmental health, healthy aging, mental health, teenage pregnancy prevention, violence prevention, women's health, and work and health. It also responds to timely issues and special projects outside the funding priorities.
Since its founding in 1992, TCWF has awarded 5,828 grants totaling more than $735 million.
In photo: Aquil Basheer, a renowned gang intervention practitioner, speaks passionately about his calling to stand up against violence, after accepting TCWF's 2010 California Peace Prize in Los Angeles, CA. (Photo credit Robert Pacheco)