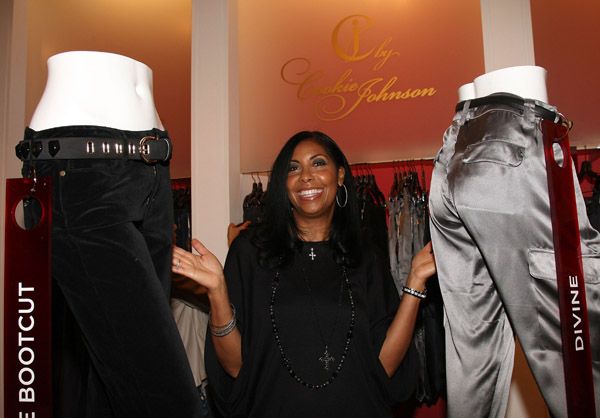 Cookie Johnson attends the CJ by Cookie Johnson Launch Celebration at Saks Fifth Avenue Beverly Hills on September 30, 2010 in Beverly Hills, California.

By Kim Anthony

(Beverly Hills, CA) Hollywood's brightest sports, entertainment, business and community leaders were on hand as Saks Fifth Avenue, Beverly Hills hosted a Champagne Celebration for the launch of
CJ by Cookie Johnson
on September 30. The event, which featured a star-studded "denim-couture" fashion show, was held at Saks' "WEAR on Four." Attendees were treated to champagne and delectable desserts as they "shopped and socialized" in support of the
Magic Johnson Foundation
and
Women Alive
, a nonprofit organization dedicated to giving women affected by HIV/AIDS information, encouragement and emotional support.
A businesswoman at heart, Johnson came out of "retirement" -- from being a busy, full-time mom -- to pursue this endeavor. "I wanted to let women know that no matter their shape, they can look good and enjoy premium denim," she says. The 'women' she refers to are women who have typically avoided jeans because their curves didn't fit well into the trendy, high-end denim cut for waifish figures. "This was my story, too" adds Johnson, who works out daily, eats healthy, but isn't a size two.
Nia Long, Judy Pace, Cookie Johnson, Sheila Frazier and Beverly Todd attend the CJ by Cookie Johnson Launch Celebration.

Another "story" that is close to Cookie Johnson's heart is the plight of the women served by the evening's beneficiaries, Women Alive. Created in 1990 by a group of women living with HIV/AIDS who recognized the need to provide a more specialized gender specific AIDS service organization for women, Women Alive reaches nearly 150 HIV+ clients and their families, and over 1,000 individuals through their outreach endeavors, out-patient clinics, health fairs, home visits, posters, brochures, and role model stories.
"Starting out as a multi-service AIDS advocacy organization for people with the virus, Women Alive has evolved into a health promotion and disease prevention agency that helps people at risk for HIV to stay healthy and stay connected to services and care," said Carrie Broadus, Executive Director.
Saks Fifth Avenue General Manager John Cruz; Cookie Johnson, Co-Owner, CJ by Cookie; and Earvin "Magic" Johnson, the Magic Johnson Foundation

Woman Alive is supported by the Magic Johnson Foundation. Founded by Earvin "Magic" Johnson in 1991, the Foundation works to develop programs and support community-based organizations that address the educational, health and social needs of ethnically diverse, urban communities.
Photos: Wireimage