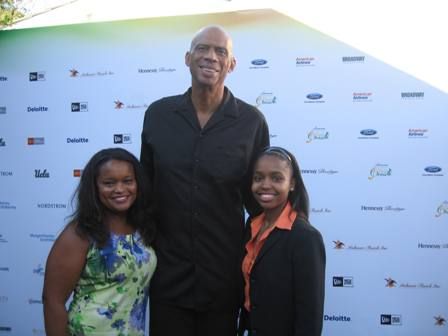 Ford Motor Company served as the platinum sponsor of the Jackie Robinson Foundation's (JRF), 5th Anniversary JAZZ on the Grass benefit concert (JAZZ), held on Saturday, October 2, 2010 in Sherman Oaks, California at the estate of Lynne and Oz Scott, renowned director and producer. JRF provides financial grants and support services to deserving college students.
"Ford Motor Company is proud to continue our legacy of supporting education through innovative programs," said Pamela Alexander, director, Ford Motor Company Fund. "Our partnership with the Jackie Robinson Foundation is one of many investments we are making in today's youth."
Hosted by comedian/actor Chris Spencer, JAZZ raised funds for JRF's comprehensive program including financial support, mentoring, and professional development. With a nearly 100 percent graduation rate, JRF has earned the distinction as one of the nation's most effective scholarship organizations.
Led by event chairs, Lynne and Oz Scott, the JAZZ host committee included Bill Cosby, Kareem Abdul-Jabbar, Hattie Winston, Harold Wheeler, and Sylvester Rivers, JAZZ Musical Director. As part of the fifth anniversary celebration, JRF presented long-time supporter Pat Prescott of 94.7 The WAVE with the inaugural Jackie Robinson Foundation IMPACT Award. The award recognizes Prescott's invaluable advocacy for the Foundation and her service as an Inspiration, Mentor, Philanthropist, Activist, Community leader, and Trailblazer. This year's line-up included Boney James, Sheila E., Marcus Miller, Deniece Williams, Mindi Abair, Brian Bromberg, Ndugu Chancler, Kat Dyson, Freda Payne, Sylvester Rivers, Patrice Rushen, Take 6 members Alvin Chea & David Thomas, Hattie Winston and other surprise guest artists.
JAZZ on the Grass' roots span nearly five decades. Inspired by the March on Washington, Jackie and Rachel Robinson organized their first jazz concert at their home in Stamford, Connecticut in 1963 to raise bail money for jailed civil rights activists, including Dr. Martin Luther King Jr. Following Jackie Robinson's death in 1972, the concert became a JRF fundraiser on the east coast and since 2005, has become the signature west coast event. The west coast benefit has featured Patti Austin, George Duke, Lalah Hathaway, James Ingram, Dave Koz, Brian McKnight, Marcus Miller, Jeffrey Osborne, Kenny Rankin, and Brenda Russell.
Pamela Alexander, Director of Community Development, Ford Motor Company Fund and Rachel Robinson, wife of the late baseball great Jackie Robinson
Visit
http://www.jackierobinson.org/
to learn more.
Pictured in top photo: 6 time NBA Champion Kareem Abdul Jabbar is flanked by Pamela Alexander and Jackie Robinson Foundation Scholar Taylor Moore at the 5th anniversary "JAZZ on The Grass" Fundraiser.