Baltimore, MD - On Friday, October 22nd, the Reginald F. Lewis Museum of African American History and Culture hosted a private reception and program for Freedom's Sisters, a national traveling interactive exhibition, that highlights and honors 20 remarkable African American women who have made significant contributions to expand our nation's rights and privileges to all Americans.
Over 200 people from the philanthropic, corporate and nonprofit communities attended the event, as well as local women who were honored as Freedom's Sisters in their communities. Highlights from the event included a poetic reading in honor of the exhibit from renowned poet and Freedom's Sisters honoree Sonia Sanchez, and a special video featuring the late Dorothy Height, who shared that she wanted to be remembered as someone who never gave up to do what is right. At the conclusion of the program in remembrance of Height, everyone was served sweet potato pie, her favorite dessert. Pictured in the photo are Sonia Sanchez and Mr. William Tucker, husband of the late C. Delores Tucker, also a Freedom's Sister honoree.
Mr. Tucker shared with BlackGivesBack, "When you think of all the history that this [exhibit] reflects in terms of the African American civil rights movement and the African American spirit - the progress and the struggles in this country - its overwhelming when you see what's reflected in this exhibit. I want to applaud everyone involved in this, especially Pamela Alexander who has been the driving spirit behind all of this and it was her spirit that guided Ford Motor Company to do this. And on behalf of the legacy of my wife and myself, we're just so proud."
The Freedom's Sisters featured in the exhibit are: Ella Jo Baker, Mary McLeod Bethune, Shirley Chisholm, Septima Poinsette Clark, Fannie Lou Hamer, Frances Watkins Harper, Dorothy Irene Height, Barbara Jordan, Coretta Scott King, Constance Baker Motley, Rosa Parks, Betty Shabazz, Mary Church Terrell, Harriet Tubman, C. Delores Tucker and Ida B. Wells. Living legends featured in the exhibit include Sonia Sanchez, Charlayne Hunter-Gault, Kathleen Cleaver and Myrlie Evers-Williams.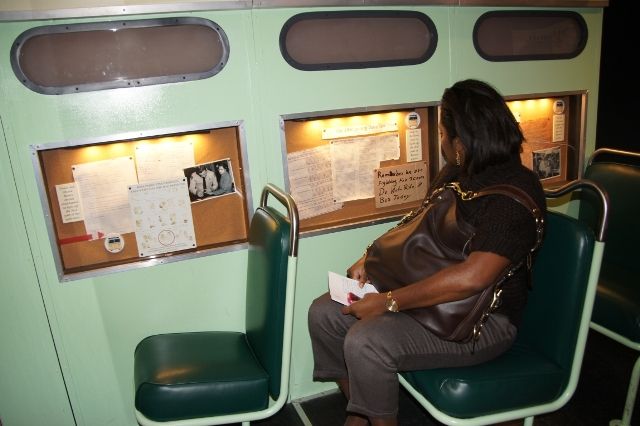 The Rosa Parks exhibit
This is the last stop for the city tour, which will be on display through January 17, 2011 and is made possible by the Ford Motor Company Fund, the philanthropic arm of Ford Motor Company. For more information, visit the museum's website at:
http://www.africanamericanculture.org/
.
The exhibit also includes educational and community outreach components to facilitate engagement with local audiences, including an essay contest for middle school students. See below for more details:
Freedom's Sisters Essay Contest for Baltimore 4th-8th Grade Students
Answer in an essay: "Who is your favorite Freedom Sister and why?" What are you doing to continue her legacy?
Prizes:
1st place: $5,000 U.S. Savings Bond
2nd place: $2,500 U.S. Savings Bond
3rd place: $1,000 U.S. Savings Bond
1st, 2nd & 3rd runners-up: One (1) $500 U.S. Savings Bond each
Contest is open from October 23, 2010 to November 22, 2010. Mail essays to: Ford Motor Company, ATTN: Freedom's Sisters Essay Contest-Baltimore, 1 American Road – 211WHQ, Dearborn, MI 48126
On a separate cover sheet please include: Name, school, grade level, mailing address and phone number. Winners will be notified by December 17, 2010.
DC Freedom's Sister honoree Thelma Jones and Freedom's Sister Sonia Sanchez attend the private exhibit reception.

Photo credit (1st two photos): http://www.celebrity-photos.com/