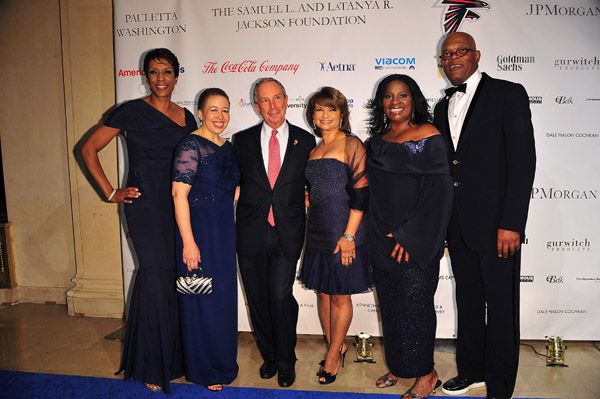 Jerri Devard, Principal, DMG; Dr. Beverly Daniel Tatum, NYC Mayor Michael Bloomberg, Kathryn Chenault, Esq., LaTanya Jackson and Samuel L. Jackson attend the BLUE Scholarship Gala to benefit Spelman College at The Plaza Hotel on October 4, 2010 in New York City. The event raised over 2.5 million to provide scholarships for talented young women attending Spelman College. Honored at the event were Mary J. Blige, Grammy award-winning singer; Rosalind Brewer (Spelman C'84), Executive Vice President & President-South, Wal-Mart; Kathryn Chenault, Esq.; and Marian Wright Edelman (Spelman C' 60), President & Founder, Children's Defense Fund.
Celebs in attendance: Steve Harvey, Marjorie Bridges Harvey, Spike Lee, Tonya Lee, Pauletta Washington, Lynn Whitfield, Cecily Tyson, Chris Rock, Malaaka Compton-Rock, Anthony Anderson, Star Jones, Deborah Roberts, Al Roker, Marian Wright Edelman, Andre Harrell, Cookie Johnson and Sally Richardson.
Anthony Anderson and Star Jones led the live auction and revved up the crowd to keep bidding; which played a significant part to the total amount raised. For more photos, visit Uptown magazine
HERE
.
Kita Williams, Monique Jackson, Malik Yoba, Kim Coles and Tatyana Ali serve as celebrity hosts for the 2010 UNCF HBCU Empower Me tour at Hampton University on October 2, 2010 in Hampton, Virginia.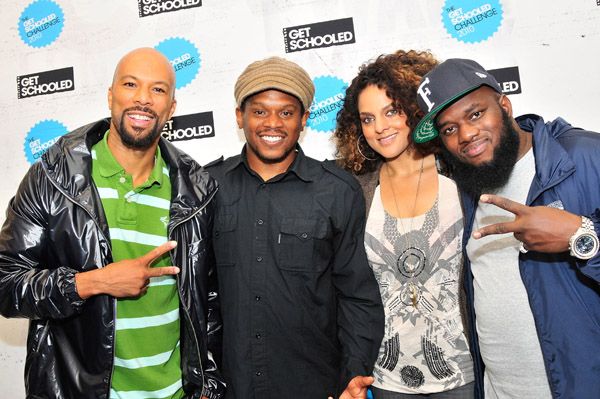 Hip hop artist Common, MTV personality Sway Calloway, singer Marsha Ambrosius and hip hop artist Freeway attend The Get Schooled National Challenge & Tour at Abraham Lincoln High School on October 1, 2010 in Philadelphia, Pennsylvania.
Sisters of Today & Tomorrow (SOT) Celebrates 2nd Anniversary with Style and Class: Kaira Akita, A Clothes Encounter; Demetria McKinney, actress, Tyler Perry's "House of Payne;" Denise Hendrick, event co-host and producer of BET's The Mo'Nique Show; Shanti Das, Carla Morrison, SOT founder; and Roger Bobb, event co-host and executive vice president of Tyler Perry Studios attend SOT's fashion fundraiser and networking event on October 1, 2010 in Atlanta.