The Sphinx Organization: Building Diversity in Classical Music
"Our goal is to increase the support for these young musicians, who are truly changing the face of classical music."-- Delroy Lindo, Actor and Director, 2010 Event Chair of Sphinx Laureates at Carnegie Hall
In 1996,
Aaron P. Dworkin
, an African American violinist founded the Sphinx Organization to help overcome the cultural stereotype of classical music, and to encourage the participation of Blacks and Latinos in the field. Fourteen years later, the arts organization has accomplished noteworthy success, providing $750,000 in quality instruments to young minority musicians, reaching over 85,000 students in 200 schools nationwide, and awarding over 1.5 million in scholarship funds.
On October 5, 2010, Sphinx presented the 6th annual Sphinx Laureates at Carnegie Hall in New York City, that featured the critically acclaimed all Black and Latino Sphinx Chamber Orchestra, and soloists from the Sphinx Competition for young Black and Latino string players. Presented by philanthropist
Sheila C. Johnson
and Bloomberg, the concert was a stunning display of masterful musicianship with a rave review in the
New York Times
. Highlights of the evening included the performance of
Randall Goosby
, a 13-year old violinist and junior division winner of the 13th annual Sphinx Competition, and the debut of the Catalyst Quartet, comprised of top Laureates and alumni from the Competition, both receiving standing ovations. The young musicians performed masterpieces by Mendelssohn, Sibelius, and Coleridge-Taylor Perkinson, an African American composer and conductor. Serving as conductor for the evening was
Maestro Damon Gupton
, a television, film and stage actor, and alum of the Julliard School in New York.
"The annual Carnegie Hall performances by the young musicians from the Sphinx Organization are always illuminating, not only because they are the fruits of an inspiring program, but also because the performances are invariably energetic and finely burnished." - Allan Kozinn, The New York Times
After the concert, guests mingled with the young musicians along with Sphinx staff, board members, and supporters at 'The Afterglow," held in the Hall's Belvedere Lounge.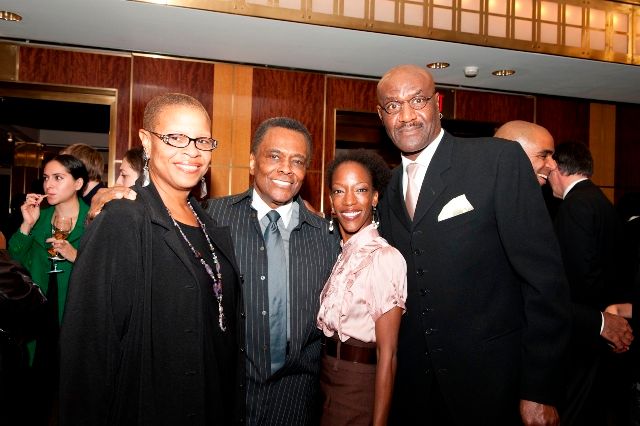 Terrie Williams, President, The Terrie Williams Agency; Arthur Mitchell, Artistic Director Emeritus, Dance Theatre of Harlem;
Paunika Jones, Prima Ballerina,
Dance Theatre of Harlem;
and Delroy Lindo, Actor and Director, 2010 Event Chair
Pamela Pickens, Founder and Chief Intelligence Officer, urbanAdserve; Marshay R. Williams, Director of Leadership Investment and Event Architect, Sphinx Organization;
Rashid Dilworth-Silvera, Model; Michael L. Clark, theRoot.com, Washington Post Digital; Maurice Belle, Principal Bassist, Sphinx Chamber Orchestra
Randall Goosby (right), junior division winner of the 13th annual Sphinx Competition with his parents Ralph and Jiji Goosby.
The New York Times says of Goosby's performance, "The first-prize winner in the junior division of this year's Sphinx Competition,
exerted a masterly level of control and lavished an exquisite tone on Ysaÿe's unaccompanied Sonata No. 3."
The Catalyst Quartet: Christopher Jenkins, viola; Delroy Lindo; Karla Donehew Perez, violin; Karlos Rodriguez, cello; Bryan Hernandez-Luch, violin
Aaron P. Dworkin, Founder and President, Sphinx Organization; Deidre Bounds, Board President, Sphinx Organization and Chief Operating Officer, Ignite Social Media; Karla Hall, Vice President, DTE Energy Foundation; and Delroy Lindo
Dara D. Harris, Esq., of New York shared with BlackGivesBack at the event, "I will join and donate tonight as a result of a fabulous performance." Among the sponsors and supporters for the event were the Frank & Lydia Bergen Foundation, Sander & Norma K. Buchman, Dr. James M. & Jaclyn P. Fox, James B. & Ann V. Nicholson, Nordstrom, Inc., Victoria Hull Sharp, Vanessa Williams, actress and singer; BEAT (Black Employees at Time Inc.), and the Metropolitan Chapter of Jack & Jill America.
About the Sphinx Organization
: With offices in New York and Michigan, the organization is committed to building diversity in classical music through year-round programming in arts education, awareness and presentation. Programming includes five main areas: Artist Development, Sphinx Performance Academy, Sphinx Preparatory Music Institute, Sphinx Presents! and the Sphinx Legacy Project. For an overview of these programs, watch a video
HERE
and visit
http://www.sphinxmusic.org/
for more information and upcoming tour dates.
Photo credit: Nan Meville