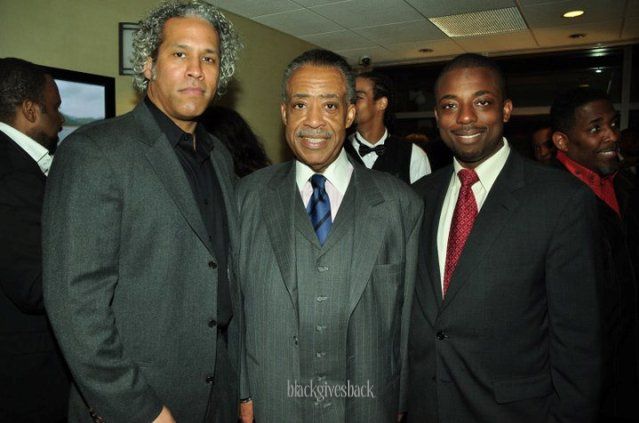 Khary Lazarre-White, Founder and CEO, Brotherhood/Sister Sol; Rev. Al Sharpton, and Brian Benjamin, event co-chair and founder, Young Professionals United for Change attend the charity cocktail reception benefiting Brotherhood/Sister Sol on Thursday, September 30, 2010 in New York City.

By Akira Barclay
New York Contributor

On September 30, 2010, Reverend Al Sharpton and Wall Street powerhouse and philanthropist Carla Harris hosted a cocktail reception to benefit the visionary nonprofit organization, The Brotherhood/Sister Sol. Held at the residence of New York Hospital Neurosurgeon Dr. Muri Raifu, the event raised much-needed funds to send underprivileged students to Ghana, Africa as part of the organization's International Study Program. Young Professionals United for Change Founder Brian Benjamin and E&E Capital Advisors' General Counsel Tinika Brown served as the event co-chairs. Guests included television and radio personality Jacque Reid, Global Hue Executive Kelly Smith, Fox News Liberal Commentator Tara Dowdell and Uptown Magazine's Tomika Anderson.


Rev. Al Sharpton with event host and New York Hospital neurosurgeon Dr. Muri Raifu

Carla Harris, author, philanthropist, and Managing Director at Morgan Stanley; Rev. Al Sharpton
Kelly Smith, Global Hue and BET's Harlem Heights; Tara Dowdell, Fox News Liberal Commentator/Former Apprentice Contestant; and Tomika Anderson, Uptown Magazine

The International Study Program is an intensive four week program that provides underserved high school students with a unique opportunity to travel to countries in Africa and Latin America to learn the language of the country, undertake research projects, participate in and plan seminars, as well as meet corporate, cultural and government leaders. In preparation for their trip, the students participate in an extensive six month program to learn about the country that they will be visiting. Over the past 13 years, Brotherhood/Sister Sol students and staff have studied in South Africa, Ghana, Egypt, Morocco, Brazil, Spain, Mexico, Dominican Republic, and Puerto Rico.
To learn more, visit the website at
http://www.brotherhood-sistersol.org/
.