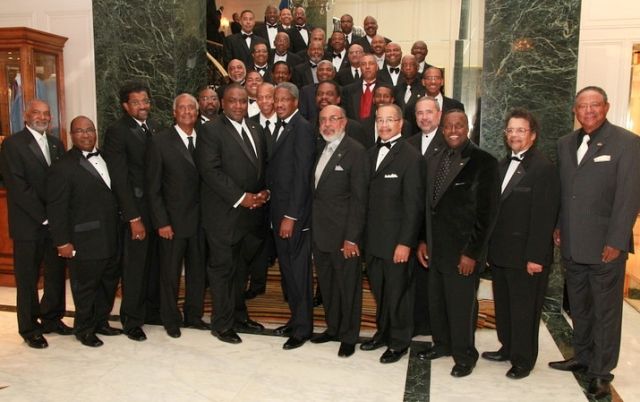 (Photo Credit: Malcolm Ali)
The leadership and members of 100 Black Men of Los Angeles at their 2010 Annual Awards Gala with International President of 100 Black Men of America, Albert Dotson

By Kim Anthony

[LOS ANGELES, CA] 100 Black Men of Los Angeles, Inc. ("100 BMLA") celebrated 29 years of service to the Greater Los Angeles Community at its 2010 Annual Gala Dinner on October 15, 2010. Held at the Four Seasons Beverly Wilshire Hotel in Beverly Hills, California, the honorees included Presiding Bishop Charles E. Blake (Man of the Year), Oprah Winfrey (Woman of the Year), Actress Vanessa Bell Calloway (Special Achievement Award), Wells Fargo's Byron Reed (Community Partner Award), Congresswoman Diane E. Watson (Lifetime Achievement Award), and Attorney Virgil Roberts, Esq. (Lifetime Achievement Award).
"
Continuing the Vision through Education and Leadership seemed most appropriate as we reflected over the rich history of the chapter. Each honoree's professional accomplishments and community service is a shining example of our theme. Tonight we recognize them and spotlight the mentoring programs of 100BMOLA that are benefiting youth, their families and the communities we serve
." -- Donald Aquinas Lancaster, Jr., President and Chairman, 100 Black Men of Los Angeles, Inc.
"In 1982, members of 100 BMLA made a commitment to use their talents, skills and resources for the betterment of their community. The chapter's impact includes: sending over 18,000 youth to colleges and universities throughout the U.S., and mentoring young men to become impactful leaders and delivering invaluable health resources to countless Los Angeles families," said Albert E. Dotson, Jr., Esq., Chairman, 100 Black Men of America, Inc. "I am extremely honored to join one of our most senior chapters as they celebrate their commitment and service to the City of Angels."
Sponsored by the Wells Fargo Bank Foundation, the proceeds from the gala will support the signature programs of 100 Black Men of Los Angeles including Young Black Scholars ("YBS") and See Your Future Mentoring Program ("See Your Future"), along with the Annual Back-To-School Health Fair.
Learn more about the third oldest chapter within the 100 Black Men of America, Inc.'s global network at
http://www.100bmla.org/
.