Dr. Darius Mans, President, Africare; Dr. Ngozi-Okonjo-Iweala, Honoree; and Ellen Johnson Sirleaf, President of Liberia, attend the 2010 Africare Bishop John T. Walker Memorial Dinner on November 5, 2010 in Washington, DC.


By Stacey Trammel, Guest Contributor

Well-heeled Washingtonians and guests from around the world were in the nation's capital recently to attend the Africare 2010 Bishop John T. Walker Memorial Dinner, held on November 5th at the National Building Museum. The dinner is one of the most widely-recognized annual fundraisers in support of economic and social improvements in Africa.
Nelson Mandela, former President of South Africa, was bestowed the organization's 2010 Lifetime Achievement Award for his tireless efforts to enhance the lives of those in Africa and globally. Zindzi and Zondwa Mandela, daughter and grandson of Nelson Mandela, accepted the award on his behalf. He received the organization's Bishop John T. Walker Distinguished Humanitarian Service Award in 1994, joining such highly regarded recipients as human rights activist Archbishop Desmond Tutu (1992), civil rights icon Dorothy Height (1997), philanthropists Melinda & Bill Gates (2003), former President Bill Clinton (2006) and last year's awardee, performer and global activist John Legend (2009). The memorial dinner is named after Bishop John T. Walker, former chair of Africare's Board of Directors, a position held until his death.
This year's Distinguished Humanitarian Service Award was presented to Dr. Ngozi Okonjo-Iweala, Managing Director at The World Bank. Okonjo-Iweala is widely noted for her work at The Bank, where she chairs the 16th replenishment of its' International Development Association (IDA). The IDA fund provides over $14 billion in grants and interest-free loans to economically disadvantaged countries worldwide. Other accolades include serving as the Foreign Affairs Minister and Finance Minister of Nigeria, where she negotiated the cancellation of almost $50 billion of the country's foreign debt, co-founding the Makeda Fund, a $50 million private equity that invests in women-owned businesses in Africa, and being named Time Magazine's European Hero of the Year Award in 2004. Dr. Darius Mans, President of Africare, presented Okonjo-Iweala with the esteemed honor.
Earl Stafford, founder, the Stafford Foundation; Amanda Stafford, Zindzi Mandela and Zondwa Mandela

Dr. Ngozi-Okonjo-Iweala, 2010 Bishop John T. Walker Distinguished Humanitarian Service Award Winner, and Kojo Nnamdi, Master of Ceremonies, Radio Host and Journalist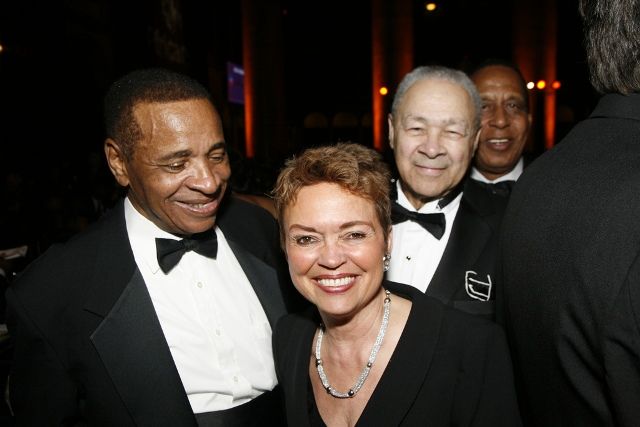 Former Washington, DC Mayor Sharon Pratt Kelly

Dr. Louis Sullivan, former U.S. Secretary of Health and Human Services, and founder, Morehouse School of Medicine and guests

Attorney Billy Martin, NPR's Michel Martin, and Mrs. Maria Walker, Widow of Bishop John T. Walker & Honorary Vice Chair, Africare Board


W. Frank Fountain, Chairman, Africare Board; Darius Mans; Larry Bailey,Vice Chair, Africare Board


Rex Tilleson, Chairman and Chief Executive Officer of Exxon Mobil Co., was given Africare's first ever Corporate Service Award in acknowledgement of the company's continued commitment to economic development in Africa. Exxon Mobil, whose partnership with Africare began in 1993, has invested in numerous initiatives, giving nearly $5 million to support efforts such as micro-enterprise, Malaria control, and sustainability within Africa.
Guests were feted to a pre-dinner reception, three course meal and entertainment by Grammy award-winning artist Angelique Kidjo and Elliott Yamin of Fox's "American Idol" fame. Kidjo, an electrifying performer and UNICEF Goodwill Ambassador, along with Yamin, sang a soulful rendition of her latest single "Move On Up".
Grammy award-winning artist Angelique Kidjo and Elliott Yamin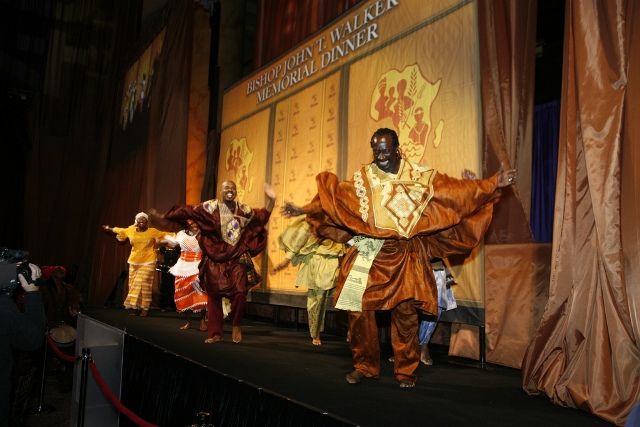 The KanKouran West African Dance Company performs.


Luminaries such as Ellen Johnson Sirleaf, President of Liberia, former Atlanta Mayor and UN Ambassador Andrew Young, singer-songwriter and "Dancing With The Stars" runner-up Mya, who has partnered with Africare on various causes, former DC Mayor Sharon Pratt Kelly, and Congressman Donald Payne (NJ) were just a few who were in attendance.
Africare, now in its 40th year, is one of the world's premier organizations benefiting the continent of Africa, having provided more than $1 billion in assistance and support since its inception. Major focal areas include Health and HIV/AIDS, Food Security and Agriculture, and Water and Sanitation, including a new program, "President Obama and Africare's Water and Sanitation Program in Ghana" that seeks to educate 1,500 residents on the availability of water and sanitation facilities within their communities.
Guests enjoy the pre-dinner reception.

Atmosphere by Hutchinson Design Group, an African-American owned design firm based in Ft. Washington, Maryland


To learn more about Africare and how the organization is making a major impact, visit the website at
www.Africare.org
.
DC Guest Contributor Stacey Trammel has a passion for volunteerism and making a difference in her surrounding community. Currently, she works pro-bono for a well-known foundation that performs capacity building and provides board recruitment strategies for small to mid-sized nonprofits in the Washington, DC area.
Photos courtesy of Africare