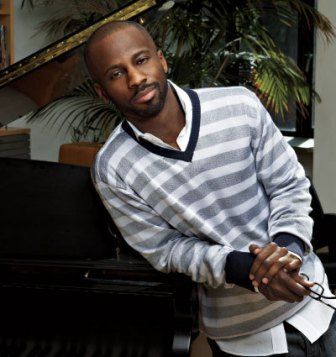 Grammy Award Winning Producer Bryan-Michael Cox Announced as Newest Advisory Board Member for 100 Urban Entrepreneurs, a foundation of TheCASHFLOW


NEW YORK, November 9, 2010 - Grammy award winning producer Bryan-Michael Cox has been elected to serve on the 100 Urban Entrepreneurs Advisory Board for the 2011 - 2012 year. An important milestone for Cox, and an honor for
100 Urban Entrepreneurs
, the appointment marks the first charity with which Cox has aligned himself. Cox, a long time supporter of underserved youth within the Atlanta community and his hometown of Houston, Texas, believes strongly in the mission of 100 Urban Entrepreneurs and
TheCASHFLOW
, which is to fund, mentor and educate young, urban entrepreneurs in order to start companies and create jobs.
"TheCASHFLOW and 100 Urban Entrepreneurs are very excited to partner with Bryan-Michael Cox," stated Dan Carriere, Chairman of 100 Urban Entrepreneurs. "As we strive to reach our goal to fund 100 urban entrepreneurs, I am personally thrilled to have Bryan-Michael Cox support in these efforts. Seeing first hand his devotion to assisting young entrepreneurs throughout the past year, I know Bryan's contribution will make a difference." Due to the large number of business submissions in the areas of music, video production, entertainment and publishing, Cox will lend his expertise specifically to young entrepreneurs who are funded in those fields.
Bryan-Michael Cox began working with TheCASHFLOW and 100 Urban Entrepreneurs Foundation in February 2010 where he introduced the company's mission at his annual Grammy Brunch in Beverly Hills. In October 2010, Cox also served as a judge during TheCASHFLOW Elevator Pitch Competition in Atlanta, GA alongside TheCASHFLOW co-founder Lucas Riggins and BeeHive FM "Live from Plutopia" host Taiye "The Wild Afrikan" Samuels. Inspired by how TheCASHFLOW and 100 Urban Entrepreneurs Foundation provided three start-up businesses in Atlanta with access to $10,000 each in funding and mentoring, Cox made a personal commitment to become more involved.
Eager to serve as an advisory board member, Cox stated, "As a believer and advocate for entrepreneurship and fostering business development within communities, I am privileged to be a part of 100 Urban Entrepreneurs as they continue to change lives for individuals and urban communities. Access to $10,000 in funding is great, but I'm here to help really shine the spotlight on how important this mentoring opportunity is. These young entrepreneurs need mentors." Bryan-Michael Cox looks forward to working closely with 100 Urban Entrepreneurs and other advisory board members to bring growth to the organization.
About TheCASHFLOW

TheCASHFLOW is the one-stop shop for young urban entrepreneurs dedicated to helping them start their own businesses and achieve financial independence. The short-term goal in partnership with the non-profit foundation, 100 Urban Entrepreneurs, is to provide 100 entrepreneurs with $10,000 in startup capital, along with mentoring and guidance, while making their proprietary startup tools and insights available online — for free — to all aspiring entrepreneurs. Their platform caters to ambitious young businesspeople of all levels of experience, and offers a unique blend of resources, e-commerce and community features. TheCASHFLOW is going into urban communities throughout the United States to find these entrepreneurs, partner with them — and help them handle their business. For more information please visit
http://www.thecashflow.com
.
About 100 Urban Entrepreneurs

100 Urban Entrepreneurs is a nonprofit foundation dedicated to helping provide a long-term economic boost to urban communities throughout the United States by supporting entrepreneurship at its earliest stages. In partnership with TheCASHFLOW, 100 Urban Entrepreneurs seeks to identify, fund and mentor 100 of the most promising young business people that might otherwise lack access to startup capital and a professional network. Their goal is to provide the tools to help talented young dreamers create viable, profitable companies and create jobs within Urban America. For more information visit
www.100urbanentrepreneurs.org
.
About Bryan-Michael Cox

Bryan-Michael Cox is an award winning producer and songwriter, who has written and produced songs for leading entertainers within the music industry. Notably, Cox's writing and producing credits has earned him accolades and awards with the songs - "Be Without You" (songwriter award) in 2007, a Grammy Award for Best Contemporary R&B Album - The Emancipation of MiMi (producer award) in 2005 and a Grammy Award for Best Contemporary R&B Album - Confessions (producer award) in 2004. In 2009, Cox was inducted into the Georgia Music Hall of Fame and in 2010, Cox was named by Billboard Magazine as one of the top ten producers of the decade.
Source: Press release/Photo: Essence.com