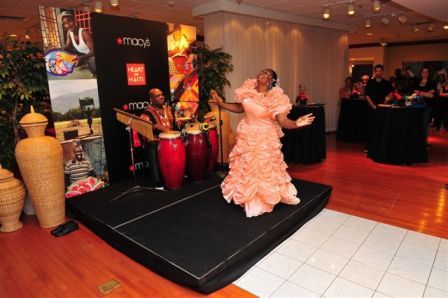 Washington, DC – On October 28th, Macy's department store at Metro Center unveiled "Heart of Haiti," a new home goods line benefiting earthquake-ravaged Haiti that is also helping to rebuild the country's economy. After the devastating earthquake in January, the William J. Clinton Foundation urged American businesses to help, and Macy's having long partnered with global artisan communities, was an immediate responder. Instead of providing one-time funding through charity, Heart of Haiti is creating opportunities for Haitian artisans to earn income with dignity by creating jobs and sustainable income for the people of Haiti. In other words, Heart of Haiti is based on "Trade, Not Aid" and is using business and commerce to create social change.
Supporters of the new line came out to celebrate its launch and to view the handmade pieces that include 40 different items and accessories such as quilts, metalwork, ceramics, and paintings. Each and every piece is signed by the artist and comes with a certificate of authenticity. The event featured music with a special appearance by renowned Haitian singer Emeline Michelle, and Haitian dancing and food. Guests included a representative from the Clinton Foundation, and members of the local Haitian community.
"It is truly devastating to see the ongoing impact of the earthquake in Haiti," said Terry J. Lundgren, chairman, president and chief executive officer of Macy's, Inc. "While we, along with many others, responded immediately with giving, we also quickly identified an opportunity to help in a more lasting way. Like our Rwandan 'Path to Peace' program, which has transformed the face of rural Rwanda and the lives of thousands, we know that we can create a sustainable economic model when there is beautifully appointed product and an inspiring story to tell. We are delighted to bring these incredible works of art to Macy's customers in America, and in turn to create a revenue stream that can support the foundation and infrastructure for Haiti's rebuild."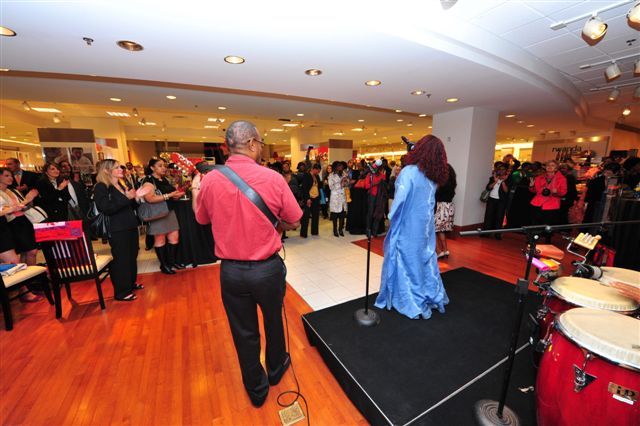 Haitian singer Emeline Michelle performs.
The Heart of Haiti collection has already led to employment of 350 artists in Haiti and has provided some financial benefits for an estimated 4,000 to 5,000 people in the country. Most items fall in the $25-$60 range. The line is being sold exclusively in 25 Macy's stores around the country and online at Macy's.com
HERE
.
For highlights of launch events around the country, follow Heart of Haiti on Twitter at
http://twitter.com/heartofhaiti
.
Source and photos: Macy's