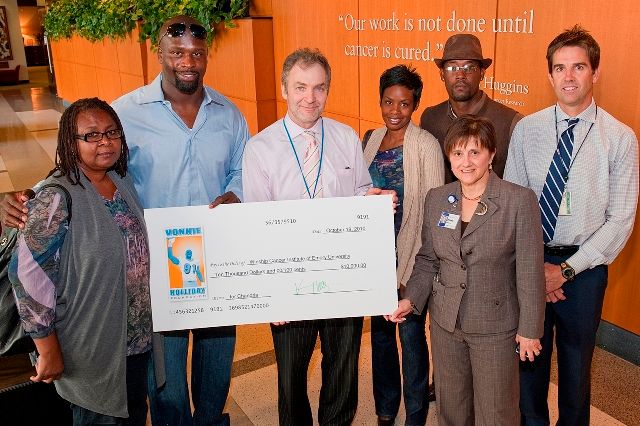 Janie Rouse, mother of Chandria Rouse, named for the Chandria Rouse Kent Brain Tumor Fund; Washington Redskins Defensive End and NFL veteran Vonnie Holliday; Walter J. Curran, Jr., MD, Executive Director of Winship Cancer Institute of Emory University; Eboni Holliday, wife of Vonnie Holliday and sister of Chandria Rouse; Darrin Kent, Chandria's husband; Diane Cassels, Winship's Executive Administrator; and Timothy Fox, PhD, Director of Emory's Division of Medical Physics.

ATLANTA - When Chandria Rouse Kent was in her 30s, she was making decisions that few people her age ever have to make. After being diagnosed with a brain tumor at 32, the married mother of one planned carefully for the difficult fight that lay ahead.
She fought for five years, finally succumbing to the disease in 2008. Her battle had a profound impact on her family, which includes 13-year NFL veteran and Atlanta resident Vonnie Holliday. As a result, Holliday and his family established The Chandria Rouse Kent Brain Tumor Fund at Winship Cancer Institute of Emory University.
"Before my sister-in-law received the brain tumor diagnosis, I didn't personally know anyone who has suffered or died from brain cancer," says Holliday, who established Chandria's Fund through the Vonnie Holliday Foundation, following a
fundraiser in partnership with Saks Fifth Avenue at Phipps
earlier this year. "After you watch someone you love suffer with the disease, you learn a lot. I want to make sure people are aware of the disease because it is one that is rarely talked about in the news media."
"Vonnie's commitment to this effort, along with his wife Eboni, brother-in-law Darrin, and mother-in-law Janie, has touched all of us," says Walter J. Curran, Jr., MD, executive director of Winship at Emory. "That Vonnie and his family have decided to bring attention to this underserved area of research funding is humbling to all of us at Winship. They have turned their profound loss into a beacon of hope for other families. Our brain tumor team truly believes that among Chandria's legacies will be that someday other families may not have to face the tragedy that she and her family faced.
"Glioblastomas are among the most difficult types of brain tumors to treat," says Curran. "Though these tumors can occur at any age, we too often we see vital young people, such as Chandria, afflicted by this disease in the prime of their lives. Research is critical to ensure new treatments for this devastating diagnosis. We are focused daily at the Emory Brain Tumor Center of Winship Cancer Institute on finding a cure. There is, unfortunately, limited community awareness of brain tumor research funding needs, and this presents a consistent challenge."
To learn more about The Chandria Rouse Kent Brain Tumor Fund and the Emory Brain Tumor Center of Winship Cancer Institute, please call 404-778-5175.
About Vonnie Holliday
Vonnie Holliday is an NFL defensive end currently signed with the Washington Redskins. During his 13-year NFL career Holliday has played with the Green Bay Packers, Kansas City Chiefs, Miami Dolphins and Denver Broncos. He is known throughout the league as a leader on and off the field. In 2001, he founded The Vonnie Holliday Foundation to improve the quality of life of citizens in underserved communities by donating time and monetary resources. Since its inception, the Foundation has improved the lives of those in many communities. Holliday is determined through the Foundation, to give back to the community that has given him so much. Holliday plans to create new programs under the foundation that will benefit families in Atlanta. For more information, visit
http://vonniehollidayfoundation.org/
.