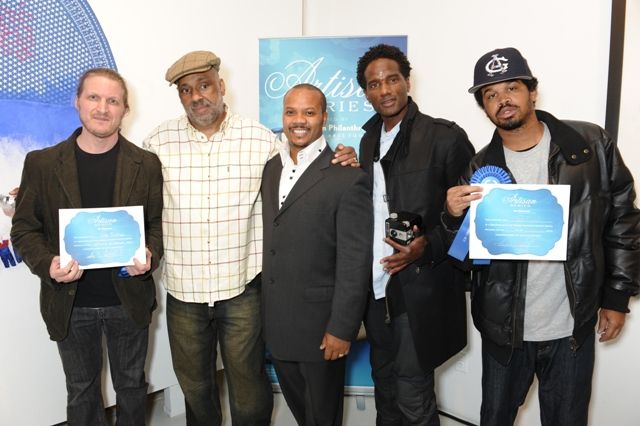 NY finalist Joe Bramley-Fenton, Danny Simmons, artist Andre Guichard, photographer Eric Henderson, and finalist Ian Reid attend the Bombay Sapphire Artisan Series on November 17, 2010 in New York City.
By Akira Barclay, New York Contributor

On November 17th, the Rush Arts Gallery in Chelsea played host to the New York City finals of the Bombay Sapphire Artisan Series. Launched in June, the national search is designed to provide exposure for emerging talent in multi-media art and photography. Before announcing the winners, hip hop impresario Russell Simmons and his artist brother, Danny Simmons, accepted a donation from Bombay Sapphire to their Rush Philanthropic Arts Foundation. Danny Simmons shared with BlackGivesBack, "In this time of budget cuts, dwindling sponsorship opportunities and increased need, the Rush galleries are more than grateful to Bombay Sapphire for making this critical donation to our galleries program. This gift will help to maintain our commitment to the artistic community to provide emerging artists with exhibition opportunities that might not be there for them if not for organization like ours."
In its first year, the Bombay Sapphire Artisan Series received nearly 2,000 entries from around the country. After careful consideration, New York City artists Ian Reid and Joe Bramley-Fenton were selected as the regional winners and will go on to compete for the top artisan title at a finale event during Art Basel Miami in December. Bramley-Fenton expressed his gratitude saying, "At the start of an artist's career, getting the right exposure is one of the hardest if not the hardest thing to achieve. Being a part of the Bombay Sapphire Artisan Series, having my work displayed at the Miami Art Basel and being selected as one of the regional winners by a panel of artists and creative thinkers, could not have me more excited and appreciative by this experience."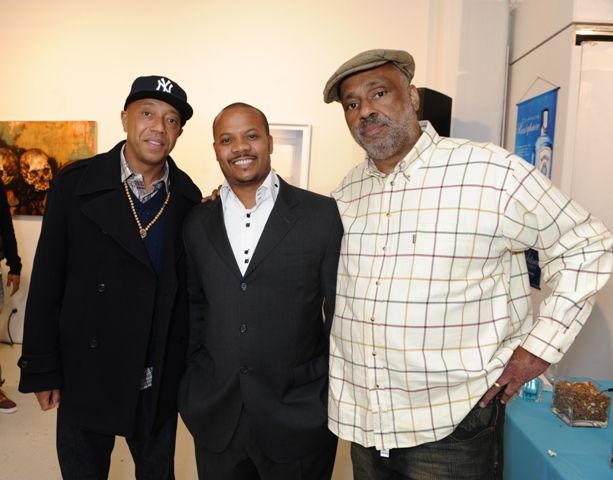 Russell Simmons, Andre Guichard and Danny Simmons

ABOUT RUSH PHILANTHROPIC ARTS FOUNDATION
Rush Philanthropic Arts Foundation is dedicated to providing underserved urban youth with significant exposure and access to the arts, and to offering exhibition opportunities for underrepresented artists and artists of color. Rush was founded in 1995 by three brothers: Danny Simmons, visual artist and community builder; media mogul Russell Simmons; and Joseph "Rev. Run" Simmons of the legendary hip-hop group Run-DMC. Their goal was to fill the gap that poor and minorities face in both accessing the arts and exhibition opportunities. Over the past 15 years, Rush has served over 700,000 urban youth and has developed a broad base of friends, collaborators and supporters dedicated to addressing these issues. In addition to the 2,000 students served each year in its education programs, Rush exhibits the work of 40 to 50 emerging and community-based artists in its galleries; welcomes over 10,000 gallery visitors; distributes grants to nonprofit arts organizations in NYC and South Florida; and provides unique opportunities for young people interested in careers in the arts. Rush currently operates two galleries, Rush Arts Gallery and Resource Center in Chelsea (Manhattan) and Corridor Gallery in Clinton Hill (Brooklyn).
For more information on Rush Philanthropic Arts Foundation, visit
www.rushphilanthropic.org
.