By Lisa Brathwaite, Atlanta Contributor

Marjorie Harvey, President of the Steve and Marjorie Harvey Foundation, and State Farm Executive Pam El, gathered a stellar cadre of women to mentor 100 teenage girls in Atlanta at the Steve and Marjorie Harvey Foundation's Girls Who Rule the World Mentoring Weekend that took place October 22-24, 2010 at the Omni CNN Center. With Georgia ranking number one in the high school drop out rate among teen girls, and third in the nation in the prostitution of them, Marjorie Harvey hosted the weekend to give the teenage girls of Georgia the tools to recognize and develop personal goals for success.
Hosted by the Foundation and sponsored by State Farm, Harvey along with El were joined by singer/songwriter Keri Hilson; The View host Sherri Shepherd; actresses Wendy Raquel Robinson and Terri Vaughn; Essence Magazine Editor-in-Chief Angela Burt-Murray and beauty industry legend Mikki Taylor; The Steve Harvey Morning Show co-host Shirley Strawberry; Perri "Pebbles" Reid; Wal-Mart's Rosalind Brewer and numerous other inspiring, successful women who selflessly shared with the girls of diverse backgrounds their journey to realizing their dreams and overcoming roadblocks to success.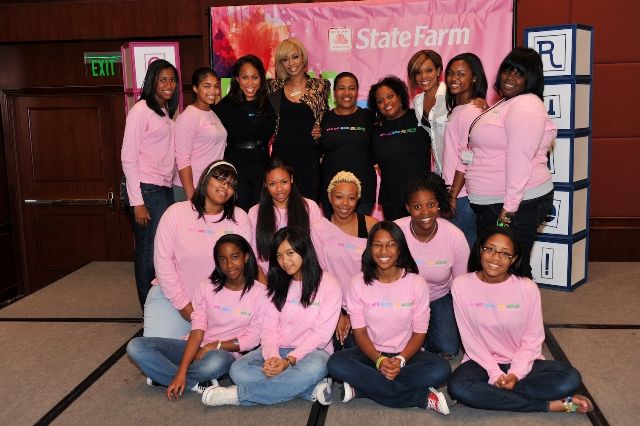 Back Row Standing (L-R): Lauryn L., Lori W., Marjorie Harvey, Keri Hilson, Pam El, Sherri Shepherd, Wendy Raquel Robinson, Taylure S., and Michelle M.; Middle Row Seated (L-R): Shalonda G., Katrina D., Jazsmine T., Kamari R.; Front Row Seated (L-R): Nasayakah S., Ashley T., Lauren L., Madison M.


Over the course of the weekend between informative workshops and interactive sessions like Express Yourself, My Body My Temple, Financial Literacy, Dining Etiquette, Finding Your Best Fit, and You Can Be Me, a theme of "You're empowered! Don't give up!" seemed to resonate. The Mentoring Weekend by all accounts was an unforgettable experience for the women and the girls.
"I see my [younger]
self in them—and the hope and the dream and the light in their eye. It impacts me," said actress Wendy Raquel Robinson. "I wasn't born with a silver spoon in my mouth or with connections in the industry. But being influenced by having positive people around—all you need is that one little thing to let you know, yes, the window just might be open for YOU… it changes your life."

Sherri Shepherd's inspiring advice on "running to the fear."








Pam El on how Girls Who Rule the World came to be and State Farm's commitment to the event.








Marjorie Harvey on the lessons and energy of Girls Who Rule the World.








Keri Hilson on her "big break" and having perseverance.









Photo credits: Jeff Soucek/State Farm (first photo), Alex Johnson Photography III,

ajiii@aol.com