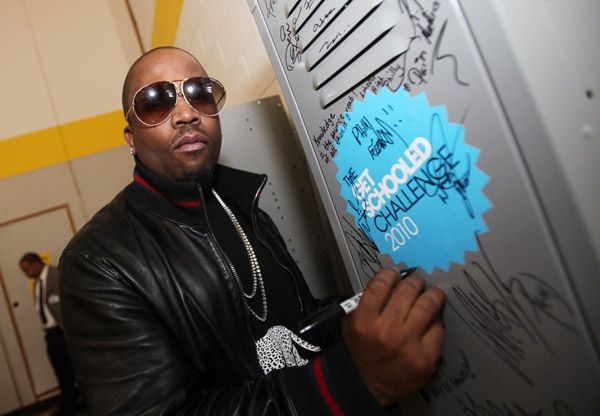 The votes are in! Here are your picks for favorite celebrity philanthropists of 2010!

BIG BOI
Your top pick for 2010 is Antwan "Big Boi" Patton, one half of the Grammy award winning hip hop group Outkast. Big Boi's philanthropic vision led him to create the
Big Kidz Foundation
in 2006 to help support and nurture youth through a variety of cultural experiences. The foundation's activities this year has supported educational projects and has worked with schools in the metro Atlanta area. A reader shared, "My child attends South Cobb High School and Big Boi's Foundation is the BEST!" In October of this year, Big Boi participated in the Get Schooled National Challenge & Tour (pictured above), an initiative designed to engage and empower more Americans to step up for education.
Big Boi's charitable activities also supported those in Haiti, after the country suffered a devastating earthquake this year. Jennifer Lester, the foundation's executive director stated, "The Big Kidz Foundation primarily focuses on youth development in Georgia, but we felt compelled to support a country where children make up 50% of the population leaving more than 2 million children affected." Big Boi along with many other celebrities, community leaders, and businesses called on the Atlanta community to open their hearts and wallets, helping to raise $1 million to support Atlanta Cares for Haiti.
Related post:
Big Boi's Big Kidz Foundation Hosts 5th Annual Art of Life Canvas for Kidz Celebrity Art Auction & Experience

VONNIE HOLLIDAY
Vonnie Holliday and NFL Hall of Famer Harry Carson at an event held earlier this year at Saks Fifth Avenue in Atlanta, GA to benefit the Chandria Rouse Kent Brain Tumor Fund.
"Vonnie Holliday is always going the extra mile to help in his community as well as giving donations to help worthy causes! He is more than a philanthropist, he is a blessing!"
In 2008, Washington Redskins defensive end Vonnie Holliday lost his sister-in-law to brain cancer. Chandria Kent's five year battle inspired the football player to donate time and money to research and a cure for the disease. As a result, Holliday and his family established The Chandria Rouse Kent Brain Tumor Fund at Winship Cancer Institute of Emory University.
In June, Vonnie partnered with retailer Saks Fifth Avenue in Atlanta to host an event that raised $10,000 to benefit the fund. Vonnie shared, "Before my sister-in-law received the brain tumor diagnosis, I didn't personally know anyone who has suffered or died from brain cancer. After you watch someone you love suffer with the disease, you learn a lot. I want to make sure people are aware of the disease because it is one that is rarely talked about in the news media."
See related post
HERE
.

DENZEL AND PAULETTA WASHINGTON
Pauletta and Denzel Washington arrive at the 10th Annual Harold Pump Foundation Gala on August 12, 2010 in Century City, California.

"
The Washington's contributions in several areas has been very remarkable.
" Ronald- Copenhagen, Denmark
In June, this philanthropic couple presented two neuroscience scholarship awards in their name at the 7th annual Pauletta and Denzel Washington Family Gifted Scholars Program in Neuroscience Awards at a public charter school in Harlem, New York. The Washingtons, being strong believers in the value of family and the empowerment of education, donated $1 million dollars in support of Steve Harvey's foundation and its mentoring activities for young men.
Academy Award winner Denzel Washington accepts an award from Steve Harvey at the NY gala benefiting The Steve Harvey Foundation at Cipriani, Wall Street on May 3, 2010 in New York City.
Actor Denzel Washington speaks at a Boys and Girls Clubs of America news conference on increasing high school graduation rates on September 15, 2010 in Washington, DC. The organization announced a plan to refocus its program strategy toward ensuring its members graduate from high school on time.
Denzel has been a staunch advocate for education, having recently been profiled in
Parade magazine
highlighting the work of the Boys and Girls Clubs of America - and serving as their national spokesperson for the past 18 years. He credits the organization for keeping him out of trouble. He states, "Our children today are going where we lead them. We have a national crisis on our hands, but if every one of us gets involved, we can make a difference."

MARY J. BLIGE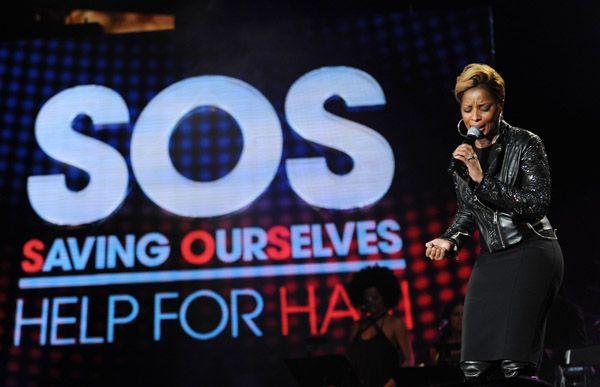 Singer Mary J. Blige performs at the BET SOS Saving Ourselves - Help for Haiti benefit concert and telethon at AmericanAirlines Arena on February 5, 2010 in Miami, Florida.

"
Mary J. Blige gives back from the heart
." Katrina - Birmingham, AL
Grammy-award winning singer Mary J. Blige has been busy this year - giving back. Making the list for the 3rd year in a row (two times at the top spot), Mary's charitable foundation
FFAWN
(The Foundation for the Advancement of Women Now) has partnered with NASA to promote science among girls, adopted an all girls public high school in the Bronx providing mentorship and college scholarships, collaborated with fashion designer Catherine Malandrino on charity tees, and debuted her new fragrance 'My Life' on HSN that broke fragrance records for units sold. HSN Cares, the philanthropic arm for HSN, donated $1 from each bottle sold.
Mary J. Blige (center) attends BET's Rap-It-Up & FFAWN Foundation's celebrity health forum at the Women's Academy of Excellence on February 9, 2010 in New York City.
As a result of her many philanthropic efforts, Mary was honored by Spelman College at its inaugural BLUE benefit gala in September, for her positive influence on the next generation of dynamic women leaders.
Related post:
The New York Women's Foundation's 2010 Celebrating Women® Breakfast

RUSSELL SIMMONS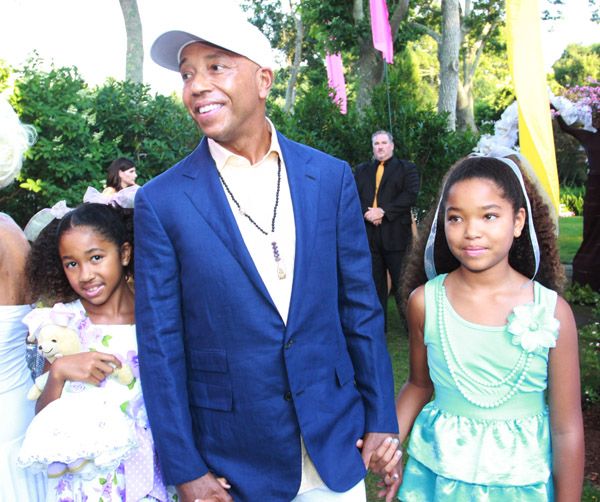 Aoki Lee Simmons, Russell Simmons and Ming Lee Simmons attend the 11th annual Art For Life benefit party at Russell Simmons' East Hampton Estate on July 24, 2010 in East Hampton, New York.
"Russell has the most innovative charities under his belt, what is it like 100 of them by now.. :) Second he reaches not only US residents but world wide.. big up Russell"
This past summer Russell hosted his 11th annual Art for Life, a charity gala held in the Hamptons that benefits Rush Philanthropic Arts Foundation, an organization co-founded by Russell along with his brothers Danny and Rev. Run Simmons. The goal of the foundation is to provide public school students with art education experiences and the empowerment of emerging artists through art exhibition opportunities.
In June, Russell opened his Manhattan penthouse to help raise $250,000 for the
Eagle Academy Foundation
, which supports three all-male public schools in New York, most of which serve Black and Latino students.
Related post:
Rush Philanthropic Arts Foundation Partners with Bombay Sapphire Artisan Series

NE-YO
Grammy-award winning singer/songwriter Ne-yo has recently wrapped up his 2010 Giving Tour, a national celebration bringing toys, holiday cheer, and clothing to 3,000 foster and formerly homeless youth in Las Vegas, New York, Atlanta and Los Angeles.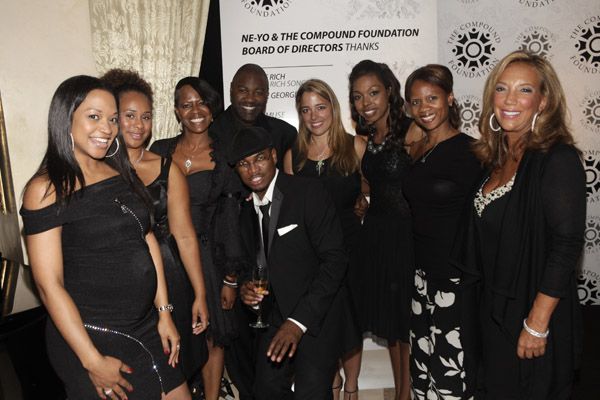 Ne-Yo (center), Denise Rich (right) and other members of the Compound Foundation board of directors attend A Night of Redemption Hosted by Ne-Yo, Denise Rich, and the Compound Foundation on September 20, 2010 in New York City.
Ne-yo's Compound Foundation was founded in 2007 and aims to increase awareness about the status of children in the nation's child welfare systems. For more information, visit
http://www.compoundfoundation.org/
.
Related post:
Ne-yo's Compound Foundation Hosts 3rd Annual Celebration of Mothers

ALICIA KEYS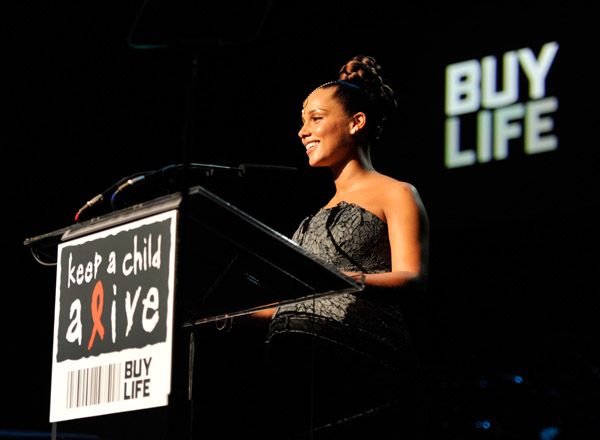 Alicia Keys speaks during Keep A Child Alive's 7th annual Black Ball at Hammerstein Ballroom on September 30, 2010 in New York City.

On World AIDS Day, Alicia along with her celebrity friends staged a "virtual death" from social media, in an effort to raise $1 million in support of Keep A Child Alive, an organization she co-founded that provides life saving treatment and care to those affected by HIV/AIDS, and provides support to orphans and other family member impacted by the disease.
Since 2004, the organization has raised over 10 million from its annual Black Ball fundraiser gala. This year, the gala raised 2.2 million, and featured performances from Jay-Z, Janelle Monae and Sade. View a snippet of Alicia and Sade's performance of 'Stronger Than Pride' and other highlights
HERE
.

ALONZO AND TRACY MOURNING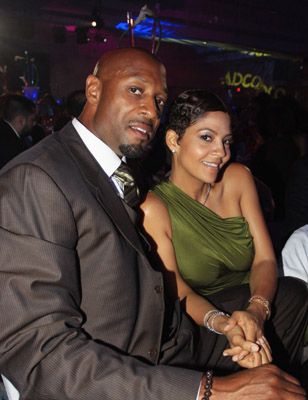 The second charitable couple on our list, the Mournings have been enriching the lives of Miami's youth since 1997.
This past summer, Alonzo along with NBA star Dwyane Wade hosted the 14th annual Summer Groove, that benefited Alonzo Mourning Charities and Wade's World Foundation. The five-day event featured golf, comedy, a concert, benefit dinner, youth summit, youth basketball clinic and sports conference, a free block party, an all-star basketball game and numerous exclusive functions.
A program of Alonzo Mourning Charities is the
Honey Shine Mentoring program
, founded by Tracy Mourning. In March, the organization partnered with the House of Dereon and Neiman Marcus in Bal Harbor, Florida for an exclusive fashion show for the program's Honey Bugs participants and prospective mentors. See highlights
HERE
.

USHER RAYMOND
Usher's New Look Trains 600 Youth During Powered By Service Day: CNN anchor Don Lemon and Usher at Powered By Service Day on August 5, 2010 in Atlanta, Georgia.
Founded in 1999, the mission of Usher's New Look Foundation mentors youth to use their talents to become community and global leaders. Since 2005, the organization has provided over 118,000 hours of leadership training to 2,200 youth, and has an even bigger goal by 2014 - to engage over 5 million youth in service through its newly launched Powered By Service initiative, an international call to youth service.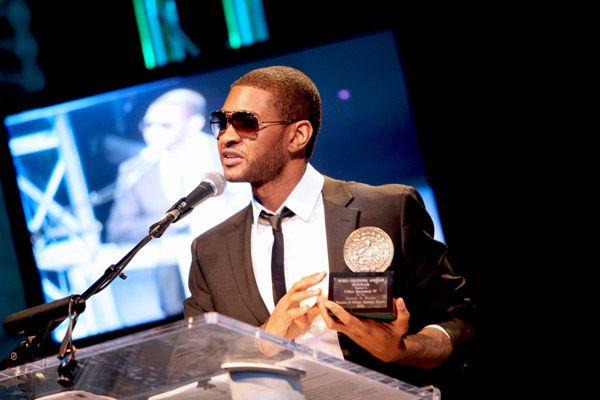 Usher receives the Ford Freedom Scholar Award at the 12th Annual Ford Freedom Awards gala held at the Charles H. Wright Museum of African American History on May 6, 2010 in Detroit, Michigan.
In May, Usher was honored as a
Ford Freedom Award Scholar
at the 12th Annual Ford Motor Company Freedom Awards gala. Usher stated, "I am truly honored to be named the Ford Freedom Award Scholar and applaud the program for encouraging youth as leaders and entrepreneurs. Young people have the power and ability to create great changes in our communities and the world. It is up to all of us to ensure youth have the support, training, and mentors to make their dreams realities." For more information on Usher's New Look, visit
http://www.ushersnewlook.org/
.

HOSEA CHANCHEZ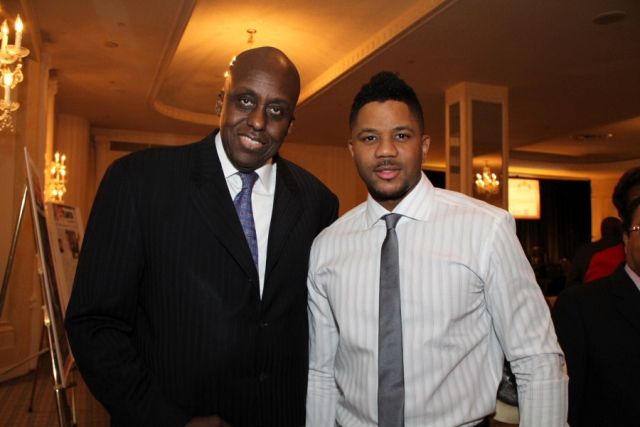 Hosea Chanchez (right) with film director Bill Duke at the 2010 Congressional Black Caucus Annual Legislative Conference Weekend in Washington, DC.

Rounding out the list is actor Hosea Chanchez and his work with youth through his Watch Me Win Foundation. Hosea met with BlackGivesBack earlier this year to talk about his foundation, and his future plans to impact more youth.
Launched this past June, the foundation is dedicated to enriching the lives of urban youth through mentorship, leadership development, encouragement and empowerment. See related post
HERE
and visit
www.watchmewin.org
.
This is our last post for 2010 and we'd like to thank you for supporting BlackGivesBack! Next year we'll feature more movers and shakers in philanthropy and the non profit sector, announce exciting new projects, introduce new contributors, and continue to highlight charitable events in your city.
Have a Safe, Healthy and Prosperous New Year!