As a tribute to the heroic public service of Dr. Martin Luther King, Jr., Allstate Insurance Company will honor four exemplary heroes who make a difference by giving back to the African American community. Allstate's 2011 Give Back Day Heroes program, now in its second year, encourages all Americans to be everyday heroes by volunteering locally on MLK Day 2011 (January 17), and throughout the year. The 2011 Allstate Give Back Day Heroes nominated for recognition by their peers are Rosazlia Grillier, Chicago; Glenda Cook, Detroit; Leonard Johnson, St. Louis, Mo; and Jonathan Wall, Atlanta, pictured above.
In the fall of 2008, Morehouse College student Jon Wall, 20, volunteered to judge an elementary/junior high school math and debate competition in Atlanta. Among the top 40 students, only three were African American. Shaken at the state of the educational system and looking for reform, Wall wrote a Facebook wall post stating "Something's Gotta Give." The post went to his sociology professor and was then printed in the Atlanta Journal-Constitution. The post led former civil rights activist Lonnie King to invite Wall to start the Peachtree Hope Charter School, making him the youngest member of its board. Two years later, the school opened with Wall helping re-zone the school and leading marketing and recruiting efforts. Wall also volunteers at Atlanta's City of Refuge homeless children's shelter as a mentor. Wall plans to earn his law degree from Morehouse, aiming to work as an educational attorney.
Glenda Cook has fought against domestic violence for more than 13 years. As a compassionate provider of guidance and support to victims, Cook works with the city of Detroit to build greater awareness of domestic violence and the devastating impact it has on the community. She is a driving force in the recently formed dating violence program, "Diamond in the Rough," and hopes to start a nonprofit to assist the ever-growing group of youth unfairly exposed to domestic violence.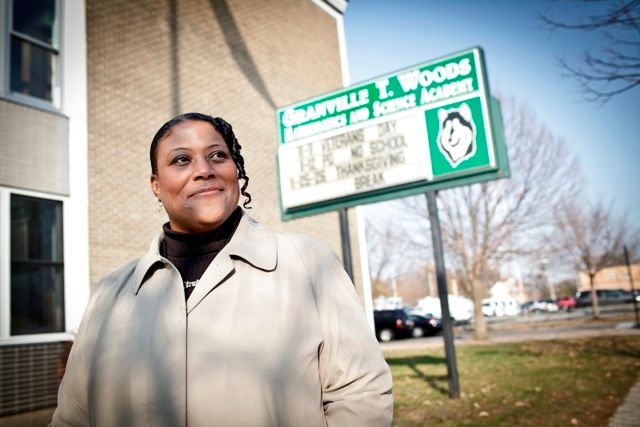 In 2005, Rosazlia Griller weighed more than 480 pounds. Nearly immobile, she suffered from depression and had recently been diagnosed with cancer. During this time, she unwillingly attended a Community Organizing and Family Issues (COFI) meeting, a Chicago organization that trains low-income women in leadership skills and community activism. With the help of COFI, Grillier worked with public officials to inspire change in her neighborhood by fundraising and building two playgrounds for the Englewood Woods Academy elementary school. The widowed mother of two teenage daughters became a grassroots leader, with a mission to encourage parents to get involved in their children's education. With Grillier's leadership, early childhood education in Englewood increased pre-school participation by 25 percent. Today, a healthier lifestyle has helped Grillier to lose more than 250 pounds, and given her increased energy to continually engage her fellow citizens to make positive changes in their own lives, their families and in their community.
On the 40th anniversary of the death of Dr. Martin Luther King, Jr., Leonard Johnson felt a need to honor the spirit of the fallen hero by spearheading a citywide initiative called DreamKeepers, a coalition of students and young professionals working for racial harmony and economic justice within the St. Louis Metropolitan Area. His leadership helped raised more than $12,000 for the Dr. Martin Luther King, Jr. National Memorial Project. A member of Kappa Alpha Psi Fraternity, Johnson enrolled as a grad student to the University of Missouri, St. Louis to pursue a master's degree in public policy and administration. His volunteer efforts focus on bringing mentorship and leadership to the young men of St. Louis. Johnson founded the Young Man Achievement Academy and Project Youth Impact, nonprofit organizations for low-income students living in urban areas. The goal of the organizations is to pair boys with a mentor partner. Johnson's work has also impacted his life on a very personal level. Shortly after his sister passed away, he became legal guardian of his nephew in an effort to provide him with better life and a positive male role model. His nephew is one of the first members of the Young Man Achievement Academy.
"These remarkable men and women keep Dr. King's legacy alive through their passionate commitment to service," said Vicky Dinges, assistant vice president public social responsibility for Allstate. "We hope their stories inspire others to put their good hands to work in their own neighborhoods on Give Back Day and every day." Heroes will attend The King Center's "Salute to Greatness" Awards in Atlanta on Jan. 15, 2011 for a celebration of individuals and organizations that exemplify excellence in leadership.
Individuals interested in participating in Allstate Give Back Day 2011 can visit
www.allstate.com/GiveBackDay
to find local service opportunities via VolunteerMatch, an online search engine promoting volunteerism and civic engagement by matching volunteers with charitable organizations and non-profits.