Charlotte Mayor Anthony Foxx, Dr. Spurgeon Webber, Jr., Loretta Webber, Sandra Levine, Leon Levine, David C. Driskell and David R. Taylor, president and CEO of the Harvey B. Gantt Center for African-American Arts & Culture attend the Gantt Center's "Jazzy" Holiday event on December 2, 2010 in Charlotte, NC.


Three-decade tradition of merriment and mission at the Gantt Center
By Valaida Fullwood


CHARLOTTE, NC — For the 30th consecutive year, a Jazzy Holiday event ushered in the Yuletide season with a celebration of African American arts, culture and achievement in Charlotte. Over 400 guests, many donned in festive red, gathered for the annual luncheon at the Hilton Charlotte Center City Hotel on Thursday, December 2.
"Jazzy," as it is known locally, is the signature fundraising and awards event of the
Harvey B. Gantt Center for African-American Arts & Culture
, a thirty-six-year-old institution that presents visual and performing arts and delivers educational programming on the black experience in America. The Gantt Center recently marked a one-year anniversary in its state-of-the-art new home in the heart of Charlotte and the Carolinas.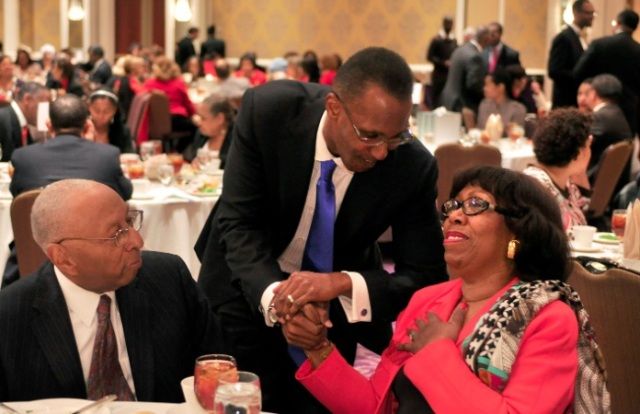 Bishop Claude R. Alexander, a Gantt Center board member, congratulates honorees Dr. & Mrs. Spurgeon Webber, Jr.

Philanthropic and artistic contributions to preserve African American culture received recognition with award presentations. Distinguished recipients of the 2010 Gantt Center Awards included David C. Driskell, renowned artist, scholar and art historian; Sandra and Leon Levine, generous benefactors of education, human services and cultural organizations; and Loretta and Dr. Spurgeon Webber, Jr., stalwart arts patrons and civic leaders.

"Jazzy is a longstanding tradition in Charlotte and we were pleased to share the successes of our first full year of operation in our new facility. More importantly, however, we gathered to celebrate the gift of giving and to honor Professor Driskell, the Levines and the Webbers, who have given so generously to the arts community." — David R. Taylor, Gantt Center president & CEO
Millie Cox of Charlotte Country Day School is greeted by jolly old St. Nick


Talented youth from the region entertained guests throughout the program, which leapt to a start with dancers from North Carolina Dance Theatre's production of Nutcracker. A student ensemble from Northwest School of the Arts, a magnet public school, set a merry mood with jazz classics. Teen vocalist Symphony Webber, the granddaughter of two award recipients, played the piano and sang Make You Feel My Love, stirring a standing ovation.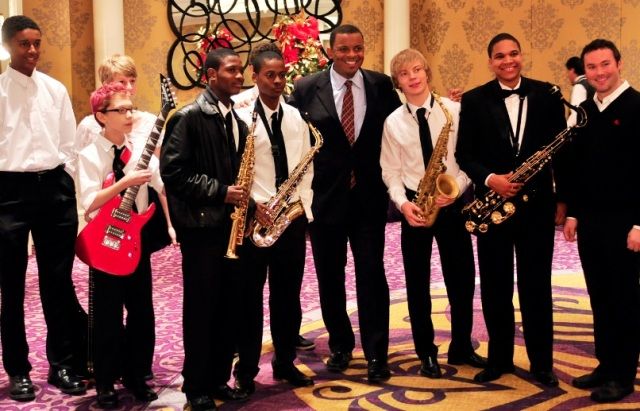 Northwest School of the Arts Jazz Ensemble with Mayor Anthony Foxx


Carlenia Ivory and Nancy Webber, the event co-chairs, greeted guests and television news anchor Maureen O'Boyle served as mistress of ceremony. A silent art auction preceded the midday program and featured pieces by artists known well in the region and internationally, including Elizabeth Catlett, Jonathan Green, Nellie Ashford and Kevin Cole.
Keeping with tradition, Jazzy concluded with elected officials and civic leaders gathering on stage to lead the audience in singing carols.
"
Always a wonderful way to see friends and start the holiday season
." — Jeanne M. Brayboy, arts patron and perennial Jazzy supporter
Ce Scott, the Gantt Center's creative director, during the silent art auction


Jazzy attendees Stephanie Ansaldo and Lorine Edwards


Jazzy attendees Beverly Spainhour and Rosa Williams


The mission of the Harvey B. Gantt Center for African-American Arts & Culture is "to present, preserve and promote African American art, culture and history for the education and enjoyment of all." Located at 551 South Tryon Street, the Gantt Center is part of The Levine Center for the Arts in Center City Charlotte. Exhibits, collections and programs are featured at
http://www.ganttcenter.org/
.
Story submitted by Valaida Fullwood

Described an "idea whisperer," Valaida brings a mix of unbridled imagination and a gift for harnessing wild ideas to her work as a writer, creative consultant and project strategist. She is a founding member of Charlotte's New Generation of African American Philanthropists and a board member of the Community Investment Network.
Photo credit: Gantt Center and Valaida Fullwood