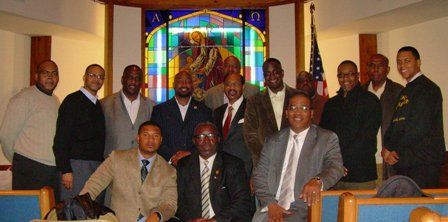 Male Mentor Program Launches in Newark, NJ - Expansion Headed to Chicago and Philadelphia
On Saturday, December 18, 2010, in an effort to build the capacity of men from the faith based community willing to engage in mentoring young boys, Metropolitan Baptist Church in Newark, NJ hosted the launch of "MEN-TOUR: Recruit. Reclaim. Restore," a male mentor recruitment and capacity building effort led by Stephen Powell, executive director of Mentoring USA, through a recent grant award from Open Society Foundation/Campaign for Black Male Achievement.
The launch was held during the church's monthly Straight Talk for Men fellowship—a convening of men from the local faith based community to discuss issues relevant to male responsibility from a spiritual context. The goal of the MEN-TOUR effort, which will be piloted in Newark, NJ; Chicago, IL, and Philadelphia, PA in 2011, is to reclaim men who have already served as mentors in some capacity, utilize and build their capacity to recruit more male mentors, and show how communities and schools will undergo a gradual restoration to safety and academic success for young men.
Special guests and presenters on hand to support the MEN-TOUR launch included: Irvington, NJ Mayor Wayne Smith; David Banks, President/CEO of the Eagle Academy Foundation; Ryan Mack, CNN Contributor and Financial Expert; Shawn Dove, National Manager of the Open Society Foundation Campaign for Black Male Achievement; Kenneth Braswell, Executive Director of Father's Inc.; Alex Ellis, CEO of Tied to Greatness; Rev. David Jefferson, Sr., of Metropolitan Baptist Church; Thomas Owens, Director of Communities in Schools Mentor Success Center; David Jefferson, Jr., Youth Minister/CEO of Dream 4 Youth LLC; Terry Richardson, Senior Pastor of First Baptist Church of South Orange; Luther Wright, former professional basketball player/author; and Richard Stanard, National Medical Missions Director of the National Baptist Convention USA.
Metropolitan Baptist Church was the ideal venue to host the MEN-TOUR launch, as it already incubates the Trinity Mentoring program—a collaborative mentoring partnership between Greater Newark CARES Mentoring Movement, Metropolitan Baptist Church, Communities in Schools of New Jersey, and Mentoring USA.
White House and Corporation for National and Community Service Host Mentoring Meeting


On Wednesday, December 15, 2010, the White House Office of Faith Based and Neighborhood Partnerships, the White House Office of Public Engagement and the Corporation for National and Community Service hosted a meeting at the White House to discuss national priorities on mentoring. The goal of the meeting was to facilitate a mentoring dialogue between researchers, organizations, foundations, and corporate partners to assist in the expansion of mentoring efforts with the goal of impacting academic and behavioral outcomes for children and young adults.
The convening began with short presentations about the Obama Administration's mentoring priorities, briefings from leading researchers, and updates regarding strategic growth and implementation plans from mentoring organizations. The meeting also served as a chance for leading mentoring organizations, such as MENTOR, Big Brothers Big Sisters USA, National CARES Mentoring Movement, National Alliance of Faith and Justice, and Mentoring USA, to explore opportunities for collaboration with each other, as well as opportunities to collaborate with the corporate and foundation leaders in attendance.
Pictured: Stephen Powell, Executive Director of Mentoring USA; Jay Roberson, Birmingham City Councilmember; Susan Taylor, Founder and CEO of the National CARES Mentoring Movement; Dr. Cheryl Grills, President-Elect of The Association of Black Psychologists, and Dr. Eugene P. Walker of the DeKalb County (GA) Board of Education
Source and photos courtesy of Mentoring USA