Event hosts Russell Fugett (right) with his grandparents Carolyn Fugett and Jean S. Fugett, Sr., attend the "Celebrate The Legacy: A Reception For New Friends of The Reginald F. Lewis Museum of Maryland African American History & Culture, on December 7, 2010 in Washington, DC.
On December 7, 2010, DC influentials converged at the Philippine Embassy to support The Reginald F. Lewis Museum of Maryland African American History and Culture at the invitation of 31-year old entrepreneur and nephew of Reginald F. Lewis, Russell Fugett. He shared, "Tonight, I begin with my group of friends and family to build a bridge from the Philippine Embassy in Washington, DC to the African American Museum of History and Culture in Baltimore on the corner of Pratt and President Streets. On that corner, there is an opportunity for us to better understand ourselves as Americans, to better understand the diverse and rich tapestry that makes this land great. There is an opportunity tonight for all of us to learn more about our story. For us to continue to have that opportunity, I call for your support for this great institution." The date for the event coincided with what would have been Reginald Lewis' 68th birthday.
Lewis went from a 10-year old kid in inner city Baltimore who sold community papers - and later sold that business for a profit - to the first African American student to be accepted at Harvard Law School without applying. The life of Lewis is chronicled in the biography "Why Should White Guys Have All the Fun?" He wrote parts of the book when he was alive and founded the Reginald F. Lewis Foundation in 1987, which has donated over 20 million dollars to universities, schools, and institutions. Among them are the Reginald F. Lewis International Law Center at Harvard, the Reginald F. Lewis High School for Business and Law in Maryland, and an unsolicited $1 million grant to Howard University in Washington DC.
Guests were entertained by a live art demonstration from Charles Jean-Pierre, who painted a scenic shot of Paris where Lewis managed his company, TLC Beatrice in the 1980s. A poem especially written by Lewis' elder daughter, Leslie Lewis Sword, was read by Sydney Henriques Payne.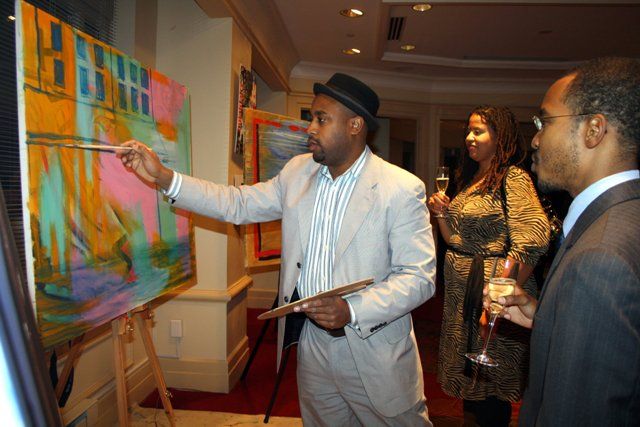 Charles Jean-Pierre paints while Rael Nelson James and Haynes R. Contee, Esq look on.
Among the special friends, guests and local Washingtonians that attended were philanthropist Jimmy Lyn, producer Julian Wright, and author Dolen Perkins Valdez, actress Doris McMillon, Freddie Brown, BET's John Burns, Ms. Alma Rangel, and Brig Owens.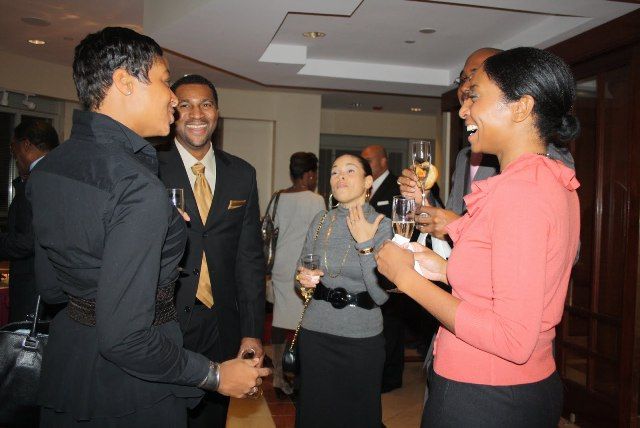 For more information or to support the Lewis Museum, or the Reginald F. Lewis Foundation, please visit
http://www.africanamericanculture.org
/
or
http://www.reginaldflewis.com/
.
Photo credit: BCB