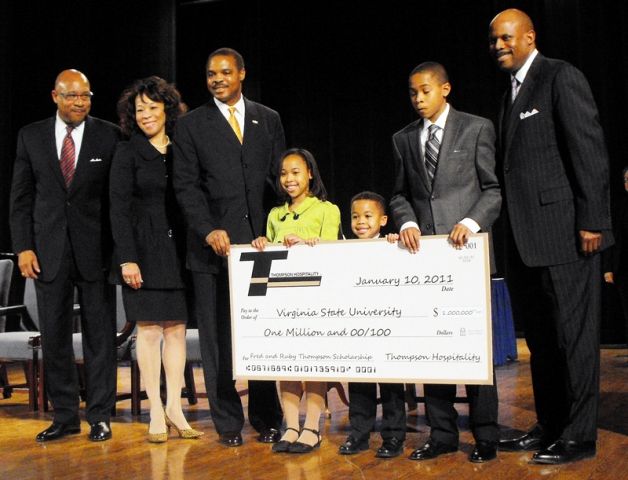 Thompson Hospitality is the nation's largest minority owned food service company, and was named the 2010 Company of the Year by Black Enterprise magazine. The company's founder, Warren M. Thompson, along with his siblings announced a major gift to the alma mater of their parents, Virginia State University.
Via VSU
: Thompson Hospitality today donated $1 million to Virginia State University. The gift represents the second-largest gift in the school's 128-year history.
Thompson Hospitality is the largest, minority-owned food service company in the United States. The company, based in Herndon, VA has over 3,200 employees and provides meals and facilities management at businesses and institutions in 45 states and four foreign countries. Ruby and Fred Thompson, Sr., parents of current company leaders Benita Thompson-Byas, Senior Vice President; Fred Thompson, Jr., Chief Administration Officer; and Warren Thompson, Chairman and President, both earned degrees from Virginia State.
Warren Thompson said VSU was a natural beneficiary of the company's success. "The foundation started at VSU," he said. "We wanted to make a statement of support for education in Virginia. What better place than VSU?"
Virginia Governor Bob McDonnell joined VSU President Keith T. Miller in accepting the Thompson gift. Governor McDonnell said the company exemplifies the private support necessary to help advance higher education. "Thompson Hospitality represents 30 years of successful entrepreneurship," he said. "We're thrilled they're headquartered in Virginia."
Virginia State University received its first gift of $1 million or more in May 2010 from the Reginald F. Lewis Foundation.
The Influential 1's Announces Continuing the Dream Honorees
The Influential 1's, a recently launched website, serves as a vehicle to pay tribute to the many unrecognized social media influencers in the urban space. I'd like to thank the founders for including me on this list!
They state, "The Influential 1's are moving ten steps ahead of the mainstream. They are testing the next tools that will change how everyone else communicates everything from how we stay connected with our best friends to how a team will get resources to the impoverished. Not only that, the Influential 1's are heavy users of tools that are currently in play, orchestrating audiences to bond together and motivate towards a common goal. With a few strikes of a keypad, they are igniting movements and dictating trends. Their minds are a hot bed of information."
To view the list of all honorees, visit
http://influential1s.com/
.
Nonprofit News
OnlyUp: Launch of new bimonthly online journal focused on young adults in the nonprofit sector

A new website is being launched by a group of millennials driven to create a more vibrant discussion about their place in the nonprofit sector. OnlyUp.org is a collaborative effort to engage the nonprofit sector in a conversation about the future of social change leadership, with a specific focus on young nonprofit employees.

Some upcoming topics include: why pursuing work/life balance is harmful for social justice; how young people can change the tense relationship between nonprofits and foundations; how to effectively manage young people; and why we need a new generation of charities. Visit the website at
www.OnlyUp.org
.
Celebrity Philanthropy: Halle Berry's "What A Little Love Can Do" Project
Academy Award winning actress Halle Berry has announced a new project with the Jenesse Center, a Los Angeles, CA based domestic violence shelter. She says, "This year, I have taken on a unique challenge. My goal is to completely remodel one of Jenesse Center's transitional housing shelters. It is my belief that the spirits of many battered women have been so broken that they can only DREAM of living independently in a safe, warm and beautiful space free of the horrors of the past. Through living in an apartment that was designed with love and attention to detail that is reflective of modern day living, I believe these women and children will have an amazing opportunity to begin to live a reality that is possible and most importantly, begin to dream the dream for themselves."
Halle has funded two of the 15 remodels, one being a children's space that she named Nahla's World, after her daughter. To view a video and for more information about the project, visit
HERE
.