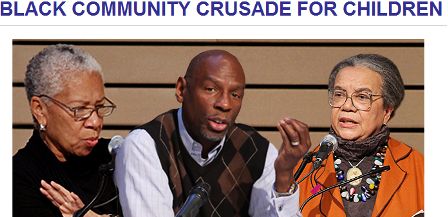 New Research Finds Tough Times for Black Children
In 1990, 22 Black leaders gathered at the Rockefeller Foundation's conference center in Italy to discuss the plight of African American children and families. Co-convened by the Children's Defense Fund (CDF) along with Dr. Dorothy Height and Dr. John Hope Franklin, they concurred that the Black child and family were facing the worst crisis since slavery and something had to be done. The Black Community Crusade for Children (BCCC) was launched out of this effort.
To date, the successes of the BCCC include the CDF Freedom Schools® program; the Harlem Children's Zone; youth leadership development programs which have trained 20,000 young leaders; economic empowerment work in 77 "Black Belt" southern counties; and the placed-based policy work of PolicyLink.
On January 13, Marian Wright Edelman, president, Children's Defense Fund and Geoffrey Canada, president and CEO, Harlem Children's Zone, released two studies and announced the goals of a new crusade to confront the crisis facing Black children:
In new research conducted by Hart Research Associates for the CDF on behalf of the BCCC, they found two issues have risen to the top of serious concerns the Black community faces. An overwhelming majority, 85 percent said unemployment presents serious challenges to Black communities and children today.
The criminal justice system's unequal treatment of Black Americans is another issue perceived to be a devastating problem. Most Black adults believe the criminal justice system is doing more to hurt than to help Black children. Half of the young people surveyed say that ending up in jail or prison is a very serious problem for the Black young people they know.
Serious problems identified by Black Americans in a similar study conducted by Hart Research 16 years ago continue to plague Black communities today, such as failing schools, negative cultural and media influences, violence, drugs and addiction, fractured families and teen pregnancy.
"We must act with urgency, vision and courage to combat the growing racial and class segregation in America. We must close the achievement gap; reweave the fabric of family and community; and build a loud and effective adult voice for children," said Geoffrey Canada. "We must shut down the cradle to prison pipeline and replace it with an expressway to college and work," said Marian Wright Edelman. "We know what to do to provide all children a healthier, fairer and safer start in life and the chance to reach successful adulthood," Edelman continued. "We now must create the public will and effective Black community voice to expand what works to all children and get it done."
To read the full report and to learn more about the work of the BCCC, visit
HERE
.
Source: Press release/CDF