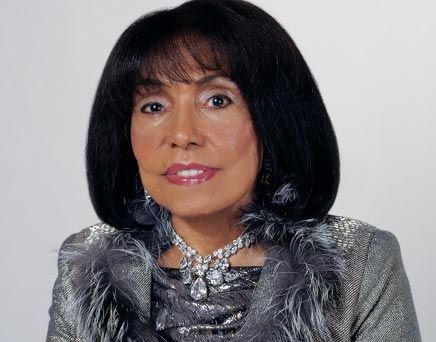 A Retrospective Fashion Exhibit Honoring A Timeless Style Icon
NEW YORK (January 20, 2011) – Macy's Department Stores and Johnson Publishing Company are partnering to present a beauty, fashion and lifestyle tribute to the life of legendary style maven, Eunice Johnson. The Ebony, Fashion Fair Cosmetics & Macy's Celebrate Eunice Johnson retrospective, will debut at Macy's Herald Square in New York City on January 27th thru February 1st, and will then tour 10 Macy's locations across the country throughout the month of February.
In partnership with EBONY and Fashion Fair Cosmetics, Macy's will showcase some of the haute couture designs from Mrs. Johnson's private collection that were featured in the famed Ebony Fashion Fair shows. The month-long exhibit will feature designs by some of the World's most renowned and critically-acclaimed designers, including Lanvin, Yves Saint Laurent, Vivienne Westwood, Carolina Herrera, Stephen Burrows and B. Michael to name a few.
Each of the 10 locations will feature approximately 10 to 30 signature looks, complete with information about the designer, the season in which the design first appeared and information about the model who wore the look.
"It is an honor for Macy's to stage a celebration of Eunice Johnson's contributions to fashion, beauty and American history," say's Martine Reardon, executive vice president Marketing, Macy's Inc. Reardon continues, "This is a wonderful opportunity for us to partner with one of America's most iconic and revered lifestyle authorities. Through the Ebony Fashion Fair shows, Mrs. Johnson filled a void in fashion by producing runway presentations that brought a new sense of style, drama and diversity to the industry, and we're excited to present a glimpse of these historical shows to our customers."
(In photo: Alexa Rice, granddaughter of Eunice Johnson, founder of Fashion Fair Cosmetics and the Ebony Fashion Fair Show, attends the Eunice W. Johnson Tribute at the Metropolitan Museum of Art, held last year in New York City). Photo source: Metropolitan Museum of Art Flickr

Johnson Publishing Co., chairman Linda Johnson Rice said, "It is a sign of my mother's determination, confidence, and creativity that more than 50 years after launching the renowned Ebony Fashion Fair show, her timeless sense of style endures as a guidepost for today's fashion loving women. We are honored that Macy's, a 30 year retail partner of Fashion Fair Cosmetics, selected Eunice Johnson as the anchor for these exciting exhibits."
In addition to New York City, the retrospective will be on exhibit at the following locations:
• Macy's State Street, Chicago, IL; February 2nd to 7th
• Macy's Galleria at Hidalgo, Houston, TX; February 3rd to 8th
• Macy's Center City, Philadelphia, PA; February 9th to 14
• Macy's Aventura, Aventura, FL; February 10th to 14
• Macy's Lakeside, Metarie, LA; February 17th to 21st
• Macy's Metro Center, Washington, DC; February 17th to 21st
• Macy's Beverly Center, Los Angeles, CA; February 22nd to 28th
• Macy's Lenox Square, Atlanta, GA; February 24th to 28
• Macy's Union Square, San Francisco, CA; February 24th to 28th
Source: Press release/Macy's