There are many urban cities across the country grappling with issues facing the African American community such as high unemployment, obesity, the school drop out rate and the educational achievement of black boys. Addressing and solving these complex problems isn't easy, but the city of Baltimore has stepped up to the challenge. As an example, last fall the city announced that their African American male students led gains in graduation rates and decreased drop out rates, an important exception to a troubling trend nationwide.
In our second Insider profile series for the year, meet one of Baltimore's leaders in philanthropy, Diane Bell McKoy. As president and CEO of
Associated Black Charities of Maryland
(ABC), her work is focused on building healthier and wealthier communities in the State of Maryland through strategic partnerships and philanthropic investments.
Diane has an extensive background in community and economic development, having served as the CEO of Empower Baltimore Management Corporation where she led a strategy which successfully created over 10,000 new jobs, six loan funds for businesses and moved over 14,000 persons to employment.
Prior to her appointment at ABC, she was a Senior Fellow at the Annie E. Casey Foundation, and has held numerous leadership positions in Baltimore City government. Diane holds a Bachelor of Arts in Social Work from the University of Maryland Baltimore County, and a Masters Degree in Social Work from the School of Social Work and Community Planning at the University of Maryland. She has received Leadership/Management certifications from a number of organizations including Harvard's Kennedy School of Government.
Read on to learn how Diane got her start in philanthropy, how ABC's initiatives are supporting Maryland's African American community, and things to consider before giving back in your community:
How did you get your start in philanthropy and why did you choose it as a career?

As I define "philanthropy," my start was growing up in a household that valued giving back and thought it was our responsibility to give our time and our treasures to make a difference for others. Moving into it as a career was probably much later in my life and it was a natural evolution for my career, which has always centered on being a "change agent" for, with and about the African American community.
What societal issues are currently facing Baltimore's African American community, and how is Associated Black Charities addressing it?

I firmly believe all of the societal issues currently facing Baltimore and Baltimore's African American community are rooted in Baltimore's historical pattern of institutional racism yielding a pattern of cyclical behaviors. Let me clarify, I am not excusing individual negative behaviors in the African American community nor am I saying that all of the African American community in Baltimore is not thriving –many are.
The societal issues are a byproduct of deeply rooted institutional racism that limits access to opportunities including information and relationships that yield greater positive outcomes for any citizen and in this instance, specifically African Americans. They can be summed up as issues related to both health and wealth disparities and embedded in those two issues are all the others: educational disparities, housing disparities, childhood obesity, adult obesity, limited college graduation rates, and limited numbers of African American businesses with employees, etc.
Associated Black Charities believes that philanthropy can be a galvanizing tool to bring about change in the lives of African Americans across the state (not just Baltimore). And to achieve those changes, we are working in partnerships, establishing and convening collaborations, and using research and data to inform our strategy ranging from public policy to using grants to incubate programs.
For example, one of the wealth disparities is obviously related to employment, both for low income African Americans and professional African Americans as well.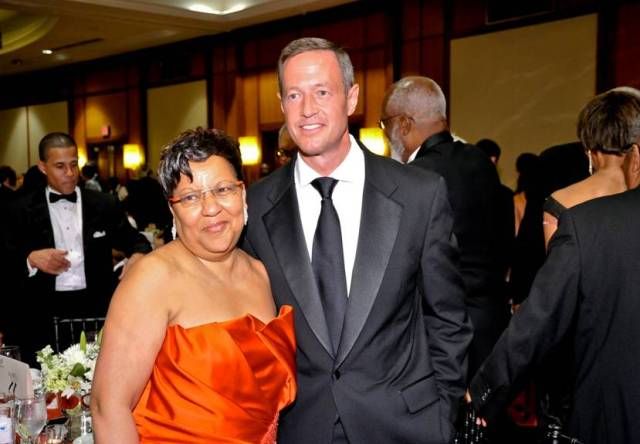 Diane with Maryland Governor Martin O'Malley at the Associated Black Charities 25th Anniversary Gala that honored African Americans in higher education, October 2010, Baltimore, Md.
Photo credit: Glenwood Jackson
Continued: For low income African Americans we fund "employment providers," providers that are directly linked to an employer for employment at the end of a cycle of successful skills training. We then track by wage records to inform our efforts going forward – are people really moving up a career ladder.
Clearly this isn't enough since in many instances there are also public policy barriers that impact the employment of low income and/or African Americans. So we partnered with Job Opportunity Task Force to develop a policy brief identifying those issues. We were able to use elements of the policy brief along with other relationships to support and staff the Maryland Legislative Black Caucus Foundation in their educational weekend in November.
For African American professionals, specifically in the nonprofit sector, we have a Baltimore/Washington Racial Diversity Collaboration where we have used research to identify the challenges for people of color in the sector. We have convened network sessions across the geographical area to provide relationship support for these professionals. We are now exploring the creation of a talent pipeline for the regional sector.
What we have learned first from the research and later confirmed through the use of "philanthropy grant dollars on the ground"- access to information and relationships matter and when we can increase those access points, we can increase the opportunities outcomes for African Americans.
As the CEO of a public foundation, what suggestions do you have for people who want to give back in their local community?

I would first thank those who are giving back in their local communities. I also hope that the many people who are currently giving of their time and talent recognize that time and talent are also very valuable "give backs."
For those that want to give back in their local community, I would urge them to spend some time thinking about what do they want to achieve in their giving back. What kind of time, treasures, and talent can they give now vs later? What organizations and/or activities already exist that they can join? In giving of their time, talent and treasures, understanding the limitations of access for many African Americans – what do they have to give that can change the "access" for African Americans? What influence or knowledge do they have that could be beneficial for others? What relationships do they have that could be beneficial for others? Are they willing to use those "talents," "treasures" and "time" to help others – help themselves and thus be a part of creating a stronger and healthier community.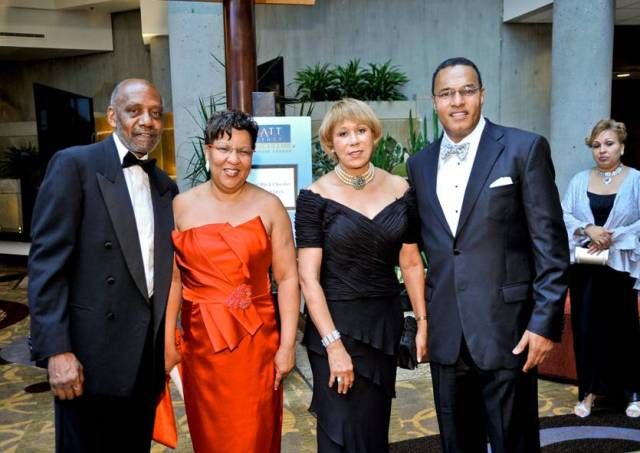 Diane with guests at Associated Black Charities 25th Annual Gala.

What advice do you have for those pursuing a career in philanthropy, and for those already working in this field?

I would give the same advice to those pursuing a career in philanthropy as well as those working in the field very similar advice as those seeking to give back in a local community. For those seeking to pursue a career in philanthropy – gain clarity through research – what does this mean to you? What are your career goals? Are you viewing philanthropy as working for a foundation and if yes, understand the limited number of opportunities there may be inside of the foundation world. But with that said, relentlessly pursue relationships and exposure to those already in the foundation world. Explore opportunities to public sessions/public briefings sponsored by foundations. Request informational interviews to learn more about the work but more importantly to gain "access" to additional relationships or knowledge about the key players inside of a foundation.
For those already working in the field, I think many people, specifically people of color, are very conscious of their role as "internal influential change agents." But I would urge them to do the same, as it relates to expanding their sphere of influence by expanding their relationships in the sector. I would urge them to stay connected to the work on the "ground" – inside of formal "philanthropic organizations" we can sometimes get lost in the "bubble."