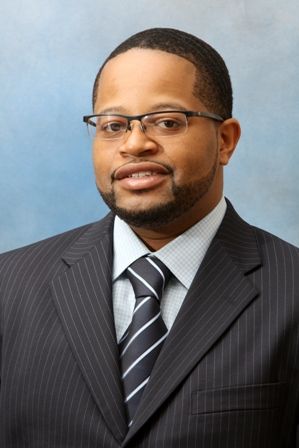 In observance of National Mentoring Month, we're highlighting mentors and those who work in the field throughout January. Meet our latest Insider, LaVar Young – a father, speaker, and mentor who has taken the job of helping men become better fathers.
Since 2001, LaVar has been helping fathers in transition from Newark, NJ reestablish relationships with their children, families and communities. He is taking an active role in improving the lives of young, African American men.
In October 2010, LaVar was tapped by Newark, NJ mayor Cory Booker to be the President and CEO of
Newark Now
, an intermediary organization that provides Newark residents with skills, tools, and support to transform their neighborhoods. Prior to becoming President of Newark Now, LaVar served as Director of Fathers Now at the Newark Comprehensive Center for Fathers. Participants of the program are men who have lost their jobs and homes, or who are re-entering the workforce following incarceration and seek to assume greater responsibility for and contribute in the lives of their children.
Recently LaVar was highlighted in the "I AM NEW JERSEY" profile by the Star Ledger for his work in the City of Newark, and was invited to the White House for a round table discussion on fatherhood initiatives with President Obama. LaVar and Fathers Now have been featured on CNN's Building up America, USA Today, and Man Up, a documentary on a Fatherless Nation.
As a speaker, LaVar uses his experiences as a dedicated father to motivate and encourage fathers. He discusses fatherhood and its role in a man's life.
Read on to learn how LaVar's relationship with his father influences his parenting, the impact of African American children growing up in fatherless homes, and how mentoring can play a positive role: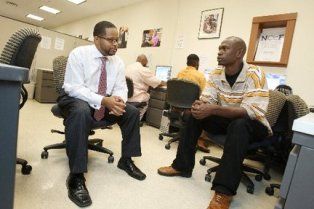 What were your early experiences with your father, and how has it shaped you as a father and mentor today?

My early experiences with my father were not the best. Unfortunately my father has battled drug and alcohol addiction for most of my life. As a result there were missed opportunities to build a strong bond as father and son. The relationship I have with my son is certainly shaped by my relationship my Dad and I have. Before my son was born, I committed myself to being a better example for him than my father was for me. It's detrimental to the legacy of my family that my son and I have a bond. My father and grandfather never had a relationship. The only time I can remember seeing my grandfather was at his funeral. If that negative tradition is going to be broken, it starts with me and my son and the relationship we have now, and him knowing that even when he becomes a man his Dad will always be there to love and support him.
Today it is estimated that over half of African American children are being raised in single parent households, mostly headed by women. What affect is this having on African American boys, and how can mentoring play a role?

The impact of not having fathers involved in the development of their boys is huge. Responsible single mothers do a terrific job of raising their children, but where will our boys learn or see the positive traits of a man if fathers are not around? It takes time to build strong relationships. When fathers are not involved it leaves a void in the development of a boy which in many cases results in a wider negative divide in the African American community. Mentoring can help fill the void by creating relationships that support and play a positive role in a child's development. It certainly makes a difference when you have a positive influence in your life to give advice and direction.
As president & CEO of Newark Now, how is your organization addressing fatherhood?

As an organization we fully understand the affects of fathers not being involved with their children and how that plays out in our community. We offer Fathers Now, a full comprehensive center to fathers. The program aims to strengthen education skills, enhance father/child relationships, and assist with employment opportunities. Fathers attend daily from 9 am to 3 pm for 8 weeks.
What are some other key initiatives supporting the fatherhood in the country, and how can one get involved?

There are a number of groups around the country doing great work. The
National Fatherhood Initiative
, National Comprehensive Center for Fathers,
Fathers Incorporated
, National Mentoring Coalition and the
Urban Leadership Institute
. I would suggest one search the web for a program near you.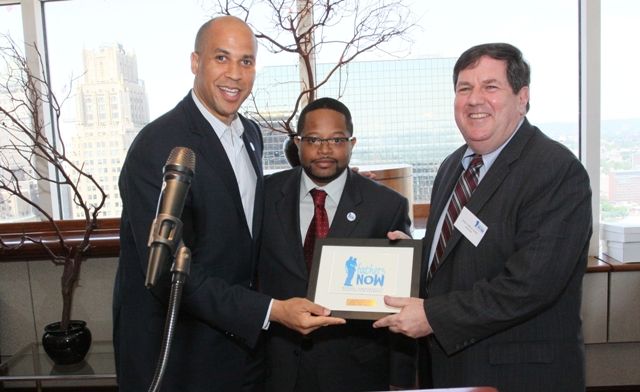 LaVar Young (center) with Mayor Corey Booker (left) and Rabi Kulwin.

For more information on Newark Now and its Fathers Now program, visit
www.newarknow.org
.