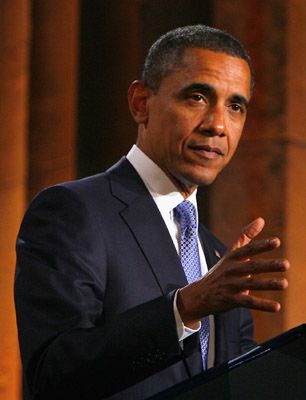 President Calls on Americans to Become Mentors to Young People in Their Community

This month marks the 10th anniversary of National Mentoring Month, an annual media campaign designed to recruit volunteer mentors for young people. Although research has shown that mentoring plays a significant role in reducing risky behaviors, there remains a gap between the number of mentors and the number of young people who need a mentor. This gap is even more significant in the African American community, as organizations struggle to recruit black male mentors for young black boys.
In observance of National Mentoring Month, we will highlight those working behind the scenes to narrow this gap, and those who work in the field of mentoring throughout the month.
For our first post of 2011, read how President Obama, General Colin Powell and government agencies are promoting this effort, and learn about a mentoring summit scheduled for January 25th in Washington, DC:
BOSTON, MA, December 2010 – President Barack Obama issued a proclamation this month designating January 2011 as National Mentoring Month. He stated, "Across our Nation, mentors steer our youth through challenging times and support their journey into adulthood. During National Mentoring Month, we honor these important individuals who unlock the potential and nurture the talent of our country, and we encourage more Americans to reach out and mentor young people in their community."
National Mentoring Month is spearheaded by the Harvard Mentoring Project of the Harvard School of Public Health, MENTOR, and the Corporation for National and Community Service. This year's campaign focuses on mentoring as a strategy for boosting academic achievement. The campaign's tagline is "Help Them Get There. Become a Mentor."
General Colin L. Powell, a spokesperson for the campaign, is featured in a
public service announcement
(PSA) prepared for broadcast on television and radio. In the PSA, General Powell states, "Our nation's future depends on what we do today to prepare our young people for productive and fulfilling lives. All of us need to get involved to help kids stay focused and stay in school. We must become a nation of graduates. One way for you to help is to volunteer as a mentor."
To celebrate the 10th anniversary of National Mentoring Month, MENTOR, the Corporation for National and Community Service, the Harvard School of Public Health, and the Office of Juvenile Justice and Delinquency Prevention will host a National Mentoring Summit on January 25th at the Library of Congress in Washington, D.C.
The Summit will bring together influential stakeholders from the public and private sectors to chart the field of mentoring's future and expand its circle of influence. With a theme of "Achieving Academic and Social Success: Supporting Youth through Mentoring," the Summit will support the Administration's efforts to improve the graduation rate of high-school students and keep youth out of trouble.
As a highlight of National Mentoring Month 2011, Thank Your Mentor Day will be celebrated on January 25th. On that day, many Americans will reach out to thank or honor those individuals who encouraged and guided them and had a lasting impact on their lives. Thank Your Mentor Day promotes three ways to honor your mentor: (1) contact your mentor directly to express your appreciation; (2) pass on what you received by becoming a mentor to a young person in your community; and (3) write a tribute to your mentor for posting on WhoMentoredYou.org.
In addition to its national focus, the campaign includes a heavy emphasis on local communities, and is intended to energize and empower community and statewide mentoring initiatives as well as encourage planning and coordination among mentoring groups.
In communities across the country, designated nonprofit organizations and governmental agencies are responsible for coordinating local campaign activities, including media outreach and volunteer recruitment. These local lead partners include state and local affiliates of MENTOR, the Corporation for National and Community Service, the Points of Light Institute and HandsOn Network, America's Promise Alliance, Big Brothers Big Sisters of America, Communities In Schools, and United Way of America.
Local activities range from telethons and media appearances to mentor/mentee game days, basketball tournaments, concerts, walk-a-thons, movie and museum days, and recognition events to honor outstanding mentors.
For additional information about National Mentoring Month, visit SERVE.gov/MENTOR.
Source: Press release/Photo: Wireimage