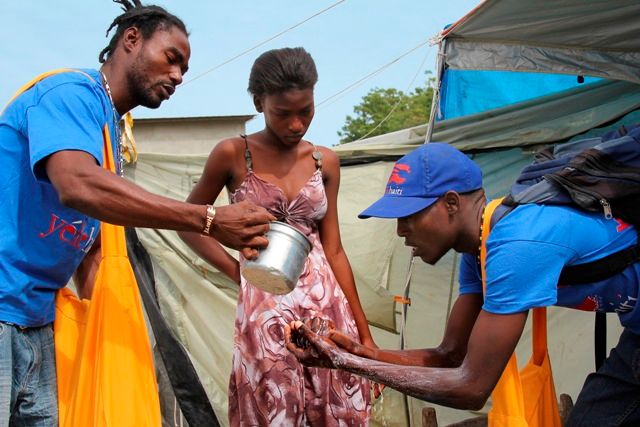 Yéle Haiti representatives give a demonstration of proper hand washing techniques in a tent camp in Port-au-Prince as part of the organization's effort to prevent the spread of cholera.
Photo credit: Yéle Haiti / Sebastian Petion

Today marks the one-year anniversary of the earthquake in Haiti that left the country in devastation, claiming the lives of more than 250,000 people and leaving another 1.5 million homeless. Soon after the tragedy, numerous organizations and volunteers descended on the country to aid in clean up efforts and to begin the challenging process of rebuilding the country.
One such organization is Yéle Haiti, a grassroots movement that provides emergency relief, employment, youth development and education, and agriculture to Haiti. Founded by recording artist Wyclef Jean, Yéle Haiti continues to provide vital support with daily supplies of water and food to communities hardest hiy by the earthquake. The organization also launched Yéle Corps last summer, employing 2,000 people a day to clean streets and canals in Port-au-Prince.
Today, the organization is asking the world to join them in a commemorative moment of silence at 4:53 pm EST to pay tribute to the victims of last year's disaster and to signal a collective renewed hope for Haiti. Derek Johnson, CEO of Yéle Haiti states, "We are anticipating that millions of folks in Haiti, and millions more from all around the world will join in the moment of silence on January 12th, to remember those who tragically became victims of the quake; to pray for those still struggling for the most basic of life's necessities; and to signal our collective determination for a new tomorrow in Haiti." For more information on Yéle, please visit
http://www.yele.org/
.
For more on Haiti relief efforts, see our previous posts:
Heart of Haiti
: Macy's Partners with Haitian Artisans to Help Rebuild Country's Economy
Young NYC Professionals Gather at Kipton Art on Wall Street to Launch
Haiti Is Me Campaign
Haiti Rebirth Charity Brunch
Raises $20,000 to Benefit Habitat for Humanity
Also check out: Urban Zen's Hope Help & Relief Haiti Presents Exhibition and Online Auction of Haitian Artwork to Provide Vital Supplies One Year After Tragedy
To celebrate Haiti's resilient spirit and raise much-needed funds for the Haitian people, Urban Zen and charitybuzz present THE TRUTH, an exhibition and auction of artwork by Haitian, Haitian American and Haitian-Inspired Artists, curated by acclaimed fashion photographer Marc Baptiste. The exhibition and auction will raise funds to send Gifts of Love packages with vital supplies to the Haitian people.
The online charity auction entitled THE TRUTH: A HAITI HOPE HELP & RELIEF AUCTION will be open to bidders worldwide at leading charity auction site charitybuzz through Jan 21 at
www.charitybuzz.com/TheTruth
. The online auction features 65 stunning photographic works of art from the exhibition, which is currently live at the Urban Zen Studio in New York. Photographic sponsor Poloroid will be donating all printing and framing services for the auction.
All proceeds of the event and auction will go to Gifts of Love and beneficiary camps Petonville, Yele Haiti, Partners in Health, Leogane Fritz Camp, Carrefour - Fritz Camp, Carrefour - Fritz Camp, and Bel aire Edeyo. Marc Baptiste and volunteers will be in Haiti on Jan 27 to distribute the Gifts of Love packages to Haitians within these beneficiary camps. The Gifts of Love packages will include vital supplies: shoes, solar flashlights, condoms and whistles to offset night attacks and rapes on women. Cholera relief supplies will also be added as a critical component.