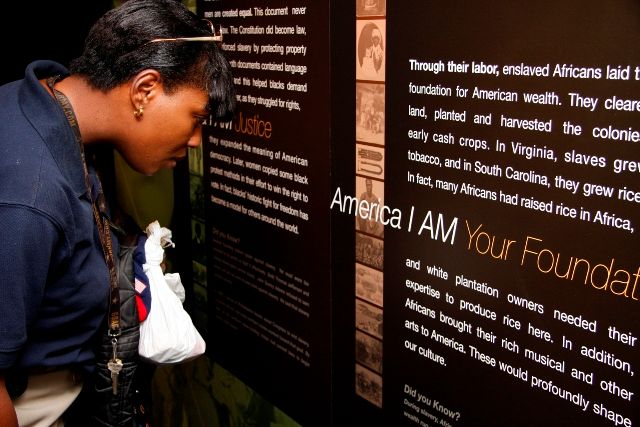 Washington, DC Area Students and Families Eligible for Free Tickets Courtesy of Walmart
On February 2, 2011, the award winning "America I Am: The African American Imprint" touring exhibition opened at the National Geographic Museum in Washington, DC. Conceived and presented by broadcaster Tavis Smiley and organized by the Cincinnati Museum Center and Arts and Exhibitions International, the exhibition features more than 200 artifacts and celebrates nearly 500 years of African American contributions to the U.S.
"We are pleased to host this exhibition highlighting the contributions of African Americans and furthering a dialogue about our collective experience," said Susan Norton, director of the National Geographic Museum. "We look forward to sharing the stories - some familiar, some surprising - of the influential African Americans featured in the exhibition. Our hope is that visitors leave with a richer understanding of the diverse culture and history of the United States."
On February 3rd, I attended a special preview for bloggers to tour the exhibit hosted by the museum. I've attended many black history exhibits, and this one is impressive. From its colorful and vibrant entryway leading to twelve galleries rich with original artifacts and stories of contributions from lesser known African Americans along with accompanying music and recordings, the exhibit successfully captures pivotal events in black history from slavery to present day. I learned more about African American's involvement in the Civil War (which is the theme for this year's Black History Month), and discovered a new foundation, the Oliver Hill Foundation, created in memory of Oliver W. Hill, a prominent civil rights attorney who helped to fight legalized segregation by helping to create the Brown vs. Board of Education case.
Walmart, the presenting sponsor for the exhibit, is helping to provide all families and students in the Washington, D.C. area access to this special exhibition by making 20,000 free tickets available to the public. Tickets are available for groups of 25 students or more on a first-come, first-serve basis. DCPS and public charter school teachers can contact the DC Arts & Humanities Education Collaborative at (202)204-7750. Other area student and youth organizations located in the counties of Prince George's, Montgomery, Charles, Frederick, Arlington, Fairfax, Loudoun, Prince William, and the cities of Alexandria, Falls Church, Fairfax, Manassas, and Manassas Park can contact the National Geographic Museum at (202)857-7281.
Specially-priced tickets are available at select Walmart stores in the Washington, D.C. area: $10 for adults and $5 for children. The discounted prices are 17 percent off standard ticket prices.
The museum is also partnering with DC Public Libraries by hosting a reading program for children from March 1 to April 16. Each child who reads one or more of the selected books will receive a free ticket to the exhibition and parents will receive tickets at a discounted rate. Participating readers will be recognized on the museum's website and will have the opportunity to win a National Geographic book from their library. An additional sponsor for the exhibition is Northern Trust, serving as the educational partner.
(In photo: The entryway of the "Atlantic Slave Trade" gallery, featuring "The Door of No Return" from the Cape Coast Castle in Ghana, which enslaved Africans passed through to board ships to begin the Middle Passage).

America I AM
will be open at the National Geographic Museum through May 1, 2011. The museum is located at 1145 17th Street NW, and is open daily from 9 a.m. to 5 p.m. For more information on the exhibition and accompanying public (and upcoming free) programs, please visit
http://www.ngmuseum.org/
.