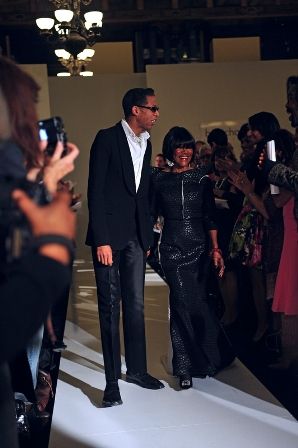 By Akira Barclay, New York Contributor
On Wednesday, February 16, 2011 during Mercedes Benz Fashion Week, famed fashion designer b michael with the help of Francine LeFrak paid tribute to Rwanda at his b michael America Fall/Winter 2011 Fashion Show at the Plaza Hotel in New York.
Legendary Actress Cicely Tyson walked the runway. New York Former First Lady Michelle Paige Paterson, Myrna Colley- Lee, Ashford & Simpson, Harriette Cole, Amy Fine Collins, Tamara Tunie, Gregory Generet, Rhonda Ross Kendrick, Drew Hawkins, Francine LeFrak, Melba Moore, Susan L. Taylor, Sidra Smith, Kathryn Chenault, Alicia Bythewood, Pamela Joyner, Anne Gordon, Peter Gordon, Maritza Williamson, Harold Koda and Faye Wattleton were all spotted front row.
Sponsored by Morgan Stanley Smith Barney, the b michael America Fall/Winter 2011 collection featured SAME SKY bracelets made by women from Rwanda and jewelry by Joan B. Hornig . The glamorous beauty look was created by Laura Ziba with Faces Salon and Michelle Virtue for Damone Roberts New York.
The b michael America Fall/Winter 2011 Fashion Show also raised awareness for the "The DreamYard Action Project," the largest arts education provider in Bronx, New York.