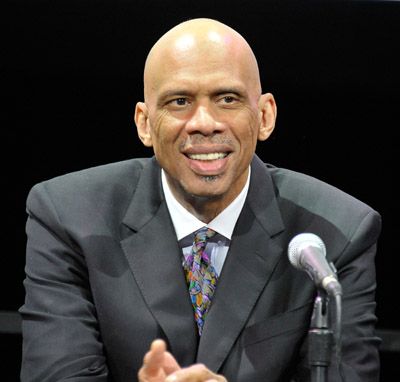 Ford Motor Company Fund partners with Kareem Abdul-Jabbar's Skyhook Foundation on National Education Initiative
Ford Motor Company Fund and Community Services collaborated with all-star basketball legend Kareem Abdul-Jabbar for the premiere screening of 'On the Shoulders of Giants - The Story of the Greatest Basketball Team You've Never Heard' at L.A.'s Belasco Theater on February 17, 2011 during NBA All Star Week.
The film is the first in a series produced by Abdul-Jabbar's Skyhook Foundation and Union Productions. 'On the Shoulders of Giants' highlights the Harlem Renaissance as well as the first African-American basketball team to win the world basketball championship. The films combine sports with educational messaging and are designed to level the playing field of how American sports history is told and to celebrate diversity.
"Ford Motor Company is proud to continue our legacy of supporting education," said Jim Vella, president, Ford Motor Company Fund and Community Services. "This film will both educate and inspire people of all ages and backgrounds."
The Los Angeles premiere of the documentary will feature a discussion panel moderated by Los Angeles Lakers legend Norm Nixon. Panelists include James Worthy, NBA Hall of Fame honoree; Bill Russell, Boston Celtics Captain and 11-time NBA Champion; Quincy Jones, Grammy Award-winning producer, arranger and composer; Etan Thomas, Atlanta Hawks player and poet; and Kareem Abdul-Jabbar, NBA all-time leading scorer and New York Times best-selling author.
"Sports has a special effect on American life because it often brings us together and enables us to know each other", said former NBA great, Kareem Abdul- Jabbar. "My film, On the Shoulders of Giants - the story of the greatest team you never heard of - is a statement about my community and the things that I find special in my life."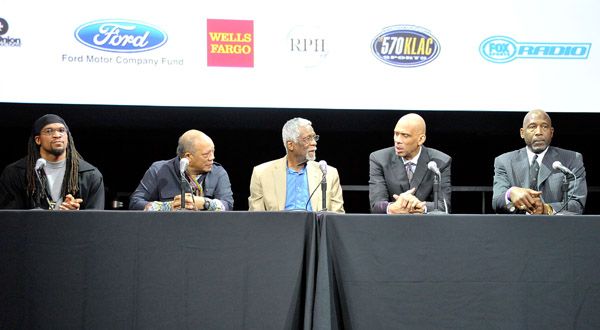 NBA basketball player Etan Thomas, Quincy Jones, Bill Russell, Kareem Abdul-Jabbar and James Worthy participate on the discussion panel.

As part of the film series, the Skyhook Foundation will provide free lectures and kits for educators at high schools and colleges with a particular focus on schools located in low-income areas. On the Shoulders of Giants features an accompanying study guide to teach students about the Harlem Renaissance, an important period of cultural and social advancement and artistic expression for African-Americans.
In addition to the Los Angeles premiere, Ford Motor Company Fund is partnering with Skyhook for a live screening in Maryland where the film will be shown in high schools statewide.
About the Skyhook Foundation
Founded by Kareem Abdul-Jabbar in 2010, the mission of the
Skyhook Foundation
is to motivate today's youth to pursue higher education through sports. Skyhook achieves this goal primarily by developing, supporting and promoting programs that focus on life-affirming aspects of the African-American experience-the same stories that have not only inspired sports legends like Kareem but legions of musicians, politicians, writers, artists and dancers to succeed.