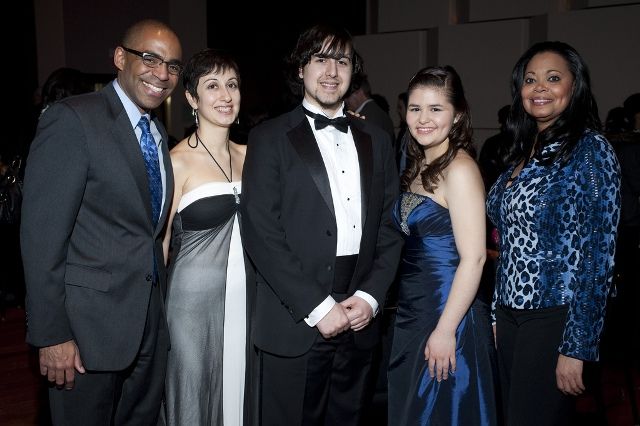 Aaron P. Dworkin, Founder, Sphinx Organization; Afa Sadykhly Dworking; Paul Laraia, First place winner in the senior division; Alexandra Switala, First place winner in the Junior Division; Karla Hall, DTE Energy Foundation
By Talitha Johnson, Detroit Contributor
The 14th annual Sphinx Competition held on February 6th at the Max M. Fisher Music Center in Detroit honored the best and brightest emerging classical musicians, as 18 semi-finalists swept the stage in hopes of earning the esteemed first place prize trophy. The competition was presented by the DTE Energy Foundation.
After undergoing intensive training and rigorous hours of practice to help bring diversity to chamber and classical music, the Sphinx Competition finally announced the winners. Alexandra Swital, 16, won first place in the Junior Division competition, and Paul Laraia, 21, claimed the first place prize in the senior division. Both winners receive prizes and scholarships.
Aaron Dworkin founded the Sphinx Organization in 1996 in an attempt to promote diversity within the classical music genre. "I didn't envision what all our musicians and staff had ended up turning it into. I really wanted to develop a process so that this art form… could embrace everyone in our community," said Dworkin.
Acclaimed conductor Michael Morgan served as this year's guest conductor. When the Catalyst Quartet, a group of top laureates and alumni of the Sphinx Competition took the stage, the audience was captivated.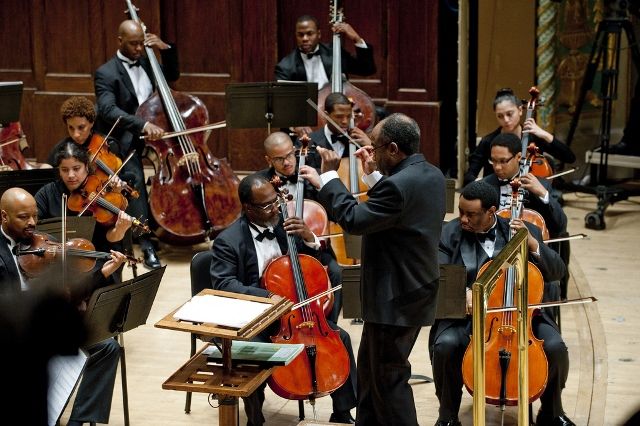 The Sphinx Symphony Orchestra, under the direction of Maestro Michael Morgan
"Classical music as an art form lacks diversity. As an art form, we thrive on evolution. If we could bring… diverse interpretations… the art form is going to evolve," Dworkin explained.
The annual competition welcomes all junior high, high school and college age Black and Latino string players nationwide. It offers aspiring classical musicians the opportunity to compete under the guidance of internationally renowned judges. Contestants also receive a chance to perform with professional musicians in a competition setting.
Each year nearly 20 semi-finalists from throughout the country convene in Ann Arbor and Detroit, where the competition takes place. During competition week, contestants are paired with jury members for coaching and master classes. Competition week culminates as the top three senior division finalists vie for scholarships, prizes and a chance to be accompanied by the Sphinx Symphony Orchestra.
"Early classical music instruction is an incredible benefit to all young people. When you look at academic scores, when you look at discipline, later life achievement, when you look at income levels; if you've had classical music as part of your early life… all of those other things are impacted positively," Dworkin stated.
In related news, Aaron Dworkin has been named a recipient of Harvard University's Luise Vosgerchian Teaching Award. Dworkin will visit Harvard University on Friday, March 11 to attend a lunch in his honor and deliver the lecture, "Breaking the Sound Barrier: The Sphinx Organization and Classical Music," which will be held at 3 pm at the Barker Center for the Humanities, 12 Quincy St., Cambridge, MA. Admission is free and open to the public (tickets or RSVPs are not required). For more information, call 617.495.8676 or visit
www.ofa.fas.harvard.edu/lfp
.
Related Post:
The Sphinx Organization Hosts 6th Annual Sphinx Laureates at Carnegie Hall
Photo Credit: Glenn Triest