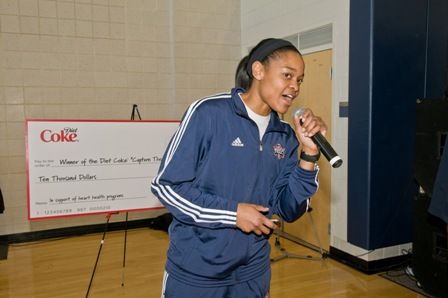 Via Press Release: On February 14th, Diet Coke kicked it old school and hosted a "Capture the Flag" tournament to raise awareness and funds for heart health programs in Washington, D.C.
Participants from Capitol Hill and local D.C. media outlets competed in the tournament to win $20,000 in donations to local heart health organizations. In photo, Washington Mystics player Alana Beard participates in the tournament.
The CQ Roll Call team, who represented The Links, Incorporated, was victorious in the tournament and Diet Coke presented the organization $10,000. The Links, Inc. is an international professional membership network for women of color that is one of the nation's oldest volunteer service organizations . A donation of $7,500 will be shared by MedStar Women's Heart Program and the League of United Latin American Citizens (LULAC). The organizations were represented well by the Capitol Hill team. The National Journal team even helped the Association of Black Cardiologists walk away with $2,500.
The Heart Truth®, a national awareness campaign sponsored by the National Heart, Lung, and Blood Institute (NHLBI), is embraced by millions of people who share the goal of better heart health for all women. For the fourth year in a row, Diet Coke is supporting the campaign and using its cans and bottles, advertising and digital assets to reach people to raise awareness and funding for heart health programs across the country.
"We all know a woman who may be at risk for cardiovascular disease—a mom, a sister, a friend—that's why I'm joining Diet Coke in its continuing commitment to The Heart Truth® to raise awareness about the importance of heart health," said Alana Beard of the Washington Mystics. "Plus, the game was a fun way to get hearts pumping while we helped raise funds for local heart health programs."
The
Heart Truth® campaign
has made great strides in raising awareness, but heart disease is still the number one killer among women. More people are becoming aware of the disease and its risk factors, but it remains a fact that more women die of heart disease than all cancers combined. There is still more work to do, so together, Diet Coke and The Heart Truth® campaign hope to continue generating awareness and motivating women to take action for heart health.
Those who couldn't make it to the game can play "Capture the Flag" online throughout the month of February, which is American Heart Month. Simply visit DietCoke.com/HeartTruth and capture a flag. Each flag captured triggers a donation, with Diet Coke contributing up to $100,000 to heart health programs. This initiative is part of the continuing commitment of Diet Coke to women's heart health programs. For the second year in a row, Diet Coke cans and bottles have a new look throughout the month of February. The limited-edition packaging includes a stick figure carrying a heart flag, communicating how Diet Coke is supporting The Heart Truth®. In addition to the limited-edition cans and bottles, more than six billion packages of Diet Coke carry The Heart Truth ® logo to raise awareness of women's heart health year-round.