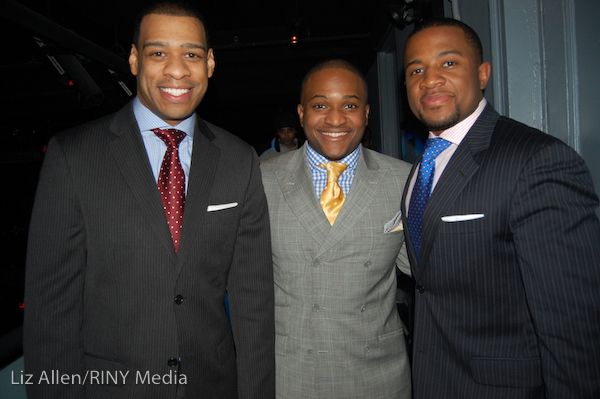 DeMarco Morgan, Anchor and Reporter, WNBC4 New York; Fabrice Armand, Haitian philanthropist; and Nkrumah Pierre attend the "Haiti Cherie" fundraising event on February 3, 2011 in New York City.

NEW YORK, NY – FEBRUARY 8, 2011 – On Thursday, February 3rd, 2011, Fabrice Armand, native son of Haiti and philanthropist, commemorated his birthday by presenting the first annual "Haiti Cherie: Pride. Love. Commitment" to benefit Grace International, Inc. whose mission is to RESCUE, RELIEVE, and RESTORE Haiti by providing health-care, education, feeding programs, and empowered living to those in need. The base of the organization's work in Haiti is Grace Village, located in the county of Carrefour. More than 350 people attended the event held at District 36 that included celebrities and notables including: DeMarco Morgan, Anchor and Reporter, WNBC 4 New York (Master of Ceremonies); Keenyah Hill, America's Next Top Model; Nigerian Prince Kunle Omilana and Princess Keisha Omilana; Plus Size Model, Angellika Morton; and Stylist, Alexa Winner.
"Grace International is doing amazing work to bring a sense of normalcy to the lives of the more than 25,000 people who reside at Grace Village. I'm proud that we were able to raise awareness and support for the great work that they do," shared Fabrice Armand, philanthropist and organizer of the event.
Grace Village is the second largest tent camp in Port au Prince with more than 25,000 residents. Haiti Cherie aims to provide much-needed support for the people who sought refuge at Grace Village after the earthquake that ravaged the country on January 12, 2010. Grace International is now working to resettle many of the people living in this camp, and create small communities that are models of holistic, sustainable and industrious living.
D'Isabella Lee, Fabrice Armand, Kwame Jackson and Calcie Cooper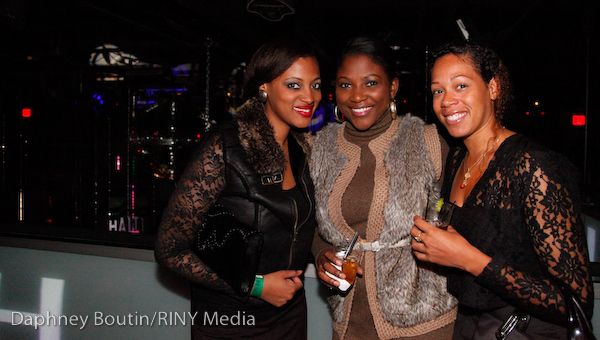 Guests enjoy the event.

Guests enjoyed Hennessy Privilege and Given Liqueur. Silent auction items included a 4 day 3 night all-inclusive with a sunset cocktail cruise for two sponsored by the Barbados Tourism Authority, a photo shoot with celebrity photo journalist Kimberly Butler, autographed works by Shari Belafonte and Maurizio Fiorini, and a shirt and tie by B. Oyama. Guests also had the chance to win raffle items including a Polo Ralph Lauren shirt and tie, tickets to 'Cheaper to Keep Her' starring Vivica A. Fox, a Hank Aaron autographed baseball, an autographed copy of Wyatt Gallery's Tent Life: Haiti, B. Braxton gift certificates, a personal training session by Chris Sainsbury, a luxury session with master hair stylist Laura Braunstein, and much more. Modus Couture, District 36, Fund Art Now, The Global Syndicate, Haiti Is Me, RJ Media, Stuart Films and Wyatt Gallery were event partners.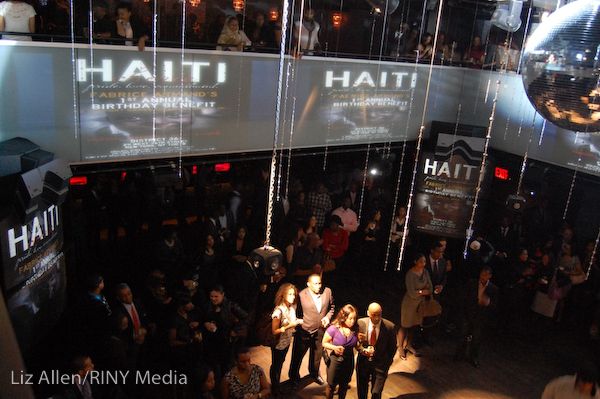 Haiti Cherie was a celebration of the Haitian people's resiliency in the face of adversity while demonstrating our collective commitment to helping the country recover and rebuild from disasters that have plagued it over the last year.
Source: Latoya Henry
Photo Credit: Daphney Boutin/Liz Allen, RINY Media