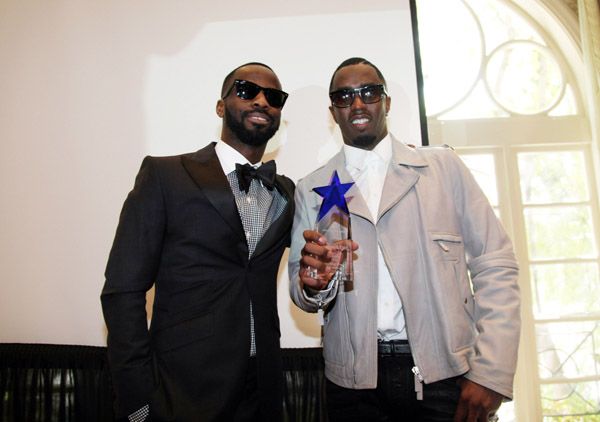 Bryan-Michael Cox hosts the SESAC & 100 Urban Entrepreneurs brunch honoring Sean "Diddy" Combs at the Beverly Wilshire Four Seasons Hotel on February 13, 2011 in Beverly Hills, California.

Business Mogul Helps Fund Startup Businesses for Urban Youth at the 7th Annual Bryan-Michael Cox Executive Brunch
Los Angeles, CA, February 14, 2011 – On Sunday, February 13th during the 2011 Annual Bryan-Michael Cox Pre Grammy Brunch at the Four Seasons Beverly Hills, Sean "Diddy" Combs committed $100,000 to fund young urban entrepreneurs in conjunction with
The 100 Urban Entrepreneurs Foundation
. Music Producer Bryan-Michael Cox, SESAC and 100 Urban Entrepreneurs, a non-profit foundation that serves urban youth, honored Sean "Diddy" Combs at the brunch.
Annually, Bryan-Michael Cox recognizes a leading business executive's commitment to music, business and service. The brunch was well attended by a mix of music and corporate executives, friends and family. Bryan opened the brunch with heartfelt words about the impact that "Puff," as he referred to him during his speech, had on him. "When you're around Puff, you just want to be better," Cox told guests. "Puff challenged me early on by asking, Son, do you know how hot you really are? I walked away wanting to make even greater music." Bryan credited Combs as a mentor that offered him an opportunity to be greater. Sean "Diddy" Combs continued the message of mentorship and opportunity with his acceptance speech and accredited his success to being given an opportunity by mentors like Quincy Jones, LA Reid and Andre Harrell. Bryan-Michael Cox recognized the founders of 100 Urban Entrepreneurs, Magnus Greaves, Lucas Riggins and Dan Carriere and illustrated to the audience the value and impact of the organization. "Minorities are fundamentally at a disadvantage because many lack the access to financial resources and mentoring opportunities to start sustainable businesses."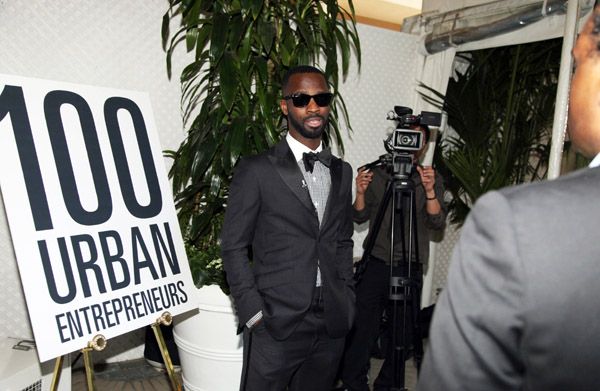 In a special presentation honoring Combs, Damone Franklin and Charlie Fyffe owners of Charlies Brownies, a 100 Urban Entrepreneur funded business, announced the establishment of the "Sean 'Diddy' Combs" Entrepreneurial Fund. Moved by the founders' commitment to urban entrepreneurship and the stories of those currently served by the foundation, Sean "Diddy" Combs personally committed $100,000.00 to The 100 Urban Entrepreneurs Foundation. The donation will be used to fund 10 startup businesses and provide entry into the 100 Urban Entrepreneur Mentor Program.
For more information about 100 Urban Entrepreneurs visit
http://www.100urbanentrepreneurs.org/
.
Related Post:
Bryan Michael-Cox Elected to 100 Urban Entrepreneurs Advisory Board
About Bryan-Michael Cox
Bryan-Michael Cox is an award winning producer and songwriter, who has written and produced songs for leading entertainers within the music industry. Notably, Cox's writing and producing credits have earned him accolades and awards with song - "Be Without You" (songwriter award) in 2007, a Grammy Award for Best Contemporary R&B Album - The Emancipation of MiMi (producer award) in 2005 and a Grammy Award for Best Contemporary R&B Album - Confessions (producer award) in 2004. In 2009, Cox was inducted into the Georgia Music Hall of Fame and named by Billboard Magazine as one of the top ten producers of the decade. Cox is nominated for a 2011 Grammy Award for Best R&B Album for Executive Producing Monica's Still Standing.

About 100 Urban Entrepreneurs
100 URBAN ENTREPRENEURS (

http://www.100urbanentrepreneurs.com/

) is a nonprofit foundation dedicated to helping provide a long-term economic boost to urban communities throughout the United States by supporting entrepreneurship at its earliest stages. In partnership with TheCASHFLOW, 100 Urban Entrepreneurs seeks to identify, fund and mentor 100 of the most promising young businesspeople that might otherwise lack access to startup capital and a professional network. Our goal is to provide the tools to help talented young dreamers create viable, profitable companies.

Photo credit: Nunez/Wireimage