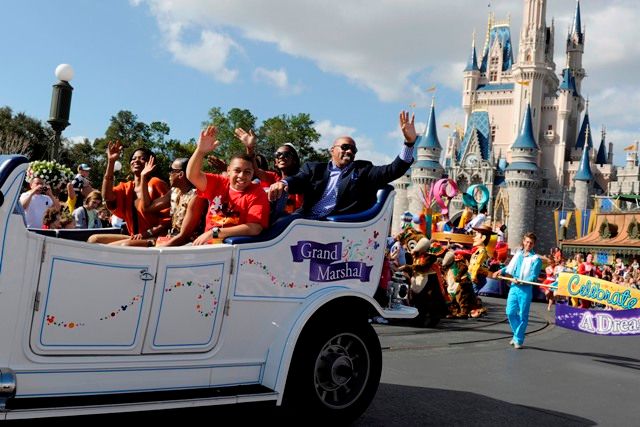 The opening parade for the Disney Dreamers Academy with actor, author, radio personality and comedian Steve Harvey; Mikki Taylor, former Essence magazine editor-at-large; Tracey Powell, Disney Parks and Resorts; and Disney Dreamers at the Walt Disney World Resort, March 3-6 in Orlando, FL.
By Talitha Johnson
Contributor, BlackGivesBack Detroit
In its fourth consecutive year, Steve Harvey and Disney World have collaborated to present the Disney's Dreamers Academy, a four day intensive mentoring and motivational program at the Walt Disney World Resort in Florida for high school students. This year, Essence Magazine and The Coca-Cola Company have joined forces to help inspire youth.
Teens from across the nation entered the competition to participate in this once in a lifetime opportunity. A reported 4,000 applied, and 100 were selected to attend with their parents or guardians.
Each year, the programming is tailored to the specific interests of the Dreamers, providing a chance for them to receive hands-on experience in their career field throughout the duration of their trip.
Those interested in pursuing a journalism career, wrote and published an article for the official Disney's Dreamers Academy newsletter, "The Gazette." Dreamers were granted a chance to explore other career fields, such as fashion, acting, business, dance, science and culinary arts.
In the spirit of fun with a slice of real world experience, participants took center stage for a mock American Idol competition in Disney World's Hollywood Studio's version of an American Idol set. Participants were taken by surprise as American Idol champion Ruben Studdard stepped on stage for a special guest appearance.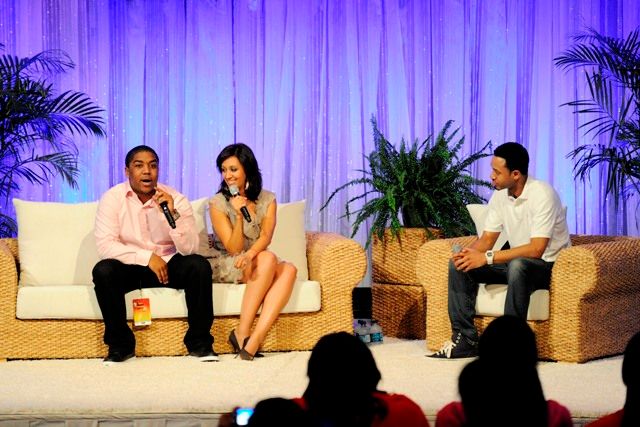 Nickelodeon's Christopher Massey, actress Tamera Mowery, and BET's 106 & Park host Terrence J

"Your dream is the most important component of your life," Steve Harvey shared. "If you dream about something it keeps you."
"You can tell how committed someone is to their dream by what it takes to discourage them," said Jonathan Sprinkles, motivational speaker.
Both students and parents were encouraged to "dream big" as they engaged in an assortment of Disney World's theme parks and attractions.
Returning Dreamer and clothing designer Tevyn Cole, 18, shared with this year's participants, "Whatever your dream is it's your goal."
"Before the academy, I knew what I wanted to become, but that passion wasn't as strong as it was ['til] after the academy… Afterward, I had this nothing can stand in my way attitude and that's what's changed me the most," added Cole, a Michigan native.
Dreamers on a safari adventure
Dexter Tanksley, Disney's principal facility designer and imagineer; Dr. Steve Perry, educator, author and motivational speaker; Dwayne Edwards, footwear design director for Nike; and Zerbin Singleton of the U.S. Naval Academy were among the several speakers who inspired participants with stories of their uncommon roads to success.
When the night fell, participants danced the night away with R&B singer Cupid, who taught his new dance "Cupid Shuffle 2.0," a song that is slated to release this summer.
As a returning celebrity for the third year, Cupid said, "I have to be here to give my part back to the community and to the kids."
The Dreamers also had an opportunity to view a live recording of the "Steve Harvey Morning Show" at Disney's Boardwalk -- ESPN Club.
For a more in-depth scope, the girls and boys were separated by groups. Steve Harvey delivered words of wisdom to a captive audience of teen males. As the girls had a slumber party and heart-to-heart with the former editor-at-large of Essence Magazine, Mikki Taylor; second runner-up on season two of Fox's American Idol, Kimberly Locke; and Steve Harvey's twin daughters, Brandi and Karli Harvey.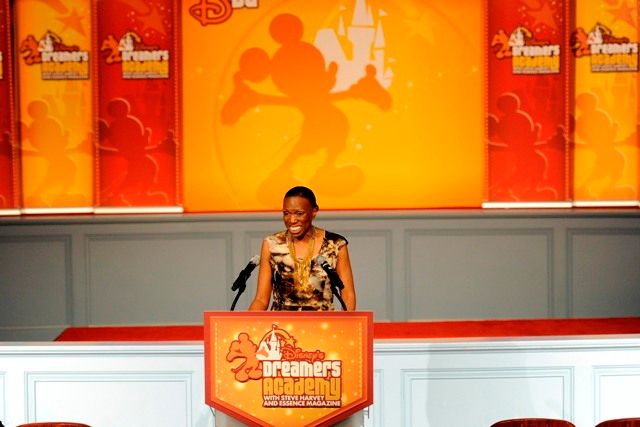 Mikki Taylor, former editor-at-large of Essence Magazine

During the closing reception Mikki Taylor gave additional words of advice, "We need these times together to put our dreams in plain view." She cautioned, "The times of challenge will surely come, but they are just for a season, so don't camp out with them."
Keynote speaker actress Raven Symone took the stage and the floor, as she shared the spotlight with the Dreamers. She engaged the crowd and handed the microphone over to dreamers who were bold enough to grab it.
"I got involved [with Disney's Dreamers Academy] because there are so many people at a young age and of color and different ethnic backgrounds that get overlooked for so many years. There's always someone that wants them to succeed, but there's always someone that wants them to fail...knowing that a company as big as Disney wants them to succeed; I want to help them in whatever way possible," admitted Symone.
In addition to knowledge and applicable skills, every Dreamer walked away with a new Sony Bloggie Touch camera.
With smiles beaming on their faces, several Dreamers admittedly walked away with hope, happiness, and a mission to not only pursue their dreams, but empower others in their communities to do the same.
PHOTO CREDIT: Todd Anderson