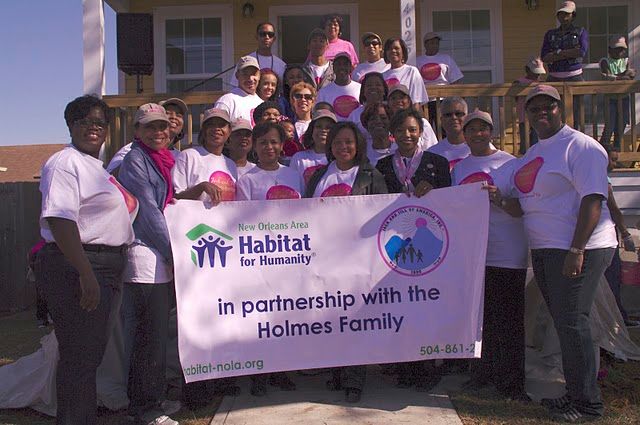 Jack and Jill Rebuilds America Project will assist families throughout the U.S.
On Saturday, March 12, 2011, Jack & Jill of America joined with the New Orleans Area Habitat for Humanity (NOAHH) in dedicating a new home at 4025 N. Rocheblave in the Upper Ninth Ward for partner family member Corey Holmes. Corey Holmes is a 29 year-old father of three children who grew up in the St. Bernard housing project in New Orleans. He worked his way through many obstacles to become a chef in some of New Orleans' best restaurants. The road to achieving his dreams took an unexpected detour when Hurricane Katrina struck. Corey lost everything. Yet, he held fast to his dreams. While he continued down his career path as a chef, he wanted to become a homeowner.
The Jack and Jill of America Rebuilds Project, in partnership with NOAHH, collaborated together to build Corey's home in the Upper Ninth Ward of New Orleans. At the dedication of his new home, Corey said "Becoming a Habitat partner was a big blessing to me. I never knew that owning a home could be possible at my age. I will finally be able to give my family a life that I always dreamed of. I knew with hard work and perseverance that my dream would come true."
The dedication of Corey's home launched their "Jack and Jill Rebuilds America Project" which was established in an effort to support homeless and displaced families in every region of the United States. Jack and Jill of America will concentrate its resources to building future homes until 2017.
The proposed construction schedule is 2012 – Philadelphia; 2013 – Southeastern Region; 2014 – Mid-Atlantic Region; 2015-Mid Western Region; 2016 – Far West Region; 2017 – Central Region.
The Jack and Jill of America Foundation
is the philanthropic arm of Jack and Jill of America, Inc. which consists of over 200 chapters throughout the United States. Since the Foundation's inception in 1968, chapters have been instrumental in supporting community based organizations that help children and families. The Foundation, which is based in Washington, D.C., has distributed millions of dollars to non-profit organizations all across America, and continues to deepen its vision with Jack and Jill of America, Inc. as the needs of families and children become more complex in the 21st century.
Source and photos: Jack & Jill