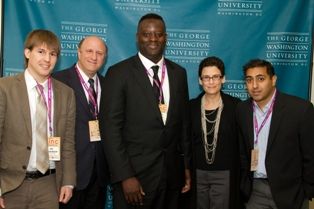 Jarvis Green, a defensive lineman for the Houston Texans, was in Washington, DC recently to present at the Sports Networking in Career Conference (SINC) on the campus of George Washington University.
Jarvis (pictured center) was a featured panelist addressing, "Athlete Foundations, Marketing, and Management" with executives from the Washington Redskins, The Giving Back Fund, Perennial Sports and Entertainment and James Grant Sports. Many audience members asked Jarvis about the CBA negotiations, yet they were intrigued and impressed about his passion off the field while having a successful football career.
One attendee quoted, "Jarvis Green was so inspiring at SINC conference. What a great athlete and human being; making a difference for the community, one single mother at a time." While Jarvis was in D.C., we spoke to him about his foundation and its upcoming events.
The Jarvis Green Foundation was founded by Green to provide support to single working mothers in disadvantaged, low-income areas whose lives have been affected by tragedy. Recently the foundation partnered with Touch106 radio station in the Boston area along with the website YBF.com to award $15,000 to 35 single mothers. The mothers received gift certificates for special pampering they desperately needed.
The 4th annual Jarvis Green Foundation Wine Tasting event will be held on Saturday, March 19th in Seekonk, MA, that will benefit single mothers in the New England area. A pre-wine event will be held on March 18th. An upcoming event, the Southern Wine Tasting Gala, will be held in Baton Rouge, LA on May 27th. To purchase tickets for the wine tasting event, please visit
www.jarvisgreen.com
. Keep up to date with Jarvis by following him on Twitter at @JGBayousFinest and on Facebook at
http://www.facebook.com/JarvisGreen
.
Source: D4SM
Photo Credit Zach Jopling