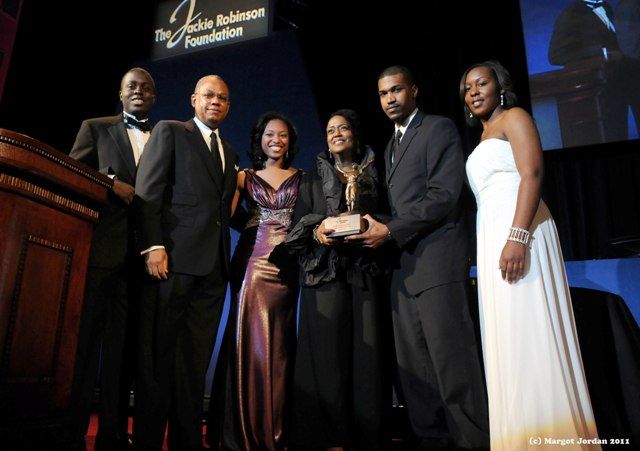 Jacke Robinson Foundation (JRF) scholar Ebenezer Asare, event presenter Dr. Calvin Butts, JRF scholar Dominique Grasty, honoree Ingrid Saunders Jones, and JRF scholars Kyle Rhoden and Paula Champ attend the JRF Annual Awards Dinner on March 7, 2011 in New York City.
Ingrid Saunders Jones, Senior Vice President, Global Community Connections and Chair of the Coca-Cola Foundation, was recently honored with a coveted ROBIE Humanitarian Award for her extensive work with charities and community initiatives around the world.
The 2011 ROBIE Awards were presented by the
Jackie Robinson Foundation
(JRF) at its annual awards dinner in New York on March 7. For nearly three decades, the iconic event has paid tribute to individuals who embody the humanitarian ideals of Jackie Robinson and who have raised funds for the JRF, which provides four-year college scholarships, graduate school grants and mentoring to academically distinguished minority students.
Since 1987, the Coca-Cola Foundation has donated more than $1.5 million in funding to support JRF programs, and two former JRF scholars currently work for Coca-Cola. "I am forever grateful to work for a company that that brings moments of happiness into millions of lives...that helps young people attend college...and that supports every community it serves," Ms. Jones said. "And I thank Coca-Cola for trusting me to further that effort."
The annual JRF Annual Awards Dinner has recognized some of the most decorated names in business, politics, education, media, sports and the arts, including Bishop Desmond Tutu, J. W. Marriott, Jr., Dr. Benjamin Carson, Sr., Clive Davis, Spike Lee, Ruth J. Simmons, Allan H. "Bud" Selig, Henry L. "Hank" Aaron, John Welch Jr., Ella Fitzgerald, George Lucas, Marian Wright Edelman, Arthur Ashe, Michael Jordan, Tom Brokaw, Dr. Sheila C. Johnson, Robert Redford, Robin Roberts and Katharine Graham.
About the Jackie Robinson Foundation
Established in 1973, the JRF is an education and leadership development program that provides its scholarship recipients with mentoring, career guidance and practical life skills, resulting in a nearly 100 percent graduation rate -- more than twice the national average for minority students. The more than 1,400 JRF alumni are both leaders in their professional fields and ambassadors of Jackie Robinson's legacy of community service.
This 2010-2011 academic year, JRF is providing generous financial aid and program support to 220 JRF scholars representing 31 states and the District of Columbia and enrolled in 92 different colleges and universities across the country.
Source and photo credit: Margot Jordan