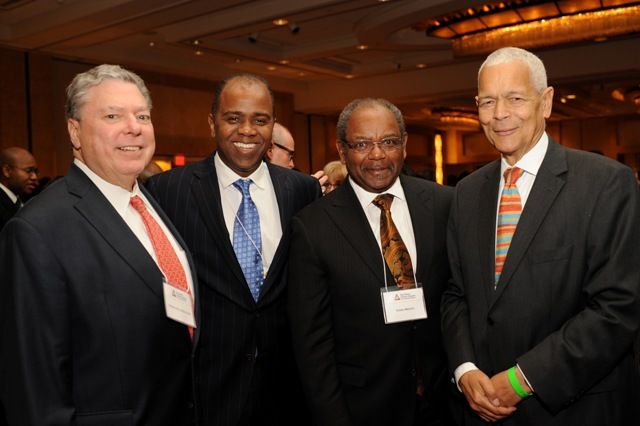 American Journey Honoree Thomas Boggs, Chairman, Patton Boggs LLP; Michael Mallory, Executive Director, Ron Brown Scholar Program; American Journey Honoree Eddie C. Brown, President, CEO & Founder, Brown Capital Management; and American Journey Honoree Julian Bond, Chairman Emeritus NAACP and civil rights activist pose at the Ron Brown Scholar reception, March 25, 2011 in Washington, DC.
Annual Event Raised Funds for the Ron Brown Scholar Program
On Friday, March 25th in Washington, DC, hundreds gathered at the J.W. Marriott Hotel to celebrate the legacy of Ronald H. Brown, the first African American appointed to the Cabinet post of the Secretary of Commerce and the first to serve as Chairman of the Democratic National Committee. A tireless advocate for American business both home and overseas, Brown's life tragically ended in a plane crash in Eastern Europe while on a trade mission. Brown's legacy of service, mentorship and leadership carries on today in the scholar program named in his honor, the Ron Brown Scholar Program and the Ron Brown American Journey Award.
The American Journey Awards gala was hosted by Marva Smalls, Executive Vice President, Public Affairs and Chief of Staff for Nickelodeon/MTV and Tom Werner, Chairman of the Boston Red Sox and partner and co-founder of Carsey Werner. Proceeds from the gala benefited the scholar program that provides financial resources for students to attend some of the finest colleges and universities in the country. The scholar program has met with great success – over half attend Ivy League universities, and 100 percent graduate. In addition, 100 percent are actively involved in community service.
The annual award program was established in 2009 to honor outstanding Americans who exemplify the vision and transformative ideals of Brown and who serve as models to which the scholars should aspire. The 2011 distinguished honorees are: Mr. Thomas Hale Boggs, Jr., Chairman, Patton Boggs, LLP; Mr. Julian Bond, Civil Rights Activist; and
Mrs. C. Sylvia and Mr. Eddie C. Brown,
community volunteer and President, CEO & Founder of Brown Capital Management. Past and aspiring scholars attended the gala to celebrate in the annual event.
Scholar alum Tariq West, a DC native and 2010 graduate of Stanford University shared with BlackGivesBack how being a scholar afforded him mentorship and guidance that helped him ultimately decide on his career goal. "When I think about the unique opportunities provided by the scholar program, I think about my arrival at Stanford where a large community of Ron Brown scholars are, and the love and support I got from that community even before I accepted there." He now serves as a mentor at the Higher Achievement Program in Washington, DC where he teaches literature to middle school youth. "I call them my kids," he said with a laugh.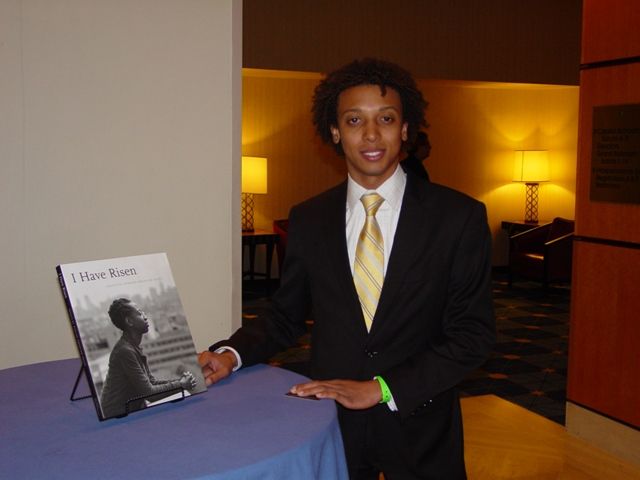 Ron Brown Scholar alum Tariq West
Ron Brown Scholars have achieved significant accomplishments, such as 1995 alum Katori Hall, an award winning playwright and screenwriter. Katori's upcoming Broadway production, Mountain Top, is about Martin Luther King's last night on earth, rumored to feature Samuel L. Jackson and Halle Berry. Mountain Top won the Laurence Olivier award for Best Play in 2010, beating out frontrunners and making Hall the first African American woman to win the prestigious British award.
She joins the likes of August Wilson and Arthur Miller, both winners of the prize which is akin to Broadway's Tony Award. Like the many Ron Brown scholars, Katori attended Ivy League universities such as Columbia University, she earned a Master's degree in acting from Harvard, and attended Julliard for play writing.
She recently hosted a fundraiser
benefiting the Howard University Department of Theater Arts.
Katori Hall and Michael Mallory, Executive Director of the Ron Brown Scholar Program
Aspiring scholar Esther Owolabi from Westchester, IL was excited to be among the 2011 finalists. She shared that her career goal is to major in political science and then focus on public education reform to address the educational inequalities seen in today's school systems. She's already been accepted to Georgetown University, and remarked that the application process for the program has been very rewarding.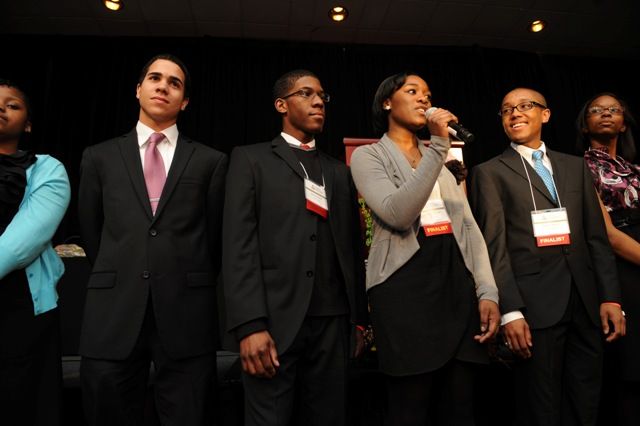 Esther Owolabi (with microphone) and Ron Brown Scholar semi-finalists introduce themselves to event attendees.
Guests at the gala included NAACP President and CEO Benjamin Jealous, Secretary Rodney Slater, DC mayor Vincent Gray, and video remarks from former president Bill Clinton. Michael Mallory, Executive Director of the Scholar Program shared about the awards gala, "Tonight is really the culmination of so many good people focused on a mission to have young people soar, not just grow, but soar…and the objective is to keep these African American scholars connected for a lifetime and sharing with others. It's not that they're smart that we can call them scholars, but the idea is that they put others first, and they put community first."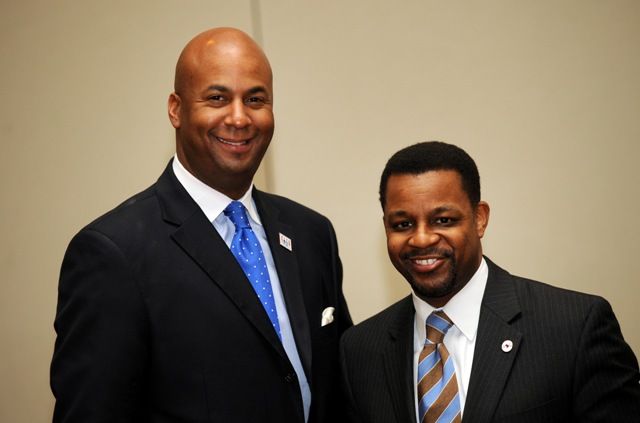 District of Columbia Councilman Michael A. Brown; District of Columbia Council Chairman Kwame R. Brown pose during the event. Earlier in the day, Michael Brown, Ron Brown's son, joined Kwame Brown and others for the ceremonial renaming of 14th Street, NW in front of the Commerce Department as Ron Brown Way.
About the Ron Brown Scholar Program:
The program is a public 501c3 charity that provides Scholars financial resources to attend some of the finest colleges and universities in the country. Established in 1996 by the CAP Charitable Foundation to honor the legacy of service of the late Ronald H. Brown, its mission is to accelerate the progress of African Americans into the mainstream of professional leadership while instilling a strong dedication to public service. Visit the website at
http://www.ronbrown.org/
to learn more about the program and read success stories of their numerous alumni.