Emmanuel Choice, Jacob's Ladder board member and organizer of the Texas Hold'Em Poker Tournament, joined by Cay'me Jones, the nonprofit's development coordinator.
By Valaida Fullwood, Charlotte Contributor
CHARLOTTE, NC — The Texas Hold'Em Poker Tournament benefiting
Jacob's Ladder Job Center, Inc.
drew a room full of poker players to The Ritz-Carlton, Charlotte on the evening March 31. Jacob's Ladder is a nonprofit that assists chronically unemployed and underemployed people—deemed the hardest to employ—to find and keep living wage jobs.
Organizers of the poker night were Jacob's Ladder board members Tony Perez, Brian Willis and Emmanuel Choice. The three are friends who work in the commercial real estate industry. They also are members of 100 Black Men of Charlotte. Perez, Willis and Choice conceived of the card tournament as a way to support Jacob's Ladder while enjoying a night out with friends and colleagues. The March event was the second in a series of fundraisers, and its organizers envision hosting several tournaments a year and expanding the number of card tables and players over time.
"Historically, a large share of our donors have been white, while the majority of the Center's clients are African American. We need to cast our net wider and include more donors of color. It truly takes a village."
— Brian Willis, event organizer, board member and also president of 100 Black Men of Charlotte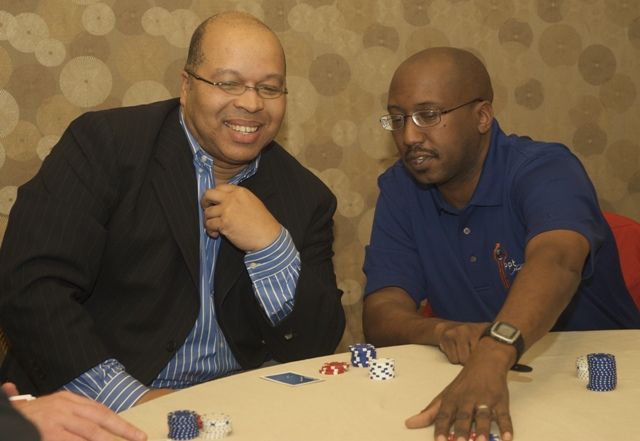 Poker tournament players Hendrick James and Jeff Palmer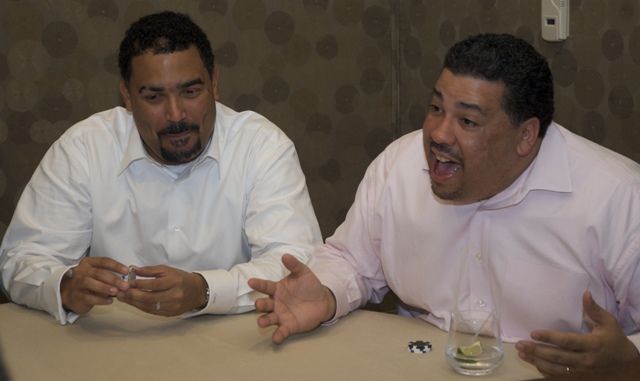 Charles Horton and Tournament Champ Tony Perez
Bank of America and The Ritz-Carlton contributed to the event with donations of space, food, drinks and prizes. Over eighty poker players participated in multiple tables of card games, and board members, clients and staff provided information on the programs and services of Jacob's Ladder. Players donated at least sixty dollars to the nonprofit to compete in the tournament. Winners from the night were: Tony Perez (1st place), George Laettner (2nd place), Aokie Jones (3rd place) and Katherine Culpepper (4th place).
"After relocating from upstate New York for a job and then getting laid off, I had to adopt a new mindset to find employment. Even though my background differs from most Jacob's Ladder clients, I have learned you get out of the program what you put into it."
— LaTarcia Daniels, job seeker and program participant
"Our clients receive respect and positive reinforcement during their job search, instead of the negative messages to which many have become accustomed. But we don't use kid gloves. We have high expectations and our clients rise to meet them."
— Jeff Jones, board chair of Jacob's Ladder Job Center
Aokie James, who placed second in the tournament and Ryan Culpepper
Unemployment among Charlotte's African American population is generally double that of the overall community. The economic downturn has added to the challenges people experience when seeking employment. Jacob's Ladder recognizes that regardless of race, gender or ethnicity, high rates of unemployment threaten the well being of individuals, families and communities, frequently having a lasting negative impact for generations.
Since 1998, Jacob's Ladder has helped thousands of individuals make positive changes in their lives. Its clients, who often come with backgrounds that make it hard to find employment, participate in a four-step process to help them find jobs. The majority of clients are low-wealth African Americans with criminal histories, poor education and multiple, critical barriers to employment.
Volunteers help clients with resumes and interviewing skills and throughout their job search. They continue to provide support after clients obtain jobs. Jacob's Ladder also works with employers to hire its clients and ensure clients fulfill job requirements so they keep jobs and can build a career. Find out more at
http://www.jacobsladdercharlotte.org/
.
"Instead of wasting time, I have grown and learned you've got to step out of your element to find a good job that supports you and your children." — Marquis Greer, job seeker and program participant
"The jobless rate is two to three times higher for blacks and Hispanics in Charlotte. I have given to a lot of causes, but at Jacob's Ladder I saw people who looked like me and my family and who needed help up the job ladder. If we don't help people struggling at the bottom, then none of us will rise."
— Tony Perez, event organizer and Jacob's Ladder board member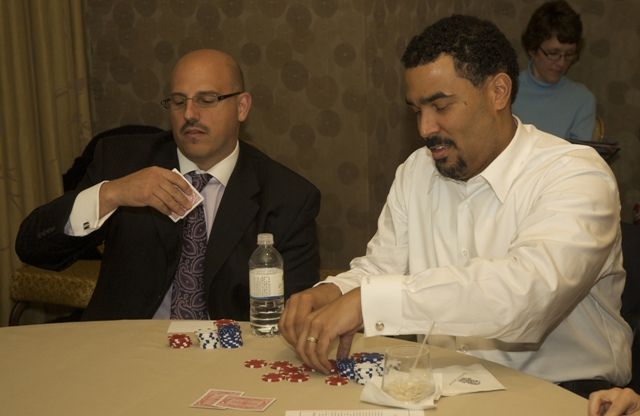 Mark Parisi and Charles Horton
Story submitted by Valaida Fullwood: Described an "idea whisperer," Valaida brings a mix of unbridled imagination and a gift for harnessing wild ideas to her work as a writer, creative consultant and project strategist. She is a founding member of Charlotte's New Generation of African American Philanthropists and a board member of Community Investment Network (CIN). On Twitter, follow @ValaidaF and @BlkGivesBackCLT.
Photo credit: Dirk Weaver, DW Photography