James Francis, Council of Urban Professionals (CUP) Board Chair; Kathy Wylde, Honoree; New York Mayor Michael Bloomberg; Chloe Drew, CUP Executive Director; and Russell Simmons, Honoree
Russell Simmons, Valerie Jarrett, Kathryn Wylde and AT&T recognized for their example and dedication before sold-out crowd
New York, April 11, 2011 – Over 500 guests paid tribute on April 7 to four distinguished business and community leaders at the Council of Urban Professionals' (CUP) 4th Annual Leadership Gala. The event was held at Espace in New York and brought in over $700,000. New York City Mayor Michael Bloomberg kicked off the event with an address before the gathering of women and minority business professionals, elected officials and community leaders.
AT&T, accepted by Cindy Brinkley, Chief Diversity Officer, received the Corporate Diversity & Inclusion Leadership Award; Valerie B. Jarrett, Senior Advisor to the President & Assistant to the President for Public, Engagement & Intergovernmental Affairs, was given the Public Service Innovation Leadership Award; Russell Simmons, Rush Community Affairs, Chairman & CEO, Rush Communications, received Distinguished Philanthropist & Entrepreneur Leadership Award; and Kathryn Wylde, President & CEO of the Partnership for New York City, accepted the New York City Vision Leadership Award.
"We are thrilled to honor these outstanding individuals and organizations," said CUP Executive Director, Chloe Drew. "We celebrate Russell for his incredible efforts to transform the lives of thousands through his business and charitable ventures, Valerie for her commitment to diversity and urban communities, Kathy for the exceptional work she does every day to engage the business community to build New York City's economy and AT&T for setting the standard for corporate diversity and inclusion and for continuing to expand these opportunities in the future with T-Mobile. Each of our honorees embodies the spirit of the CUP mission: to effect transformative and meaningful social and economic change in New York and in the country."
Julie Jensen, David Sutphen, Carolina Espinal, Keli Goff
"With the strong support of our members, corporate and foundation partners and donors, CUP is entering its 5th year poised to build on the accomplishments it has already achieved," said James Francis, Chair, CUP Board of Directors. "This year we have spearheaded the passage of landmark minority and women business legislation; graduated our third class of CUP Fellows; grown our network to over 750 professionals in the financial, legal, media and entertainment, corporate and social enterprise sectors; and matched dozens of CUP members with prominent nonprofit and public sector boards. We look forward to continuing our great work for many years ahead."
"I am extremely honored to accept the New York City Vision Leadership Award from the Council of Urban Professionals," said Wylde. "New York City's success is built on the diversity of its people. CUP's efforts to increase opportunities for minority and women professionals have deepened the talent pool and strengthened New York's position as a global city."
"Far too many corporations are losing out by not reaping the benefits of our diverse society, and minorities are suffering as a result," said Simmons. "I'm very committed to bringing about a more equitable balance so that all American companies and their workforce can become or remain competitive."
"We are honored by CUP's recognition of our efforts to foster an inclusive workforce that's representative of our customer base and where qualified professionals can make a valuable contribution to the company as well as achieve their own professional goals," said Brinkley.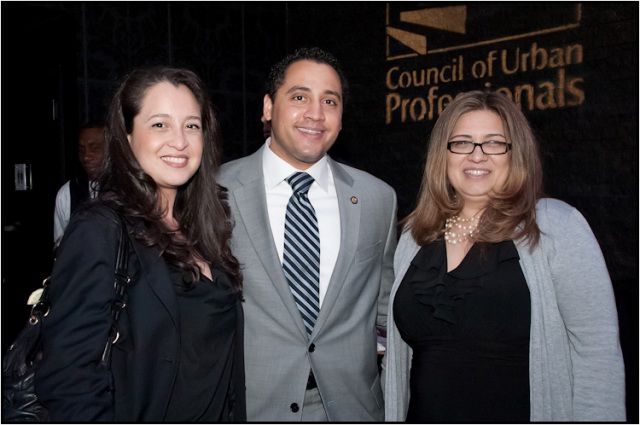 Liz Caldas, Assemblyman Robert Rodriguez, Maria Fernandez-Williams
ABOUT THE COUNCIL OF URBAN PROFESSIONALS:
The Council of Urban Professionals (CUP) is a nonprofit, nonpartisan membership organization whose members are leading minority and women professionals in finance, law, business, real estate, media and entertainment. CUP's mission is to develop diverse business and civic leaders, empowering them to exert their influence, achieve their individual goals, and create collective impact. More information is available at
www.nycup.org
.